At the 2019 CAPC National Seminar, attendees gathered at the annual Poster Session to view groundbreaking projects led by palliative care teams across the country. Out of the 129 projects showcased, 17 posters were awarded Special Recognition based on the projects' innovative strategies, creative use of resources, and outcomes that have potential to catalyze growth in the field. We hope that revisiting these special projects, and highlighting the innovative work of the palliative care field, will provide some extra inspiration during this time of crisis.
An organizational commitment to train all clinicians in core skills specific to serious illness—including pain and symptom management, communication, and caregiver support—is essential for ensuring high-quality care for our nation's sickest patients.
Main Line Health system leaders demonstrated their commitment to workforce training by providing bedside staff with evidence-based, palliative care-focused education. In the last two years, their palliative care nursing fellowship program has graduated more than 40 acute care nurses, with more than 90% achieving specialty nursing certification. Another innovative education initiative showcased at Seminar used a train-the-trainer model. The Interprofessional Education Exchange (iPEX) project includes online webinars, case-based modules, and a two-day, in-person convening for participants to practice their facilitation skills and work in teams to develop an action plan to improve interprofessional palliative education at their organizations.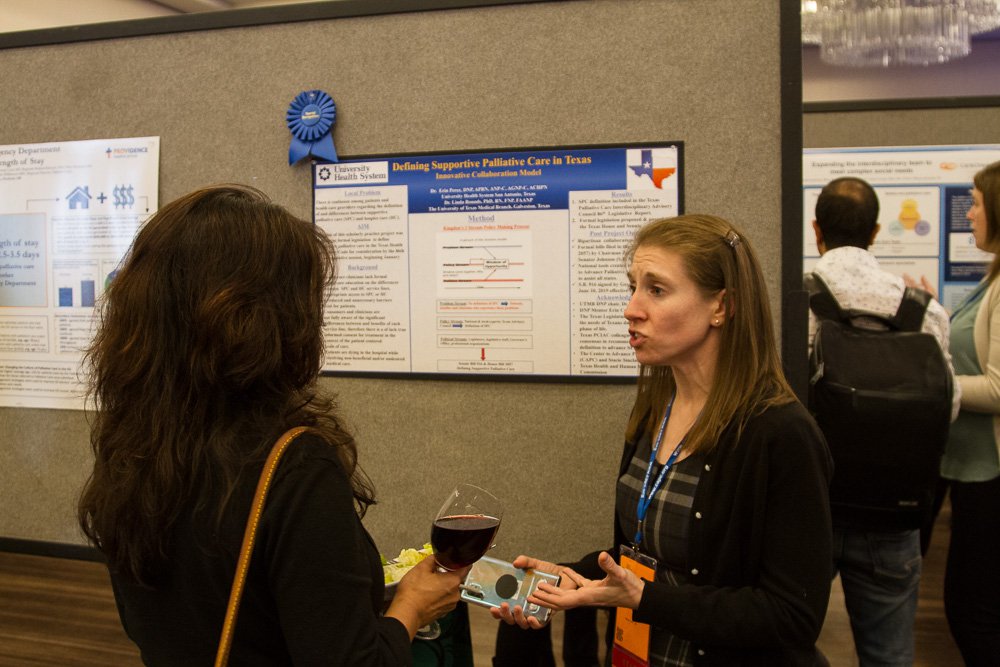 Educational initiatives can also be introduced from a grassroots perspective, as demonstrated by two nurse practitioner advocates who utilized the Kingdon's Three Stream Policy Making Process to educate, engage, and empower interprofessional collaboration across local, state, and national levels to promote a clear definition of palliative care in Texas.
Financial sustainability is an essential priority for palliative care program leaders and professionals.
In Oregon, the Partners in Care team secured grant funding that enabled their palliative care nurse to make 300 home visits in one pilot year. The team plans to use data from this pilot to demonstrate the value of their home-visiting service, and to contract with a health plan to ensure program sustainability and earlier access to the patients who need them most.
Field-Building Activities
Philanthropic support has been key to moving forward national field efforts.
The Gordon and Betty Moore Foundation provided funding for the first nationwide job analysis of hospice and palliative social workers, which led to the creation of the Advanced Palliative and Hospice Social Certification (APHSW-C). A sample of 482 social workers representing 46 states responded to a survey that included ranking of 152 tasks related to their scope of practice. The first exam was created and 163 social workers passed to became APHSW-C.
The Gordon and Betty Moore Foundation also supported CAPC's effort to identify palliative care sites delivering community-based services. Programs completed a short, online survey identifying 3,000 service locations (patient's homes, office practices, medical clinics, or long-term care facilities).
High-quality palliative care delivery has a profound impact on an organization's bottom line, and program leads work diligently to show how their services influence their organizations' overall health.
The team at Albany Medical Center characterized their value, in terms of both quality and financial benefits, with a project that evaluated the impact of two upstream home-based palliative care models. They found that a high-touch home-based palliative care model can substantially lower health care costs, while a low-touch model (telemedicine and fewer home visits) provides similar levels of patient care, without the same cost savings. Five thousand miles away, Bristol Hospice Hawaii, Inc. partnered with a health plan to provide supportive care services to the plan's homebound members. Their model resulted in symptom and pain relief, improved patient satisfaction, better resource utilization, and a 40% Per Member Per Month (PMPM) overall cost savings. Evaluating palliative care impact on cost savings in a different patient population, researchers at University of Tennessee identified that financial loss to the hospice organization was significantly reduced for seriously ill children that were covered by the Concurrent Care for Children Requirement (CCCR), as compared to costs associated with standard hospice care.
Ensuring that patients who have a great need for palliative care receive it in on a timely basis is the key to palliative care impact.
After struggling to reach penetration targets, the Cabell Huntington team strategically partnered with their IT department to develop a daily hospital admission report. The palliative team reviews the list daily to determine whether patients meet the established criteria for palliative care. This report led to earlier consults and yielded an extra $300,000 in palliative care reimbursement. It also helped make the case for additional staff for the inpatient team and palliative care expansion via an outpatient clinic. At the Community Hospital of the Monterey Peninsula, the palliative care team partnered with their Health Information Management team to streamline timely scanning and placement of advance health care planning forms into their EMR, resulting in increased documentation of POLST forms and other advance care planning documents.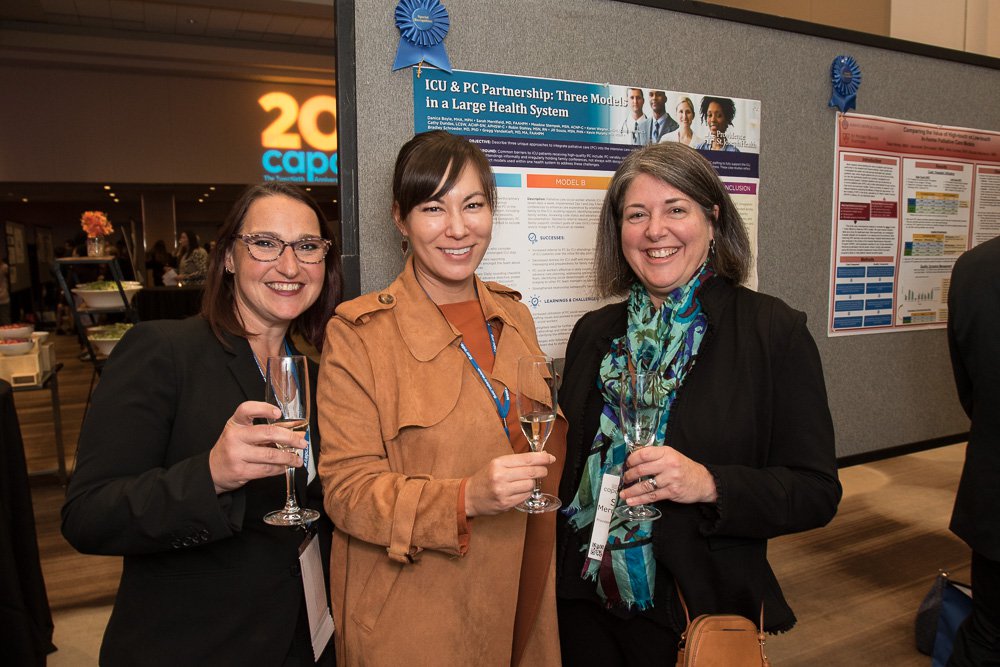 At Providence-St. Joseph Health, patient identification strategies focused on the ICU and ED. After embedding a palliative care social worker in the ED, a comparison analysis demonstrated a shorter hospital length of stay, hospital savings of ~$800,000, and a 23% increase in the ED physicians' comfort level describing palliative care to their patients during the eight-month intervention period. For the ICU initiative, three distinct discipline-specific models were used to overcome common challenges: a physician-led interdisciplinary team (IDT) workgroup to identify ICU-palliative care partnership opportunities; a palliative care social worker attending daily ICU rounds; and an ICU APRN trained in goals of care conversations. All three models were associated with positive outcomes, with the takeaway being that each approach varies in staffing commitment, and can be uniquely crafted to meet the gaps and needs of specific hospitals and ICUs.
Innovative staffing models help palliative care teams to design high-quality services that are responsive to patient and caregiver needs.
In one Maryland skilled nursing facility (SNF), the Gilchrist team combined access to specialty palliative care alongside training for internal SNF team members. Their staffing combination helped reduce care transitions, improve patient outcomes and achieve cost savings to the overall system. The North Idaho Palliative Care Coalition (NIPCC) integrated a standardized approach to palliative care in five rural counties by implementing an educational program for physicians and training community facilitators to conduct goals of care conversations. Agility in staffing models also helps organizations to address crises. Bluegrass Care Navigators evaluated two concurrent models for approaching the opioid epidemic: a dedicated palliative-led deprescribing clinic to manage overprescribing, and an algorithm flowsheet to assist with prioritization when experiencing limited outpatient palliative care provider capacity.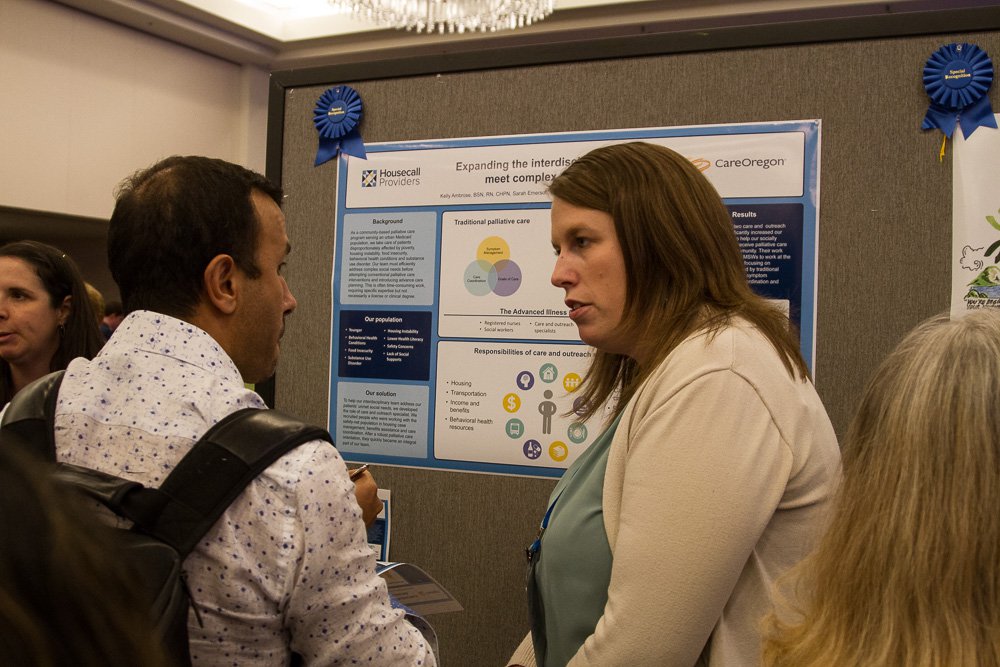 The Advanced Illness Care team In Portland, Oregon, who cares for patients disproportionately affected by poverty, housing instability, food insecurity, and substance use disorder, added care and outreach specialists to their staff to significantly enhance their team's capacity to care for socially complex patients.
---
No matter the circumstance, palliative care change agents have been ingenious in their methods to innovatively use their resources to provide support to the patients that need them most.