About Palliative Care
About Palliative Care
Palliative care sees the person beyond the disease. It is a fundamental shift in focus for health care delivery.
Definition of Palliative Care
Palliative care, and the medical sub-specialty of palliative medicine, is specialized medical care for people living with serious illness. It focuses on providing relief from the symptoms and stress of a serious illness. The goal is to improve quality of life for both the patient and the family.
Palliative care is provided by a team of palliative care doctors, nurses, social workers and others who work together with a patient's other doctors to provide an extra layer of support. It is appropriate at any age and at any stage in a serious illness and can be provided along with curative treatment.
Test Your Palliative Care IQ With This Short Course: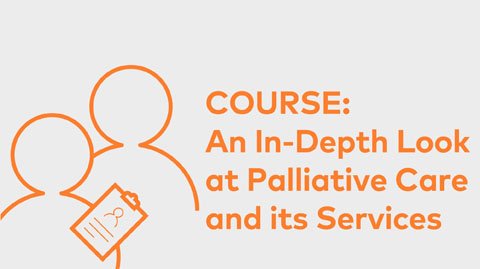 Improves Quality of Life
Palliative care teams treat people living with serious, complex and chronic illnesses such as cancer, cardiac disease such as congestive heart failure (CHF), chronic obstructive pulmonary disease (COPD), kidney failure, Alzheimer's, Parkinson's, Amyotrophic Lateral Sclerosis (ALS) and many more.
People facing serious illness benefit from palliative care at any stage of their illness. Therefore, palliative care should be considered a key component of medical care along with all other appropriate treatments.
Palliative care teams improve quality and support the primary physician, the patient and the family by providing:
Time to devote to intensive family meetings and patient/family communication. 
Communication and support for resolving family/patient/physician questions concerning goals of care.
Expertise inmanaging complex physical and emotional symptoms such as pain, shortness of breath, depression, nausea and much more.
Coordination of care transitions across health care settings.
Palliative care teams also help improve: 
Patient and family satisfaction with their overall medical treatment, physicians and the health care team.
HCAHPS standards by contributing to reduced readmissions and hospital mortality.
Palliative care helps patients and families understand the nature of their illness and make timely, informed decisions about their care. They report improved quality of life and ability to function as well as an improved understanding of their options and feeling back in control of their lives.
The Growth of Palliative Care
In the last 15 years the field of palliative care has had stunning growth. It is a rapidly rising trend. Over 1700 hospitals with more than 50 beds have a palliative care team today. And, palliative care is spreading beyond the hospital into community settings where people with serious illnesses actually live.
Palliative care sees the person beyond the disease. It represents a paradigm shift in health care delivery.