The Value of Palliative Care
We have found that palliative care teams, when working with the right population, are consistently effective in improving outcomes and care appropriateness across a variety of programs and different parts of the country.
Palliative Care Improves Quality While Maximizing Efficiency and Lowering Costs
Thanks to modern medicine, people are living longer with serious and complex illnesses. But today's fragmented health care system makes it difficult to effectively treat people living with a serious illness—just when their numbers and needs are growing exponentially.
A new and better paradigm is clearly called for, a design for care that addresses population needs. Palliative care is that new paradigm. It provides interdisciplinary, team-driven care focused on patient-centered outcomes such as quality of life, symptom burden, emotional well-being, and caregiver need. Its emphasis on communication and continuity of care fits the episodic and long-term nature of serious, multifaceted illness.
And because it focuses on the highest need and highest cost patient segment, palliative care is particularly relevant as an essential strategy for population health management.
Palliative care has demonstrated that it can achieve the win-win health care scenario: higher quality care at lower cost. Since palliative care helps ensure that resources are matched to patient and family needs and priorities, it results in substantially lower hospital costs, providing patients, hospitals, the health care system, and clinicians with an effective solution to a growing challenge. By improving care and preventing crises for those at highest risk, palliative care reduces the need for burdensome and costly acute care services.
Palliative Care Impacts Value
Palliative care teams working in hospitals:
Improve patient and family satisfaction with care [1]
Reduce 30-day readmission rates [2]
Reduce ICU utilization [3]
Can save 9-25% of costs for each inpatient stay [4] through a mixture of shorter length of stay and reduced cost per day.
See more in The Case for Hospital Palliative Care.
Palliative care teams working in home-based programs:
Have been shown to save ACOs, health plans, and health systems as much as $12,000 per person enrolled [5] [6]
Reduce emergency department visits, hospital admissions, hospital readmissions, and hospital length of stay [7]
Health plans that train case managers in skills specific to this patient population and who provide expanded access to specialty palliative care, have seen similar savings while maintaining high rates of satisfaction. [8]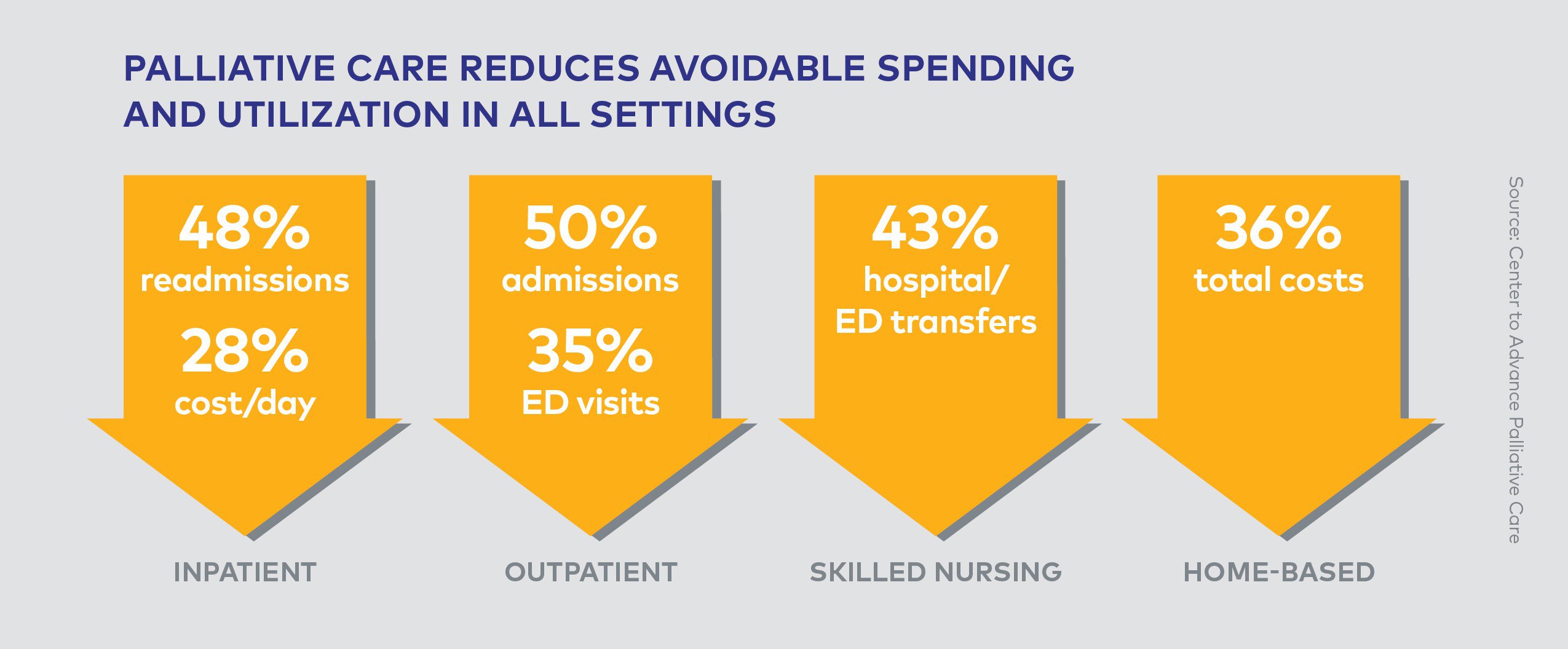 Casarett DS, Shreve C, Luhrs K, et al. "Measuring Families' Perceptions of Care Across a Health Care System: Preliminary Experience with the Family Assessment of Treatment at End-of-life Short Form (FATE-S)," J Pain Symptom Manage, 2010; 40:801-809.

Cassel JB, Garrido M, et al. "Impact of Specialist Palliative Care on Re-Admissions: A "Competing Risks" Analysis to Take Mortality into Account," J Pain Symptom Manage, 2018; 55(2):581.

Khandelwal N, Kross EK, Engelberg RA, Coe NB, Long AC, Curtis JR. "Estimating the Effect of Palliative Care Interventions and Advance Care Planning on ICU Utilization: A Systematic Review," Crit Care Med, 2015; 43(5):1002-11.

May P, Normand C, Cassel JB, et al. "Economics of Palliative Care for Hospitalized Adults with Serious Illness: A Meta-analysis," JAMA Intern Med, 2018;178(6):820-829.

Lustbader D, Mudra M, Romano C, et al. "The Impact of a Home-based Palliative Care Program in an Accountable Care Organization." J Palliat Med, 2016; 20(1):23-28.

Krakauer, R, Spettell C, Reisman L, et al. "Opportunities to Improve the Quality of Care for Advanced Illness." Health Aff, (2009):28(5).

Scibetta C, Kerr K, Mcguire J, Rabow MW. "The Costs of Waiting: Implications of the Timing of Palliative Care Consultation Among a Cohort of Decedents at a Comprehensive Cancer Center," J Palliat Med, Jan 2016; 19(1):69-75.

Spettell CM, Rawlins WS, Krakauer R, Fernandes J, Breton ME, Gowdy W, Brodeur S, MacCoy M, Brennan TA. "A Comprehensive Case Management Program to Improve Palliative Care," J Palliat Med, 2019; 12(9):827-832.