SPECIAL EVENT
Save the Date: CAPC National Seminar 2020
WHEN

November 12-14, 2020

WHERE

Hyatt Regency New Orleans, New Orleans, LA
Open to both CAPC members and non-members.
Seminar At-A-Glance
The CAPC National Seminar—a unique conference experience—focuses on proven methods and best practices in palliative care. This conference brings together 1,000+ health care professionals, national leaders, visionaries, newcomers, and more for practical, inspiring sessions designed to improve palliative care access and quality. Attendees will leave energized with a clear path to taking your expertise and program to the next level.
Areas of Focus:
Opioids and Palliative Care
Dosing Services to Need
Demonstrating Value
Ensuring Sustainability
Improving Referrals
Billing and Financing
Telehealth
Making Change from the Front Lines
ED/ICU Integration
Leadership Essentials
The Healthy, High-Functioning Team
Reaching Vulnerable Patients
Changing Practice Through Training
Pre-Conference Boot Camp: Designing Community Palliative Care | November 11, 2020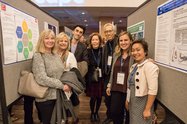 Sign up to be notified when registration is open!
Future Seminars
2021
CAPC National Seminar: November 11-13
Pre-conference Workshop: November 10
Hyatt Regency Dallas
Dallas, TX
Get the latest updates in your inbox!