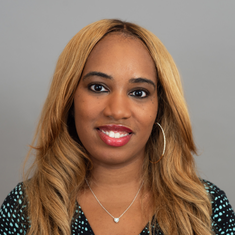 Brittany Chambers, MPH, MCHES
As Director of Health Equity and Special Initiatives, Brittany leads CAPC's Health Equity efforts, currently managing the initiative focused on equitable access to quality palliative care for Black patients. She also serves as a reviewer of CAPC's online clinical curriculum to ensure that the clinical training content includes health equity concepts. She is the co-chair of the Diversity, Equity, and Inclusion Workgroup for the National Coalition for Hospice & Palliative Care.
Brittany served as the co-chair of the planning committee and health equity lead for the annual CAPC National Seminar from 2015 – 2020. She was on the planning committee and moderated the NASEM Roundtable on Quality Care for People with Serious Illness webinar, 'Serious Illness Care, Structural Racism and Health Disparities in the Era of COVID-19'.
Ms. Chambers is a Master Certified Health Education Specialist (MCHES) and serves on the Division Board for Professional Development at the National Commission for Health Education Credentialing (NCHEC). She worked as a Health Educator at Kaiser Permanente Capitol Hill Medical Center in Washington D.C. Brittany also has experience working on NIH-funded research studies and she has co-authored academic peer-reviewed articles. Ms. Chambers completed a health disparities research fellowship prior to joining CAPC.
Brittany is a member of the Delta Omega Honorary Society, was named one of Drexel Magazine's 40 Under 40, and featured as one of the 'People on the Move' by the Journal of Palliative Medicine and Health Equity Journal.
Ms. Chambers received her Bachelor of Science in Community Health from the University of Maryland, College Park, and her Master in Public Health from Drexel University, School of Public Health.
Upcoming Events
Presented By





Presented By