Mapping Community Palliative Care
Are you a community palliative care program? Make it easier for patients, families, and providers to locate your program by participating in Mapping Community Palliative Care, a project of the Center to Advance Palliative Care (CAPC), in collaboration with the National Coalition for Hospice and Palliative Care.
Participants have the option to add their program to the Palliative Care Provider Directory on GetPalliativeCare.org, the top palliative care website for patients and families and the only comprehensive online directory of palliative care programs nationwide. Participation is FREE, takes less than five minutes, and is open to community palliative care programs provided by hospitals, hospices, home health care agencies, medical groups, and long-term care facilities. Participate today.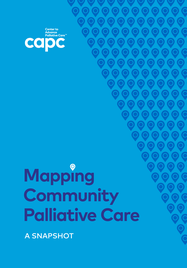 Mapping Community Palliative Care: A Snapshot
An analysis of the three-year project to build this database of community palliative care providers is detailed in our new report, Mapping Community Palliative Care: A Snapshot.
Download the Report
Get the latest updates in your inbox!