Education and Training
Highlights from the Field: Innovative Projects Presented at the 2017 CAPC National Seminar Poster Session, Part One
January 11, 2018

|

By Brittany Chambers and Brynn Bowman
Every August, the Seminar planning committee looks forward to 'Poster Review Day'—our first opportunity to read the inspiring, creative, and often ground-breaking submissions to the 2017 CAPC National Seminar Poster Session. In this article, we've captured a number of the posters from the 2017 Seminar in order to highlight the exceptional work of the participating palliative care programs.
This is the first of two blog posts featuring 2017 Seminar posters. In part one, we focus on posters that creatively addressed common challenges experienced by palliative care programs such as incorporating high-quality measures that matter, patient identification, and palliative care training for all frontline clinicians. Part two features innovative approaches to using the interdisciplinary team efficiently and serving specific patient populations.
Measuring Program Quality and Impact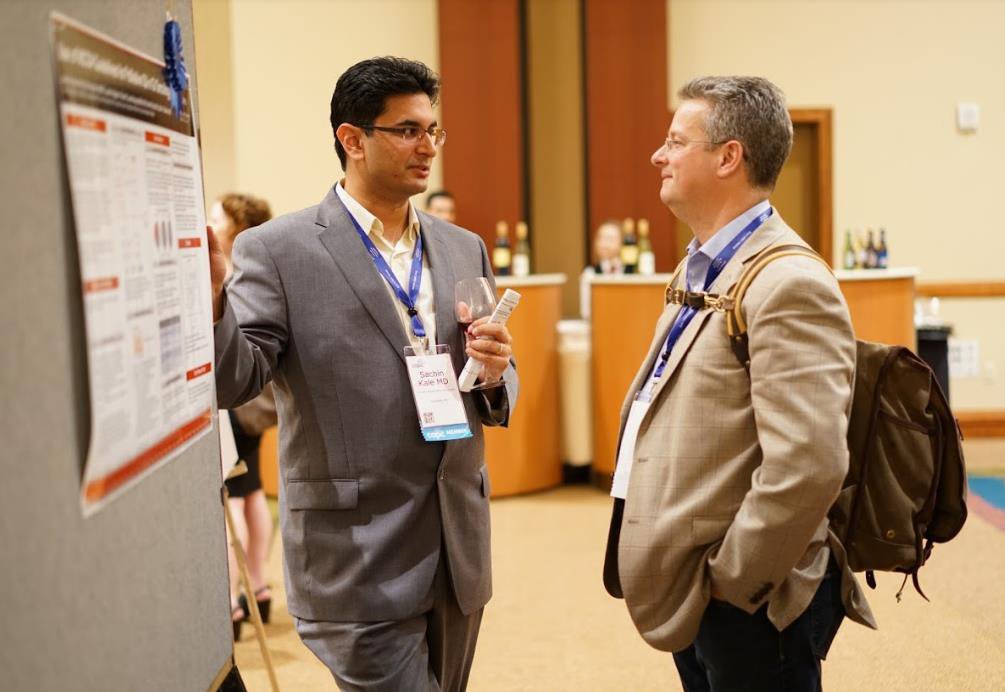 Demonstrating the value of palliative care services can be the key to securing buy-in and resources for program growth. At the University of Colorado Anschutz Medical Campus, the palliative care team is working to achieve this by integrating QDACT (a prospective, standardized, quality-based monitoring system) into their electronic health records. The integration improved efficiency and clinician workflow, while simultaneously addressing the mandatory measures from The Joint Commission.
Health professionals from University of Pittsburgh and Bluegrass Care Navigators partnered to study how ACOs in the Medicare Shared Savings Program (MSSP) capture and report on the use of palliative care and hospice services. Their findings confirm wide variability in how MSSPs approach hospice and palliative care and point to the need for better serious illness and end-of-life care MSSP metrics.
Learn More
– CAPC's program development tools offer more information on measuring and monitoring program impact and improving quality.
– The National Palliative Care Registry™ is open for 2017 data collection. The Registry is free and open to all palliative care programs across the continuum of care. Participate in the Registry and get access to custom reports that measure your program's progress year-to-year, and assess your program through comparisons with peer programs.
Identification of Appropriate Patients
From provider organizations to health plans, the ability to identify patients or members with palliative care needs is critical to addressing gaps in care. The team at Intermountain HealthCare developed a tool with a 94% positive predictive value that helps clinicians risk-stratify patients in order to ensure timely palliative care consults for the appropriate patients. Meanwhile, a group from UCSF and San Francisco General Hospital used health care utilization data to support their palliative care strategic planning process. By examining retroactive utilization data from patients in the final year of life, the group was able to estimate the number of patients who would benefit from community-based palliative care services in the future.
Learn More
Clinical Care Strategies: Educate and Communicate
Primary palliative care education does double-duty—not only does training in core palliative care skills improve competency for all frontline clinicians, but it also serves to clarify the role of palliative care for seriously ill patients and their families. The team at Shawnee Mission Medical Center conducted a needs assessment to uncover misconceptions about palliative care among their staff. Using their findings, the group created discipline-specific educational pocket guides for clinical staff, and materials around patient eligibility and palliative care contact information were distributed to non-clinical staff. Aultman Hospital performed a study to learn about their ICU nurses' comfort and skill levels in communicating with their patients about palliative care. The researchers learned that ICU nurses were often unsure of their roles in initiating these discussions, and they recommended the need for specific, individualized educational plans for nurses in different units/departments.
Skilled communication to elicit and respond to patient and family priorities is a palliative care best practice. The Visiting Nurse Service of Northeastern New York increased communication competency for their clinical staff by developing advance care planning (ACP) facilitator certification trainings for staff, who in turn conduct ACP conversations with their patients. Based on the Respecting Choices model, this poster outlines VNSNNY's iterative approach to communication training delivery. In another poster, a chaplain from Hartford Hospital shares strategies that all clinicians can utilize to effectively and respectfully navigate spiritual conversations to support patients' spiritual needs.
Learn More
– CAPC's Communication Skills curriculum offers five online courses to help all clinicians effectively deliver serious news and conduct difficult conversations with patients living with serious illness, and their families.
The Poster Session is a great opportunity to interact with colleagues who are innovating in the field of palliative care and have one-on-one conversations about your work. Submissions for the Poster Session at the 2018 CAPC National Seminar (November 8-10 in Orlando, FL) will open in May.