An earlier post on this topic was first published on May 9, 2019. This post has been updated with insights based on the information included in the formal Request for Applications (RFA) released by CMMI on October 24, 2019.
What is the New Medicare Alternative Payment Model in the News?
On April 22, 2019, the Center for Medicare and Medicaid Innovation (CMMI) announced five new alternative payment models under the "Primary Cares Initiative." A key pillar of the initiative is Primary Care First (PCF), designed to "test whether changing how Medicare pays for primary care can lead to reductions in acute hospital utilization and lower total cost of care while preserving or improving quality." The intention is to give providers more flexibility and reduce the administrative burdens inherent in the current fee-for-service payment system.
The Request for Applications to participate in the PFC model was released on October 24, 2019, and applications are due by January 22, 2020. CMMI expects to finalize the list of participating practices by Spring 2020, and will then work with practices to prepare for the formal launch of the model in January 2021.
Access to high-quality palliative care will be valuable to all practices participating in Primary Care First, but of the three options available, there are two that offer specific opportunities for palliative care clinicians: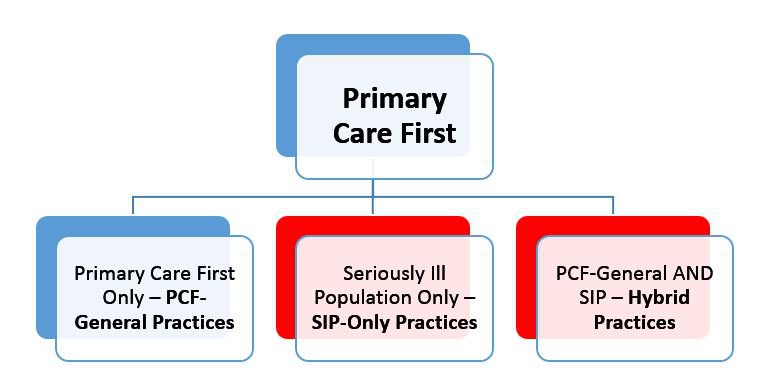 For purposes of this blog, we focus only on the elements of the Seriously Ill Population (SIP) component, which are relevant to both the SIP-only and Hybrid practices.
The SIP is an important development in the Medicare system, recognizing that fee-for-service is a poor fit for the intensive, coordinated care needed by people living with serious illness. Elements of the SIP were informed by the models proposed by both the American Academy of Hospice and Palliative Medicine (AAHPM) and the Coalition to Transform Advanced Care (C-TAC) in Spring 2018.
The SIP is an important development in the Medicare system, recognizing that fee-for-service is a poor fit for the intensive, coordinated care needed by people living with serious illness.
The Primary Care First model options each have distinct requirements for practice eligibility, patient attribution, payment parameters, and quality measures. Most notably, SIP (both SIP-only and within Hybrid practices) is designed to serve only as a time-limited intervention that provides increased financial resources to clinically stabilize patients with serious illness who exhibit a pattern of care fragmentation. Once patients are stabilized, they must then transition to a longer-term health care arrangement (see Transition section, below).
Patients may only stay in the SIP payment model for a maximum of 12 months; however, the model incentivizes an average 8-month length-of-stay across all attributed patients. Rare exceptions to the length-of-stay limit may be made based on patient need, but the extended time will count towards the practice average.
Can Hospices and Palliative Care Programs Participate in the SIP Options?
Yes. Per the RFA: "Hospice and palliative care clinicians will be eligible to provide care for SIP beneficiaries by partnering with primary care practices that are participating in the model or by participating in the model as a practice, should the practice . . . meet the eligibility requirements." In other words, the level of direct participation is at the practice- not the individual provider-level, and the practice must already be participating in Medicare Part B (hospices participating in Part A-only are not eligible).
CMS emphasizes that Primary Care First is appropriate for practices that have "advanced primary care capabilities" and are ready to accept financial risk in exchange for greater flexibility. Therefore, interested hospice and palliative care clinicians (particularly those with less experience in value-based payment and/or primary care delivery) might consider joining the roster of another practice to pursue either SIP option. As an advanced alternative APM, some of the revenue in the SIP model is at risk (see payment section below).
CMS emphasizes that Primary Care First is appropriate for practices that have "advanced primary care capabilities" and are ready to accept financial risk in exchange for greater flexibility.
Like other CMMI models, participation is time and geographically limited:
First, the window to apply to participate is October 24, 2019 – January 22, 2020 and is not currently expected to re-open, except for existing CPC+ practices.
Second, the PCF will be offered in only 26 regions (see map below – shaded states means the entire state is eligible, while stars indicate that only specific locations within that state are eligible). Existing Independence at Home practices may apply regardless of the geography they serve.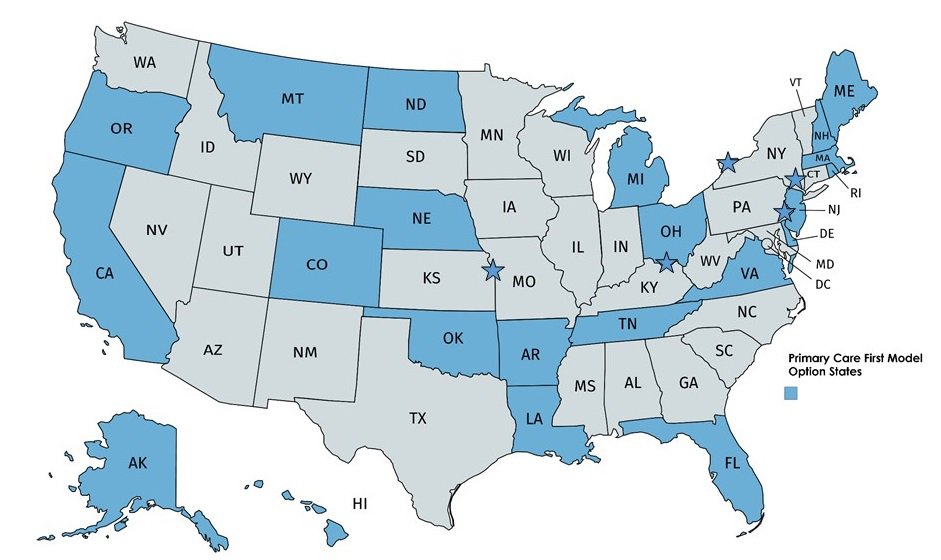 Can Any Part B Practice in the Geographic Areas Participate?
Yes, if they apply on time and meet these eligibility criteria:
Availability of an interdisciplinary care team
Availability of a nurse care manager
24/7 clinical access to a member of the care team
Ability to follow-up with patients after an ED visit or hospitalization
Ability to assess social and functional needs, and formal relationships to connect patients to community resources
Formal relationships with other health care providers in the community, to ensure transition of beneficiaries to care best suited to their longer-term needs
Notably, all practices must use a 2015 Certified Electronic Health Record Technology (CEHRT), although CEHRT will not be a requirement for SIP-only participation in the first year of the program (2021). Practices participating in the Medicare Shared Savings Program and the Track 1+ ACO may participate in this model as well as remain in the ACO model.
Can I Focus Only On Patients' Palliative Care Needs Under the SIP Options?
If you are applying as a SIP-only practice, the answer is no. SIP practices must assume responsibility to coordinate both primary and palliative care for all of the patients' needs, including managing their primary care and ensuring community services are available for social needs. However, if you are in a Hybrid Practice – palliative care clinicians that partner with a primary care practice might be able to focus only on palliative care needs, depending on how the partnership is structured. This should be clarified with your partner(s) prior to submitting the application.
How Does a SIP Practice Get Patients? Can I Accept Referrals?
The primary way that patients will be "attributed" to the SIP model is through a claims-based algorithm administered by CMS. CMMI will identify eligible patients based two factors – fragmentation of care and serious illness. Both fragmentation and serious illness criteria must be present for patient eligibility.
Fragmentation will be identified by one of these two criteria:

No single provider (identified by the Tax ID Number or "TIN") accounts for more than 50% of the beneficiary's total evaluation and management visits; OR
The beneficiary had two or more ED visits or observation stays

Serious Illness will be identified by any one of these three criteria:

An HCC score (the mechanism used by Medicare to assign risk to each beneficiary) of 3.0 or greater; OR
An HCC score of 2.0 or greater combined with 2 or more unplanned hospitalizations in the previous 12 months; OR
DME claims for either transfer equipment or a hospital bed (as indicators of frailty).
Once CMMI has identified a beneficiary through its algorithm, it will then conduct initial outreach to the beneficiary, and assign interested beneficiaries to the SIP practices based on geography and other factors. The "receiving" SIP practice must conduct subsequent outreach and engagement, as evidenced by a face-to-face visit, within 60 days of assignment. Practices are encouraged to contact the interested beneficiary within 24 hours, and this prompt follow-up may be crucial for successful engagement.
In addition, CMMI will allow practices to accept a limited number of patients directly referred by colleagues who meet the SIP criteria. The practice must first obtain the beneficiary's consent to participate in the model and then attest that s/he meets all the eligibility criteria. If CMS subsequently confirms that this person indeed meets the criteria, s/he will be attributed once a face-to-face visit has occurred. The SIP practice may not enroll patients that are currently patients of any of the participating clinicians.
How Will the SIP Payment Work?
For each patient that agrees to services and has a face-to-face encounter with the practice, the practice will receive:
(Month 1) A first-visit payment of $325

For patients directly referred by colleagues, this first visit payment will only be made after CMS confirms that the beneficiary is eligible.

(Months 2 through patient transition off SIP) A monthly per-patient payment of $275 for up to 12 months, adjusted for geography and reduced by a $50 withhold to fund the quality adjustment (see below). This means that the practice will receive a net of $225 per enrolled beneficiary per month (PBPM) before quality adjustments.
A per-visit payment of $40.82 for each face-to-face visit with a Medicare-billable clinician, adjusted for geography. The face-to-face visit payment replaces the billing for these types of visits:

Office/Outpatient Evaluation and Management
Prolonged Evaluation and Management
Transitional Care Management Services
Home Care Evaluation and Management
Advance Care Planning
Welcome to Medicare and Annual Wellness Visits

A quality adjustment, which can raise the net monthly per-patient payment to as much as $325 per month. However, lower performing practices will receive less – down to $225 per month. See below for more information on the quality adjustment, with an illustration from the RFA.
How Will the Quality Adjustment Work?
There are three indicators that factor into the quality adjustment. The first two must be achieved before the third is considered:
Average length-of-stay for all of the practice's patients in the SIP program. Positive quality adjustment is contingent on the average length-of-stay being less than 8 months.
Rate of successful transition. This is calculated as the proportion of SIP participating beneficiaries with zero hospitalizations or ED visits in the three months following their transition out of the SIP model. A benchmark will be established at the beginning of each performance year.
Performance on the quality measure set. There are 5 quality measures used for practices that serve high-need patient populations (i.e., SIP-only practices, Hybrid practices, and PCF-only practices with high risk scores):

Advance care plan (NQF#0326)
Total per capita cost measure
CAHPS beneficiary survey (adjusts payment starting in year 2)
24/7 access to a practitioner, as reported via beneficiary survey (adjusts payment starting in year 3)
Days at home (adjusts payment starting in year 3)
Performance will be compared to a "reference population" in Medicare claims. Participating practices are expected to perform better than average (>50th percentile) in order to be considered for a positive quality adjustment.
This table illustrating scenarios of financial performance based on the indicators is excerpted from the RFA: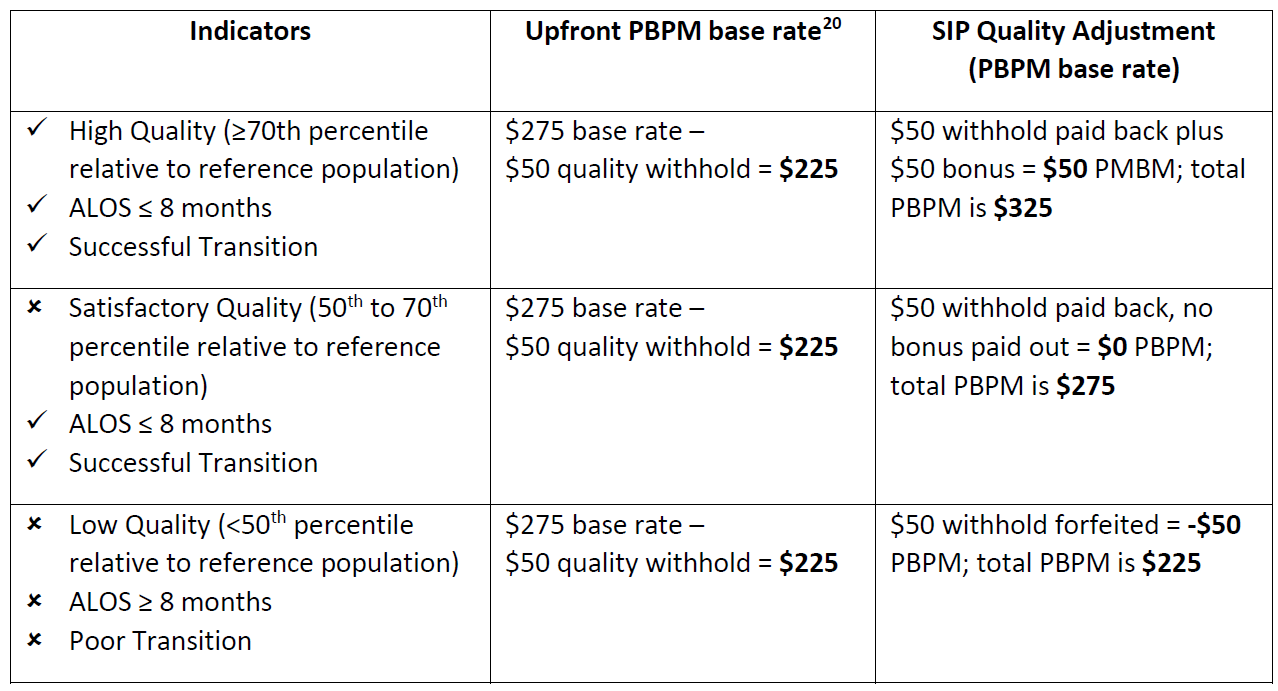 What are the Transition Requirements?
Remember that SIP is intended to be an intensive, transitional model, and that practices are responsible for handing off the patients to a longer-term health care provider, ideally within 8 months. The transitional nature of the model is underscored by emphasizing the average length-of-stay and the effectiveness of the transition in the quality calculations.
Transition options include:
Referring to a different primary care practice with whom you have an agreement in place
Referring to hospice, if appropriate
Retaining at the same practice and receiving reimbursement at a lower PCF payment rate (if Hybrid practice)
Retaining at the same practice and billing traditional fee-for-service under Part B (if SIP-only practice)
The SIP program includes specific requirements for patient transitions, including:
The SIP practice must have a formal care agreement with "receiving" providers that governs the transition and the expectations for continued support and coordination once a SIP transition has occurred.
The SIP practice must notify the patient prior to their final face-to-face visit, adhering to the transition notification process that will be defined in the final CMMI agreement.
The SIP practice must facilitate a warm hand-off to the new provider.
Practices considering SIP participation should evaluate their transition processes, administrative capabilities, and provider relationships.
Can a Program Break-Even Under the SIP Payment Model?
Positive financial performance under the SIP Payment Model may be a challenge, and favors sophisticated population management capabilities together with short lengths-of-stay with well-managed transitions.
Some of the keys to success include:
Utilizing community health workers, nurses, and social workers for patient and family encounters more than physicians and advanced practice providers.
Risk stratifying the population and "dosing" the intervention so that visit volume can be managed within staff capacity.
Using telephone and telehealth visits to help ensure appropriate care when face-to-face visits may not be necessary.
Maintaining a short duration in the SIP model (likely much shorter than the target 8 months).
Strong transition infrastructure capabilities and relationships.
Once more, remember that the SIP is meant to be an intensive, short-term program. Practices should respond with a program design that intensifies services during the first few months to establish effective care plans, and be prepared to transition patients once the plan is working. SIP-only practices may transition these patients to Medicare fee-for-service (Part B) and retain them in their practice.
Hospice and palliative care programs considering participation in the SIP must perform a careful financial feasibility analysis, based on their own staffing, program design, and overhead costs.
What Should Palliative Care Clinicians Do Next?
This is an important decision and the window is closing relatively soon (applications are due January 22, 2020). Hospices and palliative care programs should ask ourselves the following questions as we consider whether to apply directly as a SIP-only practice, or partner with a primary care practice as a Hybrid practice:
Does participating in this new Medicare payment model help achieve the goals of our program in terms of improving access and quality for people living with serious illness?
Are we prepared to take responsibility for the primary care needs of patients who are assigned to us?
Do we have the ability to engage and support patients who are assigned by CMS, and not referred by colleagues?
Do we understand the costs of delivering our program, and how we might fare financially under the SIP payment model? Are we able to risk stratify our patient population and "dose" our interventions to operate more efficiently?
Are we able to stabilize and transition patients to another model or provider? Do we have the administrative capabilities for this, and, if not transitioning to our own practice under FFS, do we have the right relationships to enable successful transitions?
Can we deliver meaningful clinical response to patient calls on a 24/7 basis? If not, how can our program create this capability?
Links for More Information