Payment and Program Financing
FAQs on The New Seriously Ill Population (SIP) Alternative Payment Model Option
May 9, 2019 | By Stacie Sinclair and Allison Silvers
Disclaimer: The information contained in this post is based on public information as of updates on June 14, 2019; however, more details will emerge when the formal Request for Applications is released. This post should be used for preliminary information only.
What is the New Medicare Payment Model in the News?
On April 22, the Center for Medicare and Medicaid Innovation (CMMI) announced five new payment models under the "Primary Cares Initiative." The goal of these models is to test whether new payment options can significantly reduce reliance on fee-for-service billing and improve care while reducing costs. Path #1, or Primary Care First (PFC), models are focused on primary care practices, while Path #2, or Direct Contracting (DC), models allow health care organizations to assume more accountability and risk/reward for total cost of care.
Access to high-quality palliative care will be valuable to organizations participating in all models, and palliative care clinicians may participate with a practice applying for Primary Care First general option. For purposes of this blog, we will focus on the "Seriously Ill Population Option" or "SIP Option."
What is the SIP Option?
Entities participating in the initiative may choose to focus their practice just on high need (aka seriously ill) Medicare beneficiaries, rather than the broader populations in the Primary Care First general option. If the SIP option is selected, the patient attribution and the payment approach differs from the general Primary Care First model. Elements of the SIP were informed by the models proposed by both the American Academy of Hospice and Palliative Medicine (AAHPM) and the Coalition to Transform Advanced Care (C-TAC) in spring 2018.
Can Hospices and Palliative Care Programs Participate in the SIP Option?
Yes. Per the CMMI website: "Clinicians enrolled in Medicare who typically provide hospice or palliative care services (e.g., those affiliated with a hospice, palliative care or similar organization) will be able to provide care for SIP patients either by participating as a practice in the Primary Care First general payment model option or by partnering with a Primary Care First practice participating in the general payment model option that includes these clinicians on their roster of participating practitioners."
However, like other CMMI models, participation is time and geographically limited. The model will operate for five years, and PCF will be offered in only 26 regions (see map below – shared states means the entire state is eligible, while stars indicate that only specific locations within that state are eligible).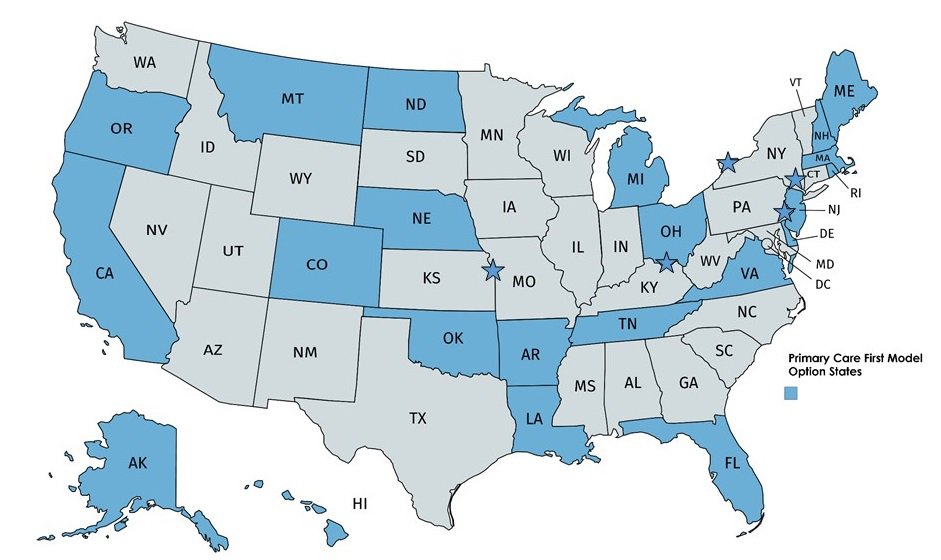 Can Any Hospice or Palliative Care Program in the Geographic Areas Participate?
This is still unclear. CMMI has stated in its public webinars that SIP Option participants need not meet all the Primary Care First general eligibility criteria listed on its website (e.g., minimum patient counts), but has not yet specified exactly which are not applicable. CMMI does note some of the proposed SIP Option eligibility criteria will be as follows:
Availability of an interdisciplinary care team
Demonstrated 24/7 clinical access, including meeting call-back standards
Provision of caregiver support
Network of relationships with other care organizations in the community to ensure that beneficiaries can access the care best suited to their longer-term needs
While CMMI has stated that it will make additional allowances to some of the eligibility criteria to facilitate participation in the SIP Option, it is unclear whether these will extend to requirements such as the use of 2015 Edition Certified Electronic Health Record Technology (CEHRT). Hospice and palliative care programs that cannot meet the final eligibility criteria directly may have opportunities to partner with primary care practices that participate in the Primary Care First general payment model option.
Can I Focus Only On Patients' Palliative Care Needs Under the SIP Option?
This is unlikely. SIP Option participants must assume responsibility to coordinate and care for all of the patients' needs, including managing their primary care. Palliative care clinicians that partner with Primary Care First general option practices might be able to focus only on palliative care needs, depending on how the partnership is structured; this should be clarified prior to submitting the application.
Can I Accept Referrals?
Generally not. CMMI will identify eligible patients based on factors such as comorbidities, utilization, frailty, and poor care coordination evidenced by claims. It will then conduct initial outreach to the beneficiary, and assign interested beneficiaries to the SIP participants based on geography and other factors. The "receiving" SIP Option participant will need to conduct subsequent outreach and engagement. CMMI stated that practices may be allowed on a "case-by-case basis" to accept referred patients who are deemed eligible, but there are currently no details available on how case-by-case determinations will be made.
How Will the SIP Option Payment Work?
For practices participating in the SIP Option, CMMI will identify and assign eligible SIP beneficiaries. Assuming patients agree to services, participating practices will receive:
A one-time payment of $325 for the first visit with a patient
A monthly per patient payment of $275 for up to 12 months (see note below)
A per-visit payment of $50 for each face-to-face visit with a Medicare-billable clinician
A quality adjustment of $50, which can either pay as much as $50 per enrolled patient per month, or reduce payments by as much as $50 per enrolled patient per month, based on performance. The criteria for this performance bonus/penalty has yet to be articulated.
Note that patients may stay in the SIP model for no more than 12 months, after which the practice must link the patient to a provider who will manage and coordinate their care. Details on the required hand-off are not yet known, but suggestions made included a Primary Care First practice or hospice care.
Additionally, CMMI will utilize a set of quality measures to assure safe and appropriate care for SIP beneficiaries, and may use these quality measures to adjust some or all of the payments made. CMMI has not yet articulated the quality measures to be used for the SIP Option.
Can a Program Break-Even Under the SIP Option Payment Model?
Based on what we know currently, it seems possible that a practice participating in the SIP Option could break-even under this model. In order to do so, a practice should:
Have a higher ratio of nurses and social workers relative to physicians and advanced practice providers
Risk-stratify its population and "dose" the intervention so that visit volume can be managed within staff capacity
Use telephone and telehealth visits to help ensure appropriate care while dosing the intervention
An analysis using the CAPC Payment Accelerator tools (specifically the "Accelerator Risk Stratification Guide" and "Home-based Staffing Models Summary") suggests that programs can break-even when: 1) the distribution of the population is 20% High Risk, 60% Medium Risk, and 20% Low Risk; 2) the average length of stay on program is under 6 months; and 3) the staffing model and visit/telephonic mix reflect the assumptions above.
Hospice and palliative care programs considering participation in the SIP Option should perform their own financial feasibility analysis, based on their own staffing and overhead costs.
What Happens Next?
The National Coalition for Hospice and Palliative Care, as well as other leaders in the field, are communicating with CMMI to better understand the details of the models, and to ensure that participation is feasible and patient safety is protected. CMMI plans to release the Request for Applications, which will provide much more information, in "Spring 2019," and the models will start operation January 2020. A second round of Requests for Applications is anticipated later in 2020.
In the meantime, hospices and palliative care programs should ask themselves the following questions as they consider whether to apply directly under the SIP Option, or partner with a primary care practice:
Does participating in this new Medicare payment model help achieve the goals of my program?
Am I prepared to take responsibility for the primary care needs of patients who are assigned to me?
Do I have the ability to engage patients who are assigned by CMS, and not referred by colleagues?
Do I understand the costs to deliver my program, and how might I fare financially under the SIP Option payment model? Am I able to risk stratify my patient population and "dose" my interventions to operate more efficiently?
Can I deliver meaningful clinical response to patient calls on a 24/7 basis? If not, how can my program create this capability?
Links for More Information