Health insurance plans, accountable care organizations (ACOs), and most hospitals are pursuing value in health care – higher quality and satisfaction at a lower cost. Currently, there are few solutions available that deliver on value as well as palliative care, and yet it remains a challenge for palliative care programs to secure sufficient payment to support their team. Preliminary research by the Center to Advance Palliative Care (CAPC) found far too many community-based palliative care programs – even those sitting within value-driven organizations – relying on an inadequate patchwork of fee-for-service and philanthropy.
To ensure that the seriously ill have access to quality palliative care services in community settings, we've created the CAPC Payment Accelerator ("Accelerator") to support programs with the information and tools needed to secure sustainable financing. Modeled after a start-up business accelerator, the CAPC Accelerator is a year-long program that begins with an intensive in-person workshop (held as a pre-conference event for CAPC National Seminar), followed by exclusive access to resources and virtual events on relevant topics, as well as ongoing mentoring and peer-to-peer support.
Before opening the Accelerator to a broad audience this year, CAPC kicked off a pilot program in November 2017, with a pioneering class of 36 organizations, that are currently halfway through the program. Through surveys and progress updates, the inaugural cohort has shared insight into the "trials and tribulations" involved in both creating financial partnerships and operating successfully under alternative payment models such as per member per month fixed payments. We thank this pilot Accelerator cohort for sharing their experiences thus far, and have included highlights below.
Steps on a journey: insights at the halfway point
Almost all participants noted that building and sustaining financial partnerships is a long game. While Accelerator participants did establish relationships with payer and ACO partners, it has been more challenging to gain investment or payment commitments. At the halfway point of the current cohort's year participating in the Accelerator, survey results reveal:
72% of respondents have identified their preferred financial partner, and 54% have identified their preferred payment model
59% of respondents have developed their pricing proposal and payment "pitch," with roughly half continuing to refine as they discuss internally and externally
The majority of respondents have also secured organizational approval for pursuing alternative payment arrangements
Those who have already secured an actual contract for payment (slightly under half) report that the average time from initial meeting to finalizing contract terms was eight months, ranging from three to 18 months. A number of respondents noted that starting the conversation was valuable even if initial interest was negative, as "people who have said 'no' at one point in time may not always say 'no'."
Additional benefits that were noted among participants include:
Strengthened relationships within the team and/or key internal departments
Increased quality and performance of the palliative care program
Increased market visibility and referrals
Confidence that the program is worthwhile and moving in the right direction
Challenges and lessons learned
As noted, the process of cultivating relationships in order to secure financial partnerships is a long-term effort. As one participant stated, "When a partner says one timeframe, multiply that by three. That is more accurate…"
When a partner says one timeframe, multiply that by three. That is more accurate…
Although the need for patience with timelines is the major concern of the pilot group, there were several other common challenges reported by participants, who offered "lessons learned" and suggestions, which are included below.
It costs money to get to the starting line of a contract. Staff need to be hired and trained/oriented; reporting and documentation established; and reliable intake, workflow, communications defined – all before patients and payment arrive.
Suggestion: Make sure to understand the total upfront investment required, and pursue working capital through regional foundations, philanthropy, or other sources.
In order to illustrate the need for palliative care in the financial partner's population, it is helpful for palliative care programs (Accelerator participants) to have relevant data from the partners. This is sometimes surprisingly difficult to obtain.
Suggestions: Seek qualitative data from your partner such as asking their case managers which patients they are having difficulty helping. Also, collect as much data and case studies as possible from your existing operation, to be presented as a "starting point" for discussion with your payment partners.
Palliative care vendors such as Aspire Health and Landmark Health, or complex case management programs are already in the market.
Suggestions: Determine whether or not it makes sense to compete. If there are already vendors in your market, can your financial partnership be directly with the vendor? Alternatively, look to consolidate your palliative care program with other offerings, such as home health agencies or post-acute networks. Providing a broader solution with others can help open doors that you couldn't on your own.
In addition to suggesting solutions for overcoming common challenges, participants have some important advice to share:
Learn as much as you can about a payer and their expectations. Ask them what their highest priorities are in terms of care of their seriously ill members. Ask them what other solutions they have tried or are currently using. When communicating with stakeholders, have a pitch ready, and use compelling patient stories to illustrate your point. Consider this example from the Accelerator's template "pitch deck":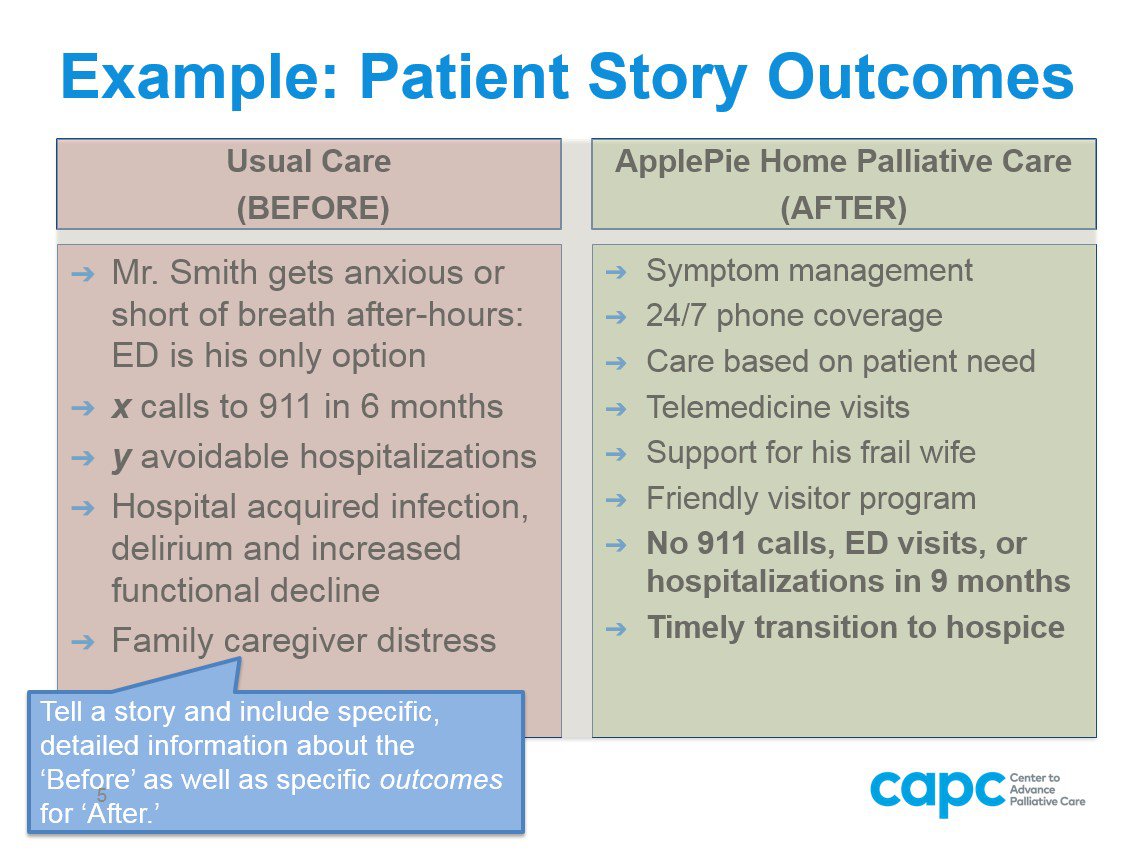 It is valuable for the palliative care program to be at the table during hospital negotiations with payers; this will ensure that information relevant for palliative care services data is obtained and included in the negotiation.
Start by innovating or piloting on a smaller scale with known partners, and grow from there.
Remember not to over-promise (i.e., get out over your skis); exceeding expectations is a winning strategy.
Do not be afraid to ask—partners are all working toward the same goals, in a broad sense. If it makes sense for you, it should make sense for them, and they may be willing to take the risk, if presented properly.
Check with your compliance team if you are expanding services; licensure and federal laws come into play.
How the Accelerator has helped the inaugural class
The vast majority of survey respondents (99%) have found the Accelerator helpful, and would recommend it to colleagues and other palliative care and hospice programs seeking to contract with payers and/or take on risk. Participants reported that the Accelerator greatly increased their knowledge on the subject of payment, improved their momentum, and helped to think creatively about solutions to move their programs forward.
While participants originally expected Accelerator to be a one-time event, most were pleased to have ongoing access to resources and mentoring throughout the year, as well as learning about others' challenges and solutions. Among the many tools that participants cited as most helpful (which will be included in future Accelerator cohorts):
Opportunity Assessment – Guided questions to define your program's strengths and opportunities as you seek financial partners
COST Tool – A Payment Simulator that helps programs to calculate potential prices for their services based on varying inputs
Legal resources – Explanations and illustrative examples for contract provisions
Participants noted that the Accelerator's resources for understanding and adapting program costs can be helpful for any organization interested in pursuing a future Medicare alternative payment model (APM) that may come from the Center for Medicare and Medicaid Innovation (CMMI).
One participant wrote about their experience thus far: "[The Accelerator] is the most comprehensive program any of us have experienced. It is not repetitive, it's not full of fluff. Not only did it build our knowledge base, but also helped unite our team by making it more cohesive. Helped build connections with other agencies and programs."
The Accelerator is the most comprehensive program any of us have experienced. It is not repetitive, it's not full of fluff.
CAPC Payment Accelerator is now open to all
The inaugural class has helped us refine the Accelerator program; this year the Accelerator will have additional faculty for the in-person workshop to discuss real-world experience from both a payer and the palliative care program perspective. It will feature expanded teaching and tools for improving program efficiency in preparation for the hoped-for alternative payment model (APM) for serious illness care, currently under consideration at CMS. Per the American Medical Association (AMA):
"An innovative payment strategy developed to identify and address gaps in care for seriously ill patients and to support and ensure sustainability of interdisciplinary palliative care teams has earned backing from the AMA and a key Health and Human Services (HHS) panel."
We invite all community-based palliative care programs to participate in the 2018 CAPC Payment Accelerator, starting with an in-person workshop on November 7, 2018 in Orlando, Florida (right before the CAPC Seminar). Register now CAPC Payment Accelerator: Financial Sustainability for Community Palliative Care Programs– space is limited.
Participation includes the in-person workshop, ongoing virtual education, and access to more than twenty specific tools and resources to support the process of contracting with a payer, or taking on financial risk. The first cohort has found it was "very, very" beneficial, even "necessary" to attend as a team, particularly with inclusion of staff responsible for financial management, contracting, and business development.
For more information about the 2018 CAPC Payment Accelerator, and to register click here.