Education and Training
Palliative Care Innovation Presented at the 2018 CAPC Seminar Poster Session
Updated April 30, 2019 | By Brittany Chambers and Brynn Bowman
Each year CAPC issues a call for posters in order to learn about cutting-edge models and share best practices at the National Seminar. This year, eleven posters were chosen for special recognition based on their creative strategies, efficient use of program resources to provide best-quality care, and ability to clearly articulate their interventions so that CAPC Seminar attendees, and visitors to CAPC's website, can adopt similar strategies. We are thrilled to highlight these posters below, and provide further detail on the Seminar Posters page.
Collaborative Models
The team at North Texas Specialty Physicians (NTSP Holding Company, LLC) worked to bridge gaps in care for patients by partnering with community agencies. After identifying that patient suffering and poor outcomes resulted from medication issues, poor crisis management, caregiver stress, and social isolation, they used an interdisciplinary approach–including time from two pharmacists--to collaborate with community partners to maximize support for patients. For example, to reduce avoidable ED visits and admissions, they worked with a community paramedicine program administered by a local emergency medical services (EMS) provider. After implementing a series of activities with partner organizations, the program resulted in a 45 percent reduction in total Part A and Part B expenditures, and an 80 percent reduction in hospitalizations for their patients.
After implementing a series of activities with partner organizations, the program resulted in a 45 percent reduction in total Part A and Part B expenditures, and an 80 percent reduction in hospitalizations for their patients.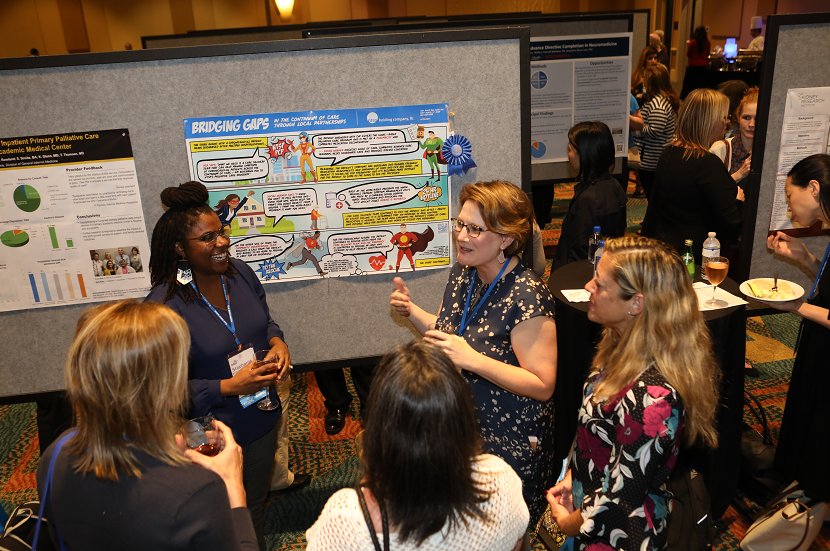 The team at Life Transitions also leveraged partnerships to improve care quality for their patients. Working with the organization's Advanced Home Care program to partner on strategic planning, implementation activities, and data analysis, the partnership successfully demonstrates that community-based palliative care and home health can improve the quality of life and reduce overall cost of care, enhance the patient experience by successfully keeping patients at home when preferred, and simultaneously improve the experience of health care providers.
Risk Stratification and Dosing Services to Need
Palliative care teams' ability to target patients for the appropriate level of services—based on need—has direct impact on program effectiveness and sustainability. This year CAPC received posters from three programs that strategically worked to identify patients early that are at high risk for hospitalization and have need for palliative care services.
The palliative care program at Wellmed proactively reviewed patients who were enrolled in the home-visiting program. While all patients met established criteria for home medical care, about half the census were high utilizers of financial resources and time, while the remaining half were more stable and required fewer resources. A staffing solution was proposed to more efficiently care for patients with the resources allocated for the program. Weekly meetings were scheduled to discuss high-risk patients, and monthly meetings were arranged to discuss more stable patients. Additionally, the team used telehealth visits to maximize both patient contact and efficiency for providers, and to ensure appropriate attention and intensity of care for high-risk patients.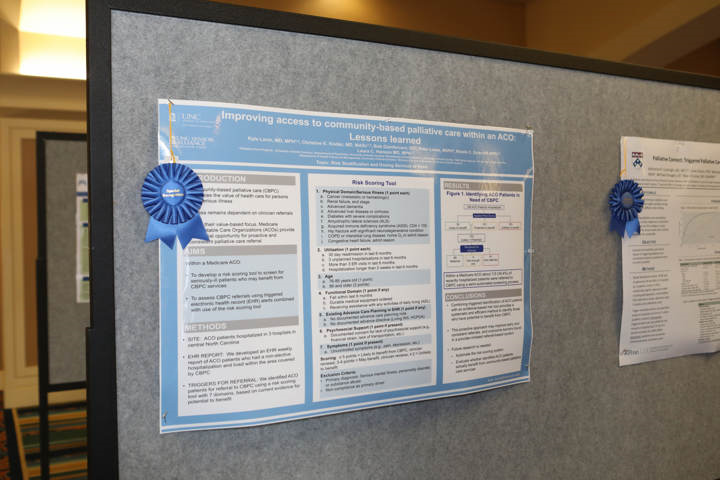 The team at UNC Chapel Hill School of Medicine shared their collaboration between an Accountable Care Organization (ACO) and a palliative care program using semi-automated screening to improve efficiency and enable systematic identification of seriously-ill patients. A risk-scoring screening tool was developed to identify patients who would benefit from community-based palliative care, which was used in combination with an electronic health record (EHR) trigger. In the pilot, a palliative care clinician further reviewed the patients identified and recommended referral for palliative care.
To systematically identify patients most likely to benefit from palliative care, the University of Pennsylvania Health System took a similar approach using an EHR prediction model. The team created an EHR-based mortality risk stratification model, and evaluated its clinical impact when used as a trigger for inpatient palliative care consultations. After piloting the trigger, they were able to confidently and accurately identify patients with high risk of six-month mortality at admission who would not otherwise have received a palliative care consult. These promising proactive approaches can increase early referrals and reduce variation found in a provider-initiated referral-based system.
The team at the Zuckerberg San Francisco General Hospital assessed the feasibility of telehealth visits for seriously ill patients in an urban, safety net palliative care clinic. Prior to the implementation of telehealth services, no-show rates averaged 37 percent -- many due to patient illness or symptom severity, lack of access to transportation, or patients feeling overburdened with in-person appointments. To understand if telehealth would be feasible for the patients, a patient technology access survey determined that only 47 percent of those surveyed would be good candidates for telehealth visits. Of the eleven patients who accepted training, five were scheduled for televisits and four completed visits. Despite the small sample size, the no-show rate for televisits was notably lower than the general clinic no-show rate over the same time period. The results suggest that 10 to 20 percent of the clinic's population could complete televisits, given the appropriate support and training. These promising findings suggest telehealth visits in an urban, safety net institution can help overcome barriers in access to palliative care.
Learn More
Advance Care Planning Initiatives
One of the core principles of palliative care is to align care with patient's values and goals. One way to achieve this is the use of Advance Care Planning (ACP), a process to assist individuals in making informed decisions about their future medical care. The University of Rochester Medical Center team learned many lessons after implementing an ACP intervention targeting minority elders. After assessing the current state, they realized that although all patients were asked about advance directives, the screening process rarely lead to meaningful discussions about future care. They conducted focus groups to solicit feedback about current barriers including cultural and religious considerations. Participants advised the team to focus their efforts on empowering patients and cultivating relationships with patients and families before launching into advance directive discussions. They identified barriers to these conversations including providing information too fast, and not giving patients/families choices about site and timing of conversations. To be responsive to the feedback received, the team hired and trained two social workers to engage patients in meaningful discussions about ACP. Consequently, 46.8 percent of their patients completed at least a Health Care Proxy (HCP) after one visit, demonstrating the feasibility of having these essential conversations with previously hard-to-reach populations.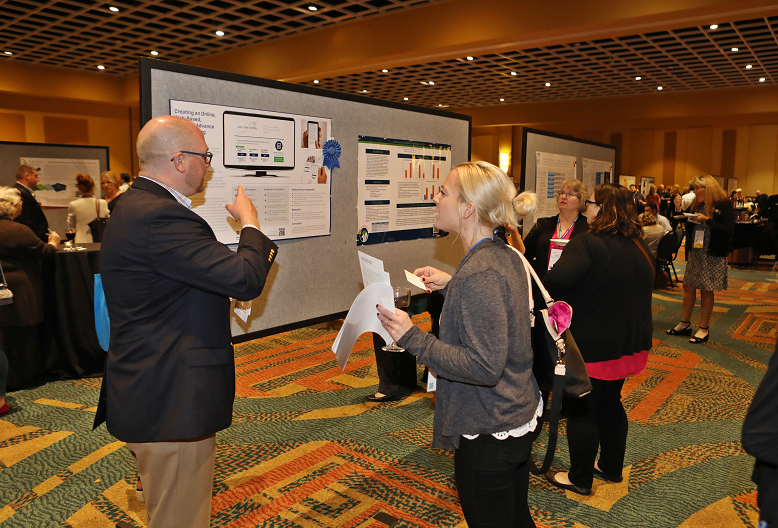 Another team leveraged technology for advance care planning. Penn Medicine's Center for Health Care Innovation designed the Our Care Wishes platform to help patients and their families discuss, document, and share their care goals and wishes. Acknowledging the various infrastructure barriers that exists in conventional ACP initiatives, this platform helps patients create an easily read document that is available and updatable online, can be sent electronically to others identified by the patient, and can be imported into the patient's Epic-based electronic medical record. The platform is currently being used throughout the Penn Health system and continued quality improvements are ongoing.
Learn More
Quality Improvement: Addressing Readmission Rates
At Hospice and Palliative Care, Staten Island University Hospital, the team evaluated Staten Island nursing homes that implemented the National Quality Forum (NQF) palliative care standards as part of the Delivery System Reform Incentive Payment (DSRIP) program. The nursing homes implemented an in-person interdisciplinary palliative care training program that focused on foundational principles of palliative care such as pain and symptom management and communication skills. Upon completion of the in-person training, the facilities were required to establish processes for identifying palliative care-eligible residents. Latest findings from this initiative showed that for enrolled palliative care residents, the hospital transfer rate decreased from 8 percent to 2 percent in one year. Additionally, the team estimates that given their pay-for-performance model, it has potential earnings from the initiative of $4 million. This initiative has increased the availability of palliative care services for nursing home patients in Staten Island while simultaneously reducing hospitalizations and associated costs.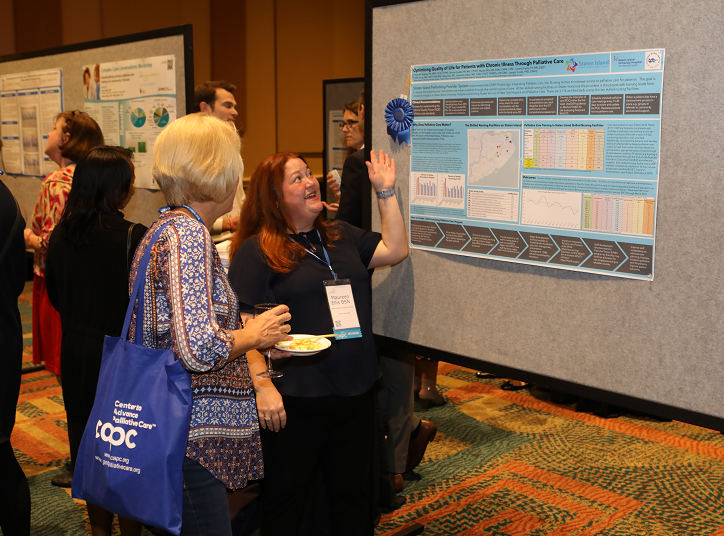 The 2016 Circle of Life award winner, Supportive Medicine at Memorial Hermann Physician Network, demonstrated the value and impact of their program by reducing readmission rates for their patients with serious illness. The team starting by focusing on the communication skills needed to conduct goals of care discussions. They 'process-mapped' team activities to identify value vs. non-value-added time spent by staff within the program. They found instances where the interdisciplinary team's time could be reallocated to patient care. To analyze impact, the team compared the top six APR DRGs (All Patients Refined Diagnosis Related Groups) for the palliative care program against a system control group of the same six DRGs. Findings demonstrated that readmission scores for the palliative care patients were half (9 percent vs. 18 percent) of the system averages.
Two leaders from different organizations—Bluegrass Care Navigators and University of Pittsburgh—teamed up to assess the financial impact of a serious illness strategy for a typical Medicare ACO. Using baseline characteristics of the traditional Medicare population, they modeled their ACO patient cohort to project the impact of both inpatient and home-based palliative care. They examined total expenditures, with a focus on the impact of averted hospitalizations. Using relatively conservative estimates of impact, they estimate that an average ACO could reduce expenditures by almost $975,000. Additionally, projections suggest quality scores would improve due to a reduction in unplanned admissions among those with multiple chronic conditions, as well as reduced readmission rates. This project is one of the first known efforts to quantify the opportunity cost of not providing patients with palliative care. Findings suggest that a serious illness strategy could improve both the financial savings and quality performance of Medicare ACOs.
Learn More
In Conclusion
As a field, we have has moved through a series of important developmental stages in the past two decades. Hats off to the 2018 poster presenters for sharing their exceptional work, and for acting as social change agents to advance the care of people—and their families—living with serious illness.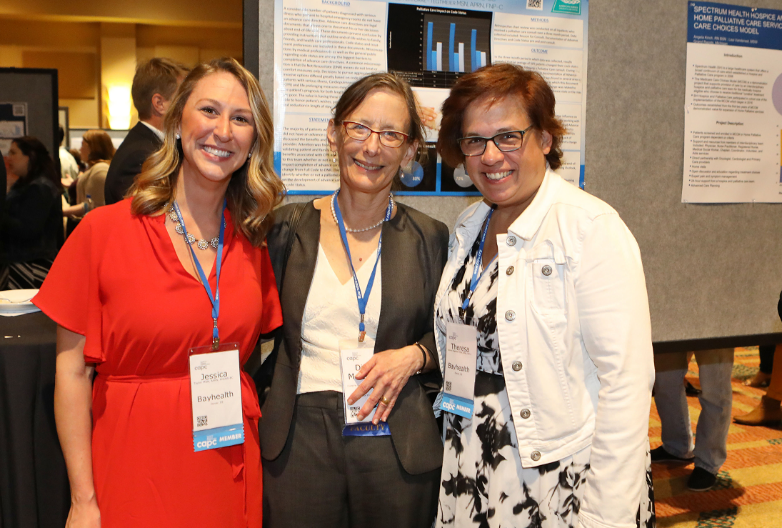 Are you working on an innovative project that others can learn from? Submit an abstract for next year's Poster Session and Reception, taking place on Thursday, November 14 in Atlanta, GA! Call for poster abstracts will go out July 2019.
For more information and to view last year's posters for inspiration, click here.
Get the latest updates in your inbox!