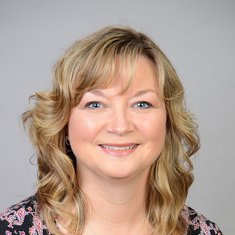 Rikki Hooper, FNP-C, MBA
Rikki Hooper joined Four Seasons in 2004 as a palliative care nurse practitioner and has been providing patient care since then. She has served in various leadership roles, including palliative care director, regional manager, and regional director of palliative care. As a strong believer in quality care at end of life, Ms. Hooper consistently advocates for her patients and families to achieve their goals.
In 1991, Ms. Hooper immigrated to the U.S. after completing basic nursing education in England. As an RN, she worked in oncology and critical care prior to becoming a family nurse practitioner. As an FNP, she worked in critical care, sleep medicine, and pulmonary medicine before joining Four Seasons.
Certified in advanced hospice and palliative nursing, she provides care for patients in all settings, both pediatric and adult, though most recently her clinical practice area has consisted mostly of long-term care. She has presented at both regional and national meetings on a variety of topics, and has served on the American Academy of Hospice and Palliative Medicine (AAHPM) Task Force for Quality, and on the Home-based Workgroup for the Center to Advance Palliative Care (CAPC). Ms. Hooper is a national trainer and speaker on palliative and advanced illness care, providing high-quality education and training through national organizations including AAHPM and CAPC. She has been part of the long-term care faculty for Boot Camp at the CAPC National Seminar for the past 3 years.