In 2021, a crucial change influenced how we communicate and coordinate care with our patients. As a result of the 21st Century Cures Act ("Cures Act"), sharing clinical notes with patients was mandated nationally. In a previous CAPC blog post, we reviewed the significant benefits of sharing clinical notes with patients, focusing primarily on progress notes and a practice commonly referred to as "open notes." Studies exploring the benefits of sharing open notes show improved communication, patient engagement, patient outcomes, and opportunities for patients to improve the safety of their own care. Patients also experienced greater confidence in their care with accurate documentation. Studies looking at clinician and patient experience with open notes resulted in overwhelmingly positive attitudes and experiences for both groups.
What was missing in that discussion was a parallel conversation around other elements in the record that are now broadly available to patients: lab reports, and imaging and pathology narratives. A 2022 article in the New York Times asked readers, "Your Medical Test Results Are Available. But Do You Want to View Them?" and stated that some medical information "delivered without context [is] causing high anxiety."
In this blog post, we share new research about patient preferences in viewing test results, and how clinicians might offer education and anticipatory guidance around information that could be troublesome for some patients.
What Does the Law Say Regarding Test Results?
As of April 2021, the Cures Act mandated the near-immediate availability of all information in a patient's record—including test results—with few exceptions, and without delay. This kicked off what has been, and continues to be, a heated debate over what "immediate" and "without delay" mean.
The U.S. Office of the National Coordinator for Health IT published lengthy documentation for those working in the health IT professions to help organizations understand what the law requires of them, but this guidance isn't exactly prescriptive. Here are three ways practices have chosen to electronically release results to patients to comply with the law:
Some practices have decided to release all test results immediately to portals the moment they are released in the electronic health record (EHR). Meaning, if a test result can be seen in an EHR on the clinician side, it can also be seen on the patient side.
Other practices have implemented result release where tests are released in batches (e.g., at 8:00 am local time) or only Monday through Friday. The batching method has also been used to hold results from being released to patients until after a full hospitalization.
Still, other practices have changed notification preferences in patient portals to "mute" test results, thereby forcing patients to turn on test result notifications manually. However, many patients may not realize that they can make these customizations from within their patient portals. Often, practices that go to this last extreme do not attempt to communicate these technical modifications to their patients.
If a practice were to prevent patients from getting access to their digital records, the practice could be fined for "information blocking" and face fines up to $1 million per occurrence. However, the Cures Act does allow clinicians to hide specific information from patients under two exceptions:
If the clinician believes a patient will harm another person or themselves as a result of reading the information, or
If the clinician needs to protect the security of another person's electronic health information (e.g., a mother's health information in a child's record)
Since the implementation of the Cures Act and the writing of this blog post, physician lobbying groups have helped pass two new laws in Kentucky (HB 529) and California (SB 1419) that prevent patients from seeing their test results before health care professionals review them in the case of a new cancer or Huntington's disease diagnosis. However, physicians in opposition to the California legislation are currently contesting this law—and state-level legislation in other areas may change in the future.
What Does the Research Say About Sharing Test Results with Patients?
Research suggests patients prefer immediate access to their test results, even if it means the results are released before the ordering health care professional has reviewed them. This is the case even when results are out of range or "non-normal".
In a recent survey of 8,139 patients across four academic medical centers, patients—even those with "non-normal" results—overwhelmingly (96%) preferred to receive immediate results via the patient portal. It is important to note, however, that "increased worry" about the interpretation of test results was more common among those with "non-normal" test results (16.5% vs. 4.9%). (Note that the study applied to anyone who uses the patient portal, and not just those facing serious illness.)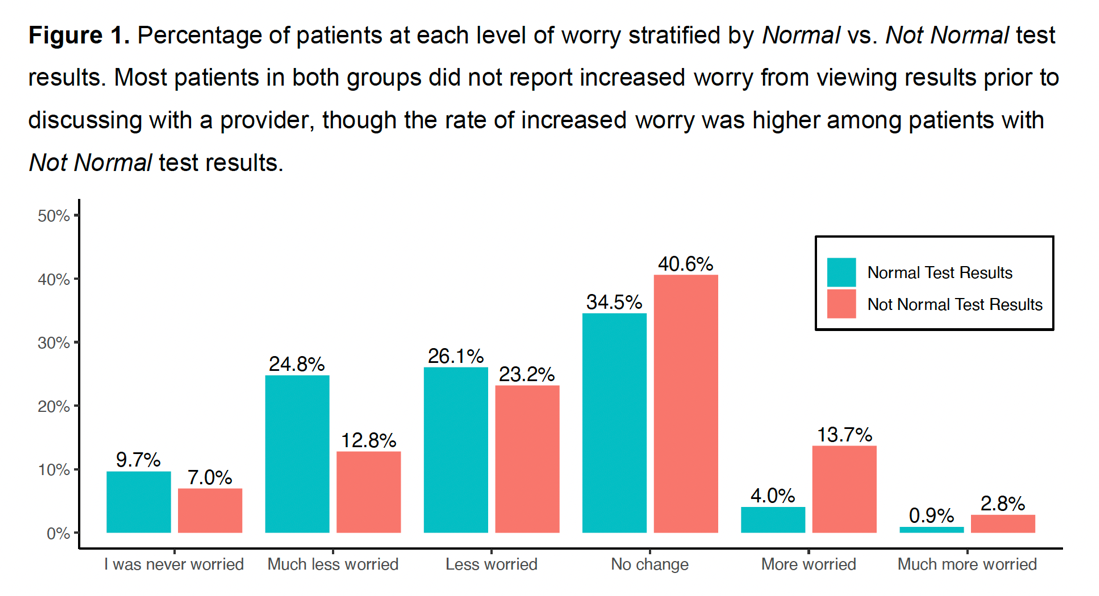 How Does All of This Apply to Seriously Ill Patients?
Patients and families living with serious illness are likely to receive "non-normal" results with some degree of frequency when they go to their chart to review their data, labs, and imaging. Additionally, many seriously ill patients have regularly scheduled testing checkpoints to look for disease progression and/or response to treatment (e.g., staging and re-staging in cancer patients). Patients often find these checkpoints stressful. Add to that the stress of patients reviewing results independently and with less context and structure than we were previously accustomed to providing, and one can easily imagine how anxiety might result!
"By communicating effectively and providing high-quality education and anticipatory guidance, we can prepare patients to make informed decisions about how and when they wish to access their test results."
So, how can we help seriously ill patients access their test results in a way that best supports their needs and minimizes unnecessary anxiety? By communicating effectively and providing high-quality education and anticipatory guidance, we can prepare patients to make informed decisions about how and when they wish to access their test results. We can even provide resources to help them seek the best information possible when questions inevitably arise.
Recommendations for Providing Anticipatory Guidance for Test Results
Here are some recommendations and tips for providing anticipatory guidance in this setting:
1) Prepare your patients for the fact that their test results will be available electronically, possibly before their medical team completes their review.
Share your expectations about when the results will likely be electronically available in their patient portal. Also, share when they can expect to hear about the results from their health care team.
2) Contextualize why you are ordering the studies or tests.
Consider providing patient education materials that provide an overview of the relevant test, why you have requested it, and what they should expect in follow-up.
3) Empower patients to choose whether to review their results independently or wait to hear from the health care team.
If checking test results before discussing the result with a health care professional is an added source of stress, patients can wait to talk through the results.
4) If patients do want to review their results before talking with their health care team, help the patient identify reliable patient-facing resources so they feel safe and confident with the medical information they have at hand.
Such resources may be available in your clinic or through your patient education office. We recommend directing patients and families to websites that reliably provide accurate and accessible medical information for patients (e.g., Cleveland Clinic, Mayo Clinic, American Cancer Society). Providing dependable resources upfront should also decrease their risk of going down Internet rabbit holes of possible medical misinformation.
5) Encourage patients to contact their medical team.
And suggest moving their appointment if they have urgent questions so that they can discuss their results and care plan with their health care provider.
6) Advise patients and families about steps that are either not helpful or that may exacerbate confusion, misinformation, or upset.
Counsel about the hazards of unstructured or open-ended internet searches and crowdsourcing information via social media. Explicitly share the risk of inaccurate or irrelevant information that may induce confusion or panic. Encourage patients to rely on resources you recommend or provide.
Discourage calling the overnight or on-call physician to explain the implications of their results. A covering provider is unlikely to have much more context than the patient and will not (and should not!) speak to a potential plan—beyond encouraging the patient to discuss the results with the ordering provider.
Some studies do require immediate action. In those cases, prepare the patient and family ahead of time so that they know how they will receive instructions after hours.
Patient-Facing Resources:
How To Use Open Notes offers patients and their families information about open notes in a convenient and easy-to-navigate format. Created by health communications professionals, patient advocates, physicians and mental health specialists, it is written at a 5th-8th grade reading level, making it accessible to a wide range of individuals. The web-based resource is currently available in English and Spanish, with a goal of adding additional languages in the future.
Where Is My Medical Record breaks down many details about getting access to records, and patients' rights to access to their health information, in plain language. This resource, designed by OpenNotes, was written at a 6th-8th grade reading level and is available in English and Spanish.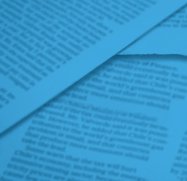 Get the latest articles in your inbox!
Be the first to read articles from the field (and beyond), access new resources, and register for upcoming events.
Subscribe
Edited by Melissa Scholl and Melissa Baron. Clinical review by Andrew Esch, MD, MBA.