The approach of a major hurricane creates a pervasive sense of anxiety and urgency to secure one's home and seek safe shelter. In the days leading up to Hurricane Irma making landfall in Florida, it seemed that empty store shelves and long lines at gas stations happened overnight.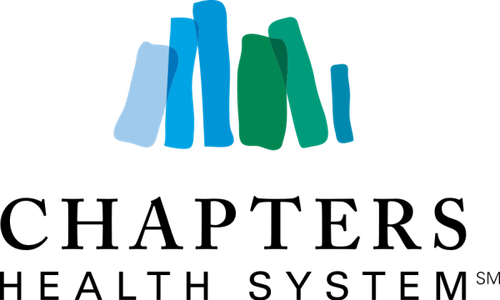 I am a physician board-certified in Hospice and Palliative Medicine, and the Medical Director for Chapters Health Palliative Care. I had not expected that we would play any significantly different role during the storm, other than that which we play every day on our busy inpatient consult service (our team averages 120+ new patient consults and nearly 400 follow-up visits monthly). Yet I found my specialty skills well-utilized during the recent hurricane in Florida. With Irma about to make landfall, our primary clinical site, Florida Hospital Tampa (FHT), was ramping up in frantic preparation. For me this was a new experience and the hospital felt like a different world than the one in which I practiced every day. In addition to roughly 500 patients, more than 1600 medical staff and hospital personnel needed to be sheltered, and there were not enough beds for everyone. Despite the bed shortage, they did manage to care for the additional people, many of whom arrived with children, elderly loved ones, and even their pets! Everyone was accounted for daily and food was served three times a day in the cafeteria. Once the winds hit a certain speed, the hospital was locked down, and all staff and any visitors still in the hospital were required to stay inside for the duration of the storm.
In spite of the fact that palliative medicine had not been deemed to be a specialty whose in-house presence was required for the storm, my nurse practitioner, Kathy Curran, and I stayed at the hospital because we were then following more than forty patients. We took air mattresses and our own food and camped out in our eighty-square-foot hospital office, flashlights in easy reach should we lose electricity. Surgeons, hospitalists, ER docs and many others were likewise encamped. Every office, waiting room and conference room was plastered with paper over the windows and signs to keep quiet because groups of medical staff or hospital personnel were sleeping inside.
…critical discussions were necessary, and who better to have them and to effectively address symptoms than palliative care practitioners.
As it turned out, my decision to be present during the storm was a timely one and a tribute to the value of palliative in practice. Patients' symptoms of pain and anxiety were magnified by the disaster at hand. Emotions ran high for patients, families and staff alike and opportunities to provide comfort were in abundance. The storm left many people with little emotional reserve to cope with difficult medical situations where decisions had to be made. Inevitably, critical discussions were necessary, and who better to have them and to effectively address symptoms than palliative care practitioners.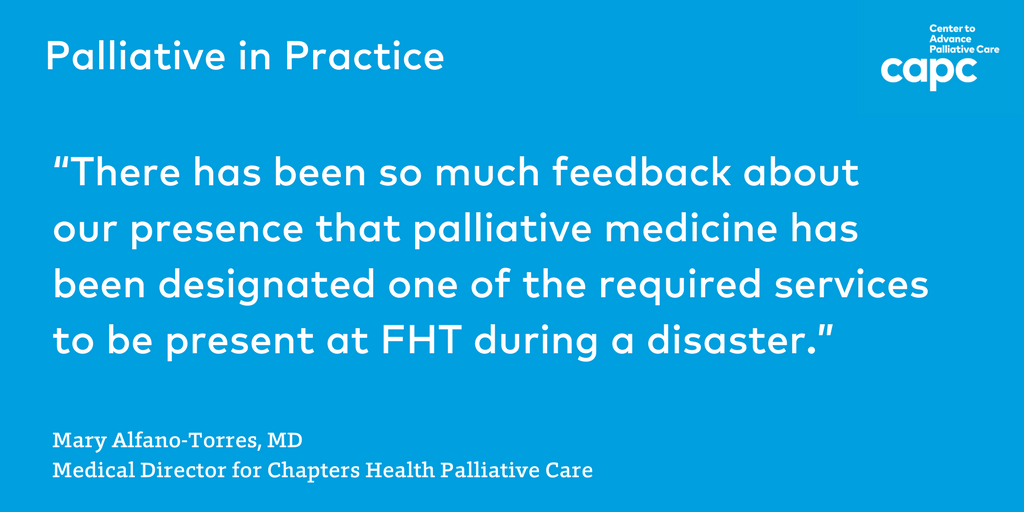 Families of loved ones on life support struggled with major decisions about the medical plan of care going forward. For those who had decided to liberate their loved one from the ventilator, questions about when to extubate, and whether family would stay at the bedside became an even more complex decision. If family stayed, and their loved one passed quickly, they would be forced to stay in the hospital until it was safe for anyone to leave. Wanting to be very careful that medical staff and families alike were making appropriate decisions not unduly influenced by the storm, Kathy and I offered medical and ethical guidance where needed. At one point in the ED, when we were within minutes of lockdown, and no one could travel, I spoke by phone to a son who had needed to leave his mother's bedside to secure his home and family. I reassured him that his mother was being well cared for, that her passing had been peaceful and dignified and that she had not been alone. Not only did patients and families benefit, but the staff did as well. We reassured them that the hospital was the safest place to ride out the storm, and offered comfort by listening to their fears for their loved ones outside the hospital.
I really cannot fully describe the experience, but I am proud of how we functioned and what we contributed. Doctors and nurses all over the hospital thanked us profusely for our palliative practices during the storm. In fact, since Irma, there has been so much feedback about our presence that palliative medicine has been designated one of the required services to be present at FHT during a disaster.