Education and Training
CAPC's Pain Management Curriculum – Educating All Frontline Clinicians
February 29, 2016

|

By CAPC Staff
The importance of safe and effective pain management is an increasingly pressing issue for all frontline clinicians. A recent New England Journal of Medicine Perspective article, "Opioid Prescribing for Chronic Pain — Achieving the Right Balance through Education" calls for a change in prescriber education on the management of chronic pain and describes how appropriate education can help address the epidemic of prescription-opioid misuse. The article states:
"Prescriber education is a more finely tuned approach to addressing the opioid-misuse epidemic, allowing us to individualize care on the basis of a patient's needs after a careful benefit–risk assessment. That, after all, is the way we manage all chronic diseases. Education can empower clinicians to make appropriate, well-informed decisions about whether to initiate, continue, modify, or discontinue opioid treatment for each individual patient at each clinical encounter."
CAPC's Pain Management curriculum offers 14 online courses to help clinicians learn how to safely and effectively manage pain patients living with serious illness. The curriculum concentrates heavily on opioid prescribing because, despite risks and concerns surrounding their use, opioids are both safe and effective when used properly in patients with serious medical illness and palliative care needs. The courses teach through interactive Q+A case studies of typical pain patients with challenging needs:
An 87 year old woman with dementia and severe low back pain leading to repeated readmissions. Her clinician believes opioids should never be used in people with cognitive impairment.
A 42 year old schoolteacher and father of two diagnosed with curable head and neck cancer who has a history of alcoholism and smoking that place him at risk for substance use disorder.
A 75 year old Spanish-speaking man with COPD presenting with steroid associated necrosis of the femoral head and compression fractures causing severe pain and repeated hospitalizations. His doctor is afraid of respiratory depression from opioid analgesics.
A 35 year old woman with treated stage 3B breast cancer and no current evidence of disease. She is experiencing disabling post-mastectomy syndrome that is unresponsive to a range of other treatments.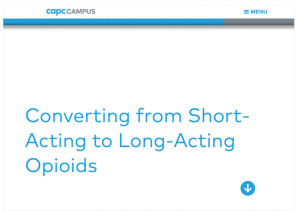 As the article above mentions, clinical training on the safe and effective use of opioids has been largely absent from most medical and nursing education. Opiophobia, an unintended consequence of opioid misuse and the regulations in place to combat it, is prevalent among providers. Concerns are warranted as opioid analgesics carry risks if prescribers fail to follow best prescribing practices and regulatory requirements. However, the growing misuse of prescription opioids is leading to undertreatment of pain in ALL patient populations – including cancer patients and the seriously ill. It doesn't have to be this way.
Members, take the CAPC Pain Management curriculum to gain the knowledge and skills needed to manage pain for seriously ill patients, beginning with a course on comprehensive pain assessment. As palliative care specialist Lynn Hallarman, MD points out in this video, "you're much more likely to make an error in the patient's pain management if you haven't taken the time to do this kind of pain assessment".