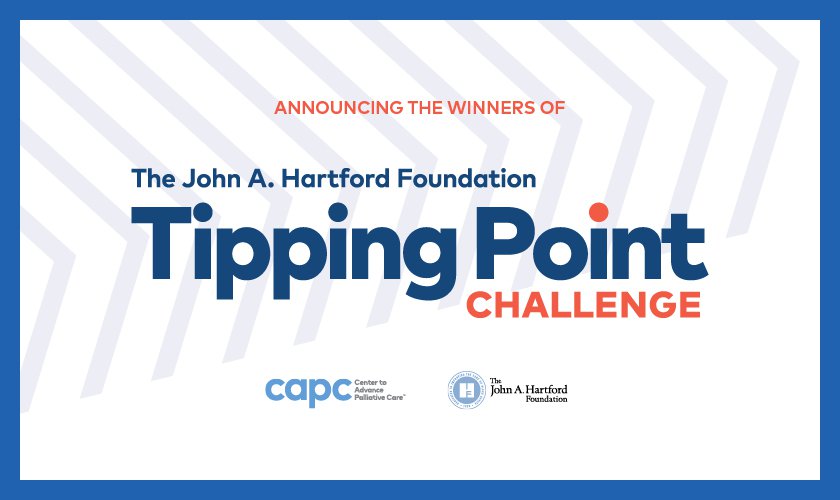 A health system advances the understanding and improvement of health inequities through a mandatory screening question. A medical center reimagines the scope of pediatric palliative care for children with medical complexity. A community hospital keeps in touch with its ambulatory patients via text message, allowing for early intervention before a crisis occurs.
These are just three of the winning initiatives from the second round of The John A. Hartford Foundation Tipping Point Challenge, announced on Wednesday, October 27.
Sponsored by CAPC and The John A. Hartford Foundation, this national competition is designed to catalyze skills, ideas, and solutions to improve health care delivery for people living with serious illness. The second round focused on innovation that has made—or will make—positive, breakthrough change in the care of serious illness. Of the 100+ submissions, twelve stood out as exemplary to our expert panel of judges.
CAPC encourages everyone to peruse the innovations. Anyone interested in replicating an initiative can download the submissions from the Tipping Point Challenge website and contact the project team directly.
Training Initiative to Improve Palliative Care Accessibility in Western Kenya
Submitted by: The AMPATH Consortium, led by Indiana University School of Medicine
The vast majority of Kenyans lack access to hospice and palliative care services, and this need is predicted to grow significantly in the next decade. To address this population health challenge, AMPATH is increasing access to palliative care in Western Kenya by developing palliative care training programs.
Read more

Optum CA Outpatient Palliative Care Program
Submitted by: Optum California
Optum California—a medical group in southern California—revamped its supportive care program, leveraging industry best practices to maximize access to high-quality palliative care for patients in their last year of life. Enhancements include an outpatient focus, leveraging data science models to identify patient needs, integrating a non-clinical 'Care Partner' role in the IDT, and more.
Read more

Primary Palliative Care RN Resource Team
Submitted by: Sarasota Memorial Hospital
Results of an internal survey at Sarasota Memorial Hospital revealed that 86% of bedside nurses wanted to learn more strategies to care for patients with serious medical conditions. This allowed a partnership to form between oncology, nursing leadership, and the supportive care teams to launch a palliative care education initiative and develop a team of strong RN peer mentors, ultimately extending the reach of palliative care system-wide.
Texting to Find the Tipping Point
Submitted by: Parkland Hospital and UT Southwestern Medical Center
The submitting team at Parkland Hospital/UT Southwestern Medical Center believes that they can detect problems earlier by proactively reaching out to their ambulatory patients. By sending a short weekly questionnaire via text to all ambulatory patients, the team plans to intervene before crises occur in their racially diverse, socioeconomically disadvantaged population.
Choices: Innovative In-home Palliative Care Program for Rural Underserved Population
Submitted by: Helios Care
Helios Care, a hospice organization, recognized that the lack of palliative care among their marginalized, low-income rural community in New York was a problem. To care for patients with serious illnesses who did not receive adequate symptom management, they developed a program to provide free patient-centered, evidence-based palliative care to patients in their homes—ultimately improving quality of life.
The CaLM Model: Hardwiring Cancer Centers for Whole Person Care
Submitted by: Livestrong Cancer Institutes of the Dell Medical School, The University of Texas at Austin
Dell Medical School has redesigned cancer care delivery around the needs of people with cancer and their loved ones, by flipping the usual delivery system design and developing a person-centered "front-door". All patients receive the benefit of whole-person assessment and access to palliative care from the point of diagnosis onward, allowing Dell to support patients across the entire cancer continuum.
Read more

Serial Interdisciplinary Write-Read-Reflect Narrative Experiences To Meaningfully Strengthen Reflective Listening Skills
Submitted by: The Narrative Initiative and St. Lukes University Health Network
St. Lukes University Health Network sought to teach robust reflective listening skills to HPM residents and fellows, to support strong patient-provider and provider-colleague relationships. To solve for this, they conducted an interdisciplinary IRB-approved study employing a series of Write-Read-Reflect narrative experiences to the residents/fellows curricula through a partnership with The Narrative Initiative.
Uncovering Palliative Care Need in a Medicaid-funded Assisted Living Facility
Submitted by: NYU Rory Meyers College of Nursing and The New Jewish Home
An academic, public housing partnership between NYU Rory Meyers College of Nursing and The New Jewish Home, seeks to leverage quality improvement and palliative care expertise to reduce suffering in older adults with serious illness living in a Medicaid Assisted Living Program in the Bronx, New York.
Project: Screening Question on Discrimination for Inpatient Palliative Care Consults
Submitted by: NYU Langone Health
Though the role of a palliative care provider is to identify and alleviate distress in patients with serious illness, understand past experiences of racism or discrimination is often not a standard part of palliative care or medical assessments. Spurred by the murder of George Floyd, NYU Langone Health's inpatient Palliative Care team sought to address this gap in understanding and practice by adding a mandatory screening question to the initial consult.
Project: Mass Production of Compassionate Communication in the Era of COVID-19
Submitted by: Parkland Hospital and UT Southwestern Medical Center
In March 2020, Parkland Hospital opened its COVID ICU for patients who required mechanical ventilation. Despite high risk of mortality, patients were separated from their families due to necessary, but prohibitive, visitation policies. The ICU and palliative care teams created a novel care model, which facilitated daily communication with the families of over 500 patients in the ICU.
Project: From Service to Center: Leading Palliative Innovations for Complex Populations
Submitted by: The University of Mississippi Medical Center
After establishing a palliative care service in pediatrics, the team at the University of Mississippi Medical Center realized that the majority of patients needing compassionate goals of care and symptom management were children with medical complexity. To support their patient and families' quality of life, they reimagined the scope of a palliative care team and evolved their service accordingly.
Addressing Social Determinants of Health through Screening and Resource Referrals
Submitted by: Ascension
With social determinants of health (SDOH) being closely linked to health outcomes among populations historically exposed to health care disparities, the Ascension team is addressing barriers and needs of community members through the implementation of a systematic SDOH screening and resource referral process.
---
CAPC wishes to thank The John A. Hartford Foundation for its generous support. CAPC congratulates all winners and finalists, and thanks all organizations that submitted their initiatives to the second round of the Tipping Point Challenge.
We look forward to announcing the parameters for round three of the Challenge in 2022.