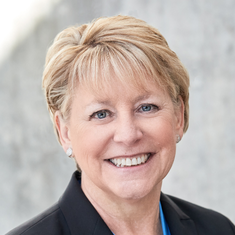 Victoria Leff, MSW, LCSW, BCD, APHSW-C
Vickie Leff is executive director of the Advanced Palliative Care & Hospice Social Work Certification (APHSW) board, an organization which oversees the implementation and administration of this evidence-based certification. With over thirty-five years of clinical practice experience in oncology, palliative care, and hospice, Vickie presents on topics such as moral distress and resilience to several national educational organizations and institutions. She served on the Social Work Hospice & Palliative Care Network (SWHPN) board for many years, developing and implementing their educational and mentorship programs.
Vickie is an adjunct instructor at the University of North Carolina (UNC) School of Social Work in Chapel Hill. She also works with Project ECHO, relating to initiatives focused on hospice and palliative care. Vickie's work has been published in Health Affairs, the Journal of Pain and Symptom Management (JPSM), and other journals with a focus on moral distress and resilience. Vickie earned her master of social work from Simmons School of Social Work, and an undergraduate degree in political science from Ithaca College.
Upcoming Events
Presented By