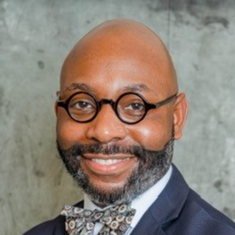 Kris Halsey, PhD, D.Div
Dr. Kristopher Halsey is the bereavement services manager and co-chair of the ethics committee for a hospice provider in Philadelphia, Pennsylvania. He also works per diem at a local rehabilitation hospital, as a spiritual care provider. Dr. Halsey serves as a faculty/staff member for the End-of-Life Nursing Education Consortium (ELNEC).
Dr. Halsey holds degrees in theology and pastoral psychology. He is a sought after speaker, specializing in topics relating to: loss, grief, and bereavement; end of life care; compassion fatigue; medical ethics; and spiritual care in health care. He has also appeared as a guest on numerous radio broadcasts, and has been published in a national health care magazine.
He has over twenty years of experience working as a clinical chaplain, and providing spiritual and psychosocial support to patients and their families at the end of life. When he is not working with patients, he serves as the senior pastor at a local community church, in Philadelphia, which he founded in 2007.
Dr. Halsey has a passion to see lives change and lend a helping hand to those in need. He lives by the principle, "If you love what you do, you will never work a day in your life!"
Upcoming Events
Presented By