Education Strategies
Optimizing Quality of Life for Patients with Chronic Illness Through Palliative Care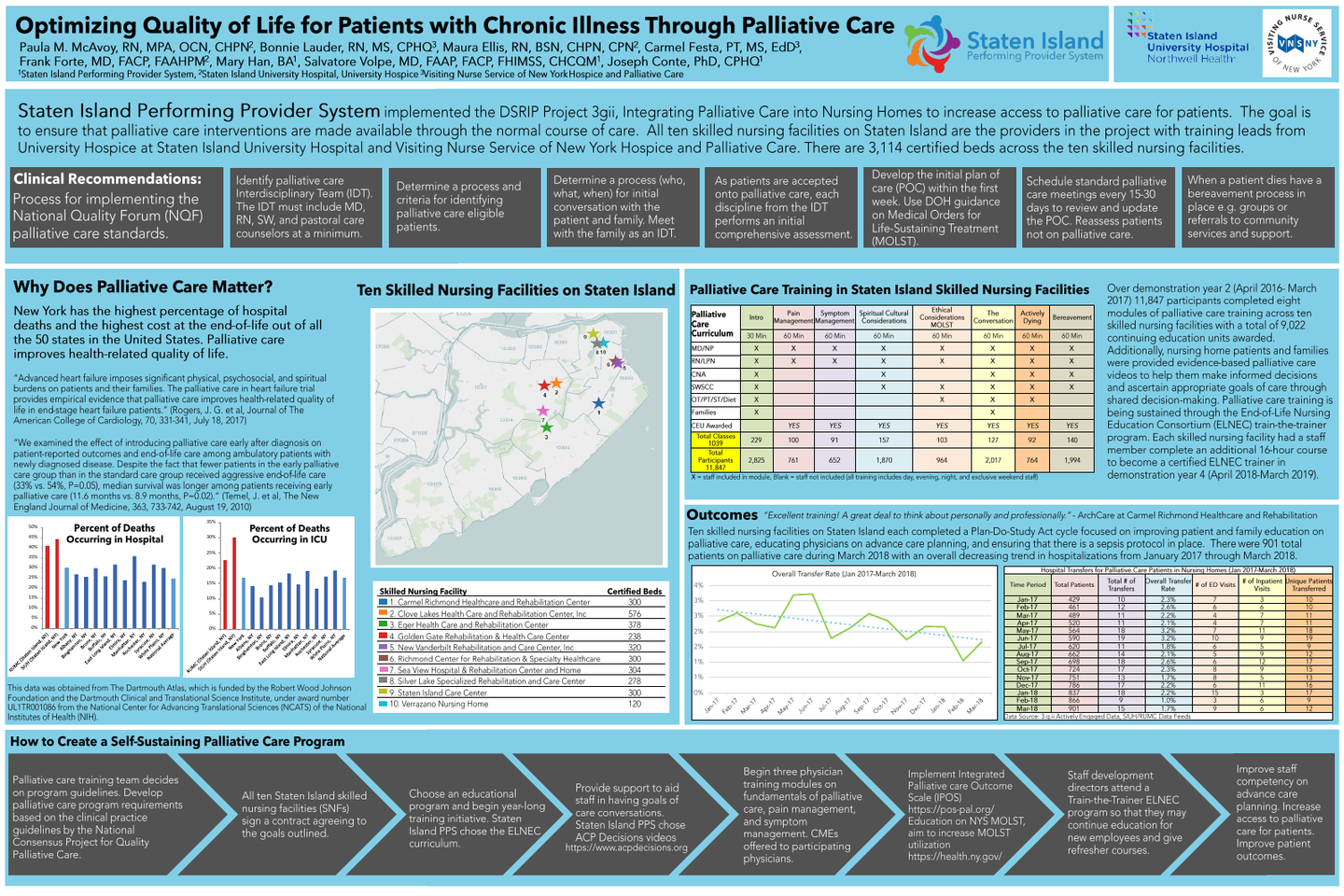 Objectives: The learner will be able to identify methods utilized to implement self-sustaining palliative care programs in skilled nursing facilities. Additionally, they will be able to describe the educational foundation provided to ensure improved quality of life for palliative care patients.
Background: Staten Island nursing homes implemented the National Quality Forum (NQF) palliative care standards as part of the Delivery System Reform Incentive Payment (DSRIP) program. The Staten Island Performing Provider System (SIPPS) has been designated by the New York State Department of Health to carry out DSRIP in Staten Island, NY. Staten Island has 10 skilled nursing facilities with over 3,100 certified beds. New York State is ranked #1 for the highest cost of end-of-life care out of all 50 states. In order to increase the quality of life for individuals with chronic illnesses and to reduce healthcare costs across New York, palliative care needs to be available in more healthcare settings.
Program Description: Interdisciplinary palliative care training and education began in March 2016 for nursing home staff. Modules were provided on: foundations of palliative care (domains and differences from hospice care), pain management, symptom management, spiritual, cultural, and ethical considerations, having meaningful goals of care conversations, final days, and bereavement. All trainings were completed by an in-person instructor with a background in palliative care. Embedded in the training were New York State Department of Health tools including Integrated Palliative care Outcome Scale (IPOS) and Medical Orders for Life-Sustaining Treatment (MOLST). Upon completion of the training, the requirements for the nursing homes were to create a palliative care interdisciplinary team (IDT) and defined palliative care work flow and to solidify a process and criteria for identifying palliative care eligible residents. Over the course of the program, a pay-for-performance model is being utilized with a potential earning of $4,159,137.00 from New York State for improving palliative care measures.
Results: There were 9,022 CEUs awarded to staff with 1,039 total in-person classes and 11,847 participants between March 2016- March 2017. The nursing home staff trained were physicians (CMEs awarded to physician participants), nurse practitioners, registered nurses, licensed practical nurses, certified nursing assistants, physician assistants, social workers, pastoral care, and ancillary team members. The results show a decrease in hospital transfers for palliative care residents. There were 452 palliative care residents as of March 2016. In May 2018, there were 844 palliative care residents. Out of the 844 palliative care residents, the hospital transfer rate decreased from 8% to 2% from June 2017 to May 2018.
Conclusions: The results show that the palliative care project has increased the available services and quality of life for patients while simultaneously reducing hospitalizations and the costs associated with them.
Author
Maureen Ellis, BSN
Palliative Care Education Coordinator, PI Coordinator
Staten Island University Hospital
78 Meisner Ave
Staten Island, NY, 10301
(718) 226-6922
Get the latest updates in your inbox!