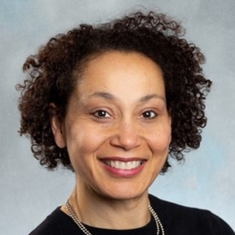 Zara Cooper, MD, MSc, FACS
Zara Cooper, MD, MSc, FACS is an acute care surgeon, trauma surgeon, and surgical intensivist at Brigham and Women's Hospital, where she serves as Kessler director for the Center for Surgery and Public Health and co-director and founder of the Center for Geriatric Surgery. Dr. Cooper has recently emerged as a leader in Brigham Health and academic surgery working towards social justice, anti-racism, and equity, serving as chair of the Executive Advisory Council for Diversity, Equity and Inclusion for Brigham Health. A leader of anti-racism and social justice efforts in the surgical field, she leverages her esteemed position in academic surgery to advance social justice, equity, and inclusion for patients and surgeons alike.
Dr. Cooper is an internationally recognized clinical researcher with a focus on the intersection of surgery, geriatrics, and palliative care. She has authored more than 150 peer-reviewed manuscripts, mentored over 25 individuals, and is a leader in several national academic societies. As an associate professor for Harvard University, Dr. Cooper is a committed educator. She is also a frequently invited presenter at national institutions, speaking on topics related to geriatric trauma, palliative care, and equity in surgery. Dr. Cooper received her bachelor's degree from Northwestern University and her master's and medical degree from Mount Sinai School of Medicine. She completed her general surgery internship, residency and surgical critical care fellowship at Brigham and Women's Hospital, and she completed her trauma surgery fellowship at the University of Washington. Dr. Cooper also completed a palliative medicine fellowship at Brigham and Women's Hospital and the Dana Farber Cancer Institute.