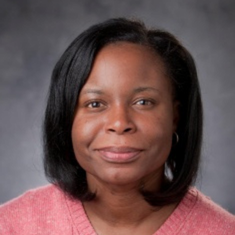 Kimberly Johnson, MD
Dr. Kimberly Johnson is a clinical investigator nationally known for her research on racial disparities in palliative care for older adults. Her work has identified multi-domain and multi-level factors, which are associated with racial disparities in the quality of palliative care for African Americans. This includes differences in patterns of care between older African American and White patients enrolled in hospice; racial variation in knowledge, beliefs, and attitudes toward hospice and palliative care; geographic variation in racial disparities in hospice use; and organizational factors associated with greater use of hospice care by older African Americans. Dr. Johnson has led large national studies of hospice providers, and multi-site studies of academic and community-based organizations to reduce racial disparities and improve the quality of palliative care delivery for older African Americans.
Dr. Johnson is the director of the Duke Center for Research to Advance Healthcare Equity (REACH Equity). She serves as a co-investigator on CAPC's project, Equitable Access to Quality Palliative Care for Black Patients: A Scan of Challenges and Opportunities. In this role, she helps to lead all aspects of identifying replicable interventions to drive equitable access to palliative care for Black patients and families. This includes synthesis of current literature, administration of interviews and surveys, data analysis, dissemination of findings, and planning of next steps for technical assistance to facilitate implementation of best practices.