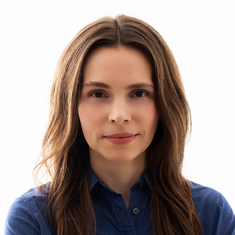 Katie Grogan, DMH, MA
As Associate Director, Clinical Education, Katie Grogan works closely with content experts and field leaders to develop new training and technical assistance for palliative care program development across numerous settings including health systems, hospitals, and hospices. She plays a lead role in the development of toolkits, whitepapers, virtual events, and other content to disseminate best practices and clinical education resources for clinicians treating patients with serious illness and their families.
Dr. Grogan brings with her many years of cross-functional experience at the nexus of education and health care, with a background in interdisciplinary collaboration, program design, and complex project management. Prior to joining CAPC, she directed the medical humanities and bioethics program at NYU Grossman School of Medicine. She significantly expanded the program's reach during her tenure, most notably through establishing a highly successful medical ethics and humanities research fellowship. Dr. Grogan is passionate about improving health care by bridging disciplinary silos and supporting learners across the entire medical education continuum. She has published and presented her work in peer-reviewed journals, such as the Journal of Medical Humanities, and national organizations, such as the American Society of Bioethics and Humanities.
Dr. Grogan received a bachelor's degree in English and American Literature from NYU, a master's degree in Humanities and Social Thought from NYU, and a doctorate in Medical Humanities from Drew University. She also holds a certificate in Bioethics from Albert Einstein College of Medicine and is currently pursuing a certificate in Narrative Medicine from Columbia University.