Quality Alignment Hub
Serious Illness Quality Alignment Hub
FOR PAYERS & POLICYMAKERS
The Center to Advance Palliative Care is coordinating a national effort to align the existing U.S. health system's quality assurance mechanisms with the best practices in caring for patients facing serious illness.
---
What is the Serious Illness Quality Alignment Hub?
The U.S. health care system presents a number of opportunities to hold providers accountable to evidence-based standards and quality care delivery, including:
With support from the Gordon and Betty Moore Foundation, the Serious Illness Quality Alignment Hub brings together palliative care experts and U.S. health care quality leaders, both to determine a parsimonious set of quality measures and standards and then expedite their adoption by the accountability systems listed above.
Why do we need this Hub?
Currently, millions of Americans are living with one or more serious illness, such as cancer, heart, lung, kidney, and neurological disease, and their ranks are expected to swell with the aging of our population. The care delivered to these patients varies dramatically across the country. At the same time, there already exist a variety of mechanisms to drive provider behavior. Building from this foundation, which to date has focused on prevention and cost efficiency, the Hub will work to adapt those mechanisms to reflect the measures and practices that matter most to seriously ill patients and their family members. 
"While systems of accountability already exist, they do not yet adequately reflect what's needed by the sub-population struggling with the burdens and stresses of serious illness. We need to ensure there is sufficient attention to well-being after an illness has occurred."
Allison Silvers, MBA and Amy Kelley, MD, co-directors of the Hub
Who participates in the Hub?
The Hub convenes more than 50 organizations to provide insight and feedback on strategies to improve the quality of care delivered to people with serious illness. Organizations participate in one of two committees.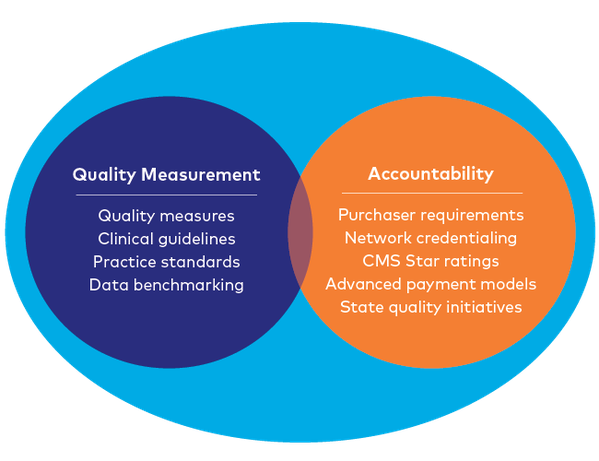 The quality measurement effort, led by the National Quality Forum, convenes a committee comprised of project leaders working on quality measures, clinical guidelines, population definition, and data collection. This effort involves gathering input from a broader range of stakeholders and creating a "playbook" to prepare providers for measurement and reporting expectations. 
A second accountability committee convenes accreditation bodies, CMS quality staff, ACOs, health plans, purchaser organizations, and others to review public and private opportunities for adoption and also to advance the most actionable and high-impact opportunities. 
What resources are available through the Hub?
Because the Hub is an ongoing effort and will continue to prepare and disseminate resources to advance high-quality serious illness care, check our website often for new information. Foundational resources include the following:
Additional Resources
Clinical Guidelines and Standards:
Payment Models:
Certification Programs:
Data Collection and Benchmarking:
Provider Transformation Support:
---
For any questions about the Serious Illness Quality Alignment Hub, email hub@capc.org.