Measurement and Quality
National Palliative Care Registry 2014 Annual Survey Summary
February 29, 2016

|

By CAPC Staff
Key findings include:
Since 2008, hospitals with palliative care programs have increased their service penetration (number of patients receiving palliative care as a percentage of total annual hospital admissions) by 63%, from 2.7% in 2008 to 4.4% in 2014
Teams with the highest service penetration rates reached an average of 8.5% of annual hospital admissions
Teams with the highest staffing levels (2.7+ FTE per 10,000 admissions) reach 6.5% of all hospital admissions, while the smallest teams (<1.2 FTE) reach only 2.9%.
Palliative care teams that see 5.3% or more of total hospital admissions report shorter time to palliative care consultation and shorter overall length of hospital stay compared to teams that see fewer than 2.4% of admissions (time to consult 3.9 v. 5.7 days)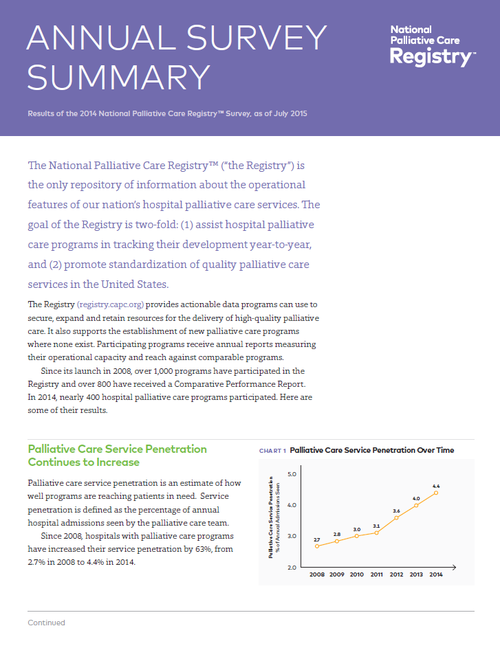 Download the report here.
In 2016, the new National Palliative Care Registry™ is expanding to include all settings (home, nursing home, office practices, in addition to hospitals) across the continuum of care. Programs who submit data will have access to both cross sectional and longitudinal tables, graphs and comparative reports.
Beginning in early March, hospital and community-based programs can submit data for the 2015 calendar year as well as enter or edit historical data. Hospital programs will have immediate access to tables, graphs and comparative reports; reports for community-based programs will be developed as data are collected over the next several months.