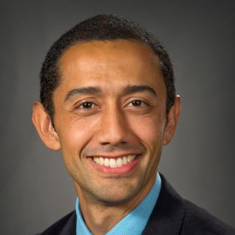 Santiago Lopez, MD
Santiago Lopez, MD, is the site director for the Geriatrics and Palliative Medicine consult service at North Shore University Hospital in Manhasset, New York, and an assistant professor of medicine at the Zucker School of Medicine.
Dr. Lopez received his medical degree from Universidad de Caldas in Manizales, Colombia. His residency training in family medicine was completed at Wyckoff Heights Medical Center, before completing fellowships in both geriatrics and palliative medicine at North Shore University Hospital/Zucker School of Medicine and Beth Israel/Mount Sinai School of Medicine in New York City, respectively. He is certified in family medicine, geriatrics, and palliative medicine.
Dr. Lopez served as chief resident in family medicine from July 2011 to June 2012. He was named "Outstanding Resident of the Year" for 2011-2012, awarded the American Geriatrics Society (AGS) Presidential Poster Award in May 2013, and the Nurses Week Center of Excellence Physician of the Year 2018, and nominated for North Shore University Hospital's President's Award.
Helping the vulnerable and growing population of patients and families dealing with advanced illness remains his passion. In that pursuit, Dr. Lopez' research emphasizes education with a special focus on geriatrics, palliative care, symptomatic management, and patients with advanced illness. Additional focuses include measuring the impact of palliative care on key metrics related to health care delivery, and exploring the ways these metrics can be improved through innovation in practice.
Upcoming Events
Presented By