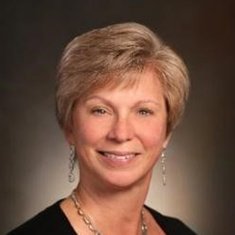 Carole Montgomery, MD, FHM, CPE, MHSA
Before joining Respecting Choices®, Dr. Montgomery served as an executive leader at Spectrum Health, a not-for-profit integrated health system based in western Michigan. She was responsible for designing and leading the development of population health management programs, with a focus on success in both episode-based and population-based risk payment models. In addition to standardizing clinical best practice, objectives included driving reliable engagement of patients through standard education, shared decision making, and advance care planning for all patients.
Dr. Montgomery has more than 20 years' experience in the practice of hospital-based medicine and physician leadership in both physician group and hospital settings. During her practice in a large multi-specialty physician group, she served in a variety of leadership roles, including governance, administration, and medical directorship. Dr. Montgomery served as project content expert for the online curriculum, Building Physician Skills in Basic Advance Care Planning.
Dr. Montgomery earned her bachelor's degree from Michigan State University and her medical degree from Michigan State University College of Human Medicine. She completed her internship and residency in internal medicine at Butterworth Hospital, Grand Rapids, Michigan. She earned her master's degree in health management and policy from the University of Michigan's School of Public Health.