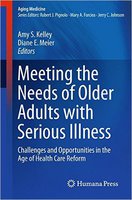 Meeting the Needs of Older Adults with Serious Illness: Challenges and Opportunities in the Age of Health Care Reform
Amy S. Kelley, MD (Editor), Diane E. Meier, MD, FACP, FAAHPM (Editor)
Meeting the Needs of Older Adults with Serious Illness provides an introduction to the principles of palliative care; describes current models of delivering palliative care across care settings; and examines opportunities in the setting of health care policy reform for palliative care to improve outcomes for patients, families, and health care organizations.

This book is a roadmap for effective policy and program design. It brings together expert clinicians, researchers, and policy leaders who address key areas where real-world policy options to improve access to quality palliative care could have a substantial role in improving value.
Get the latest updates in your inbox!