Shop
CAPC Shop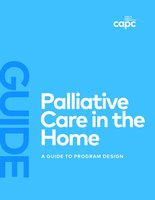 Palliative Care in the Home: A Guide to Program Design
$85.00 (plus shipping and handling)
15% CAPC member discount
The essential reference for those planning and starting home-based palliative care programs. The Guide outlines a process for designing a program that provides the highest quality care, is responsive to stakeholder priorities, and is financially and operationally sustainable.
Developed by the CAPC Home-Based Palliative Care Workgroup, an interdisciplinary committee of advisors that represents medicine, nursing, social work, and administration, the Guide shines a light on replicable principles and practices of some of the most successful home-based palliative care programs in the U.S. Using case studies from three home-based programs representing different payment models and organizational platforms—a hospice organization, a health care system, and a large multispecialty clinician group—the Guide offers key insights into the mechanics of these established programs and provides tips from the field that reflect real-world challenges and opportunities. Use it to learn best practices for providing quality palliative care in the home.
Download a sample of Palliative Care in the Home: A Guide to Program Design. 
CAPC Members can download the full version free of charge in CAPC Central.
Published: September 2016
Lead authors: 
Diane E. Meier, MD, FACP
Brynn Bowman, AB
Karyn B. Collins, MPA
Constance Dahlin, ANP-BC, ACHPN, FPCN, FAAN
Jeanne Sheils Twohig, MPA