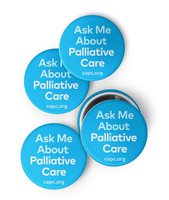 Ask Me About Palliative Care (Bag of 10 buttons)
$10.00 (plus shipping and handling)
15% CAPC member discount
Raise awareness about palliative care, market your program, and gain referrals! Pass these buttons out at conferences, meetings, and fundraisers, and then follow up with your program brochure or business card. The Ask Me About Palliative Care button is a great conversation starter.

Bag of 10 blue and white buttons, each measures 2" x 2".
Get the latest updates in your inbox!