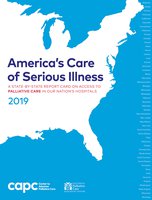 America's Care of Serious Illness: A State-by-State Report Card on Access to Palliative Care in Our Nation's Hospitals
$10.00 (plus shipping and handling)
15% CAPC member discount
The 2019 State-by-State Report Card on Access to Palliative Care in Our Nation's Hospitals provides an analysis of whether patients living with a serious illness in the United States are receiving equitable access to palliative care services in hospitals. The goal is both to inform and to help the public and policymakers increase the availability of palliative care for the millions of people in need. This report, an update of the 2015 edition, is the result of a collaboration between the Center to Advance Palliative Care (CAPC) and the National Palliative Care Research Center (NPCRC).
Learn how your state rated by purchasing a copy or downloading the full report free of charge.
Lead Authors:
R. Sean Morrison, MD
Diane E. Meier, MD
Maggie Rogers, MPH
Allison Silvers, MBA
Stacie Sinclair, MPP
Rachael Heitner, MA, CHPCA

Published September 2019
Get the latest updates in your inbox!