Advance Care Planning Initiatives
UCLA Health Advance Care Planning Initiative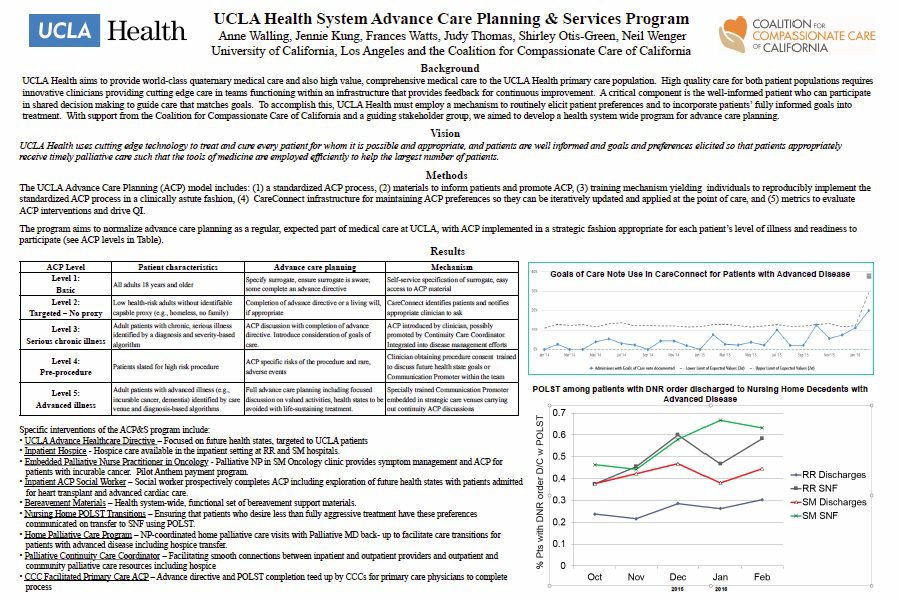 Objectives of Program/Intervention: The UCLA Health System, in concert with the Coalition for Compassionate Care of California, built on institutional support to develop an advance care planning (ACP) model to maximize the health outcomes for patients including optimal care at the end of life. The objectives of the program are:
1. Develop a model that stratifies patients into groups based on clinical characteristics and readiness for ACP and focuses ACP on consideration of goals for care and values concerning future health states. For patients with advanced disease, this model cultivates prognostic awareness in anticipation of consideration of future health states (Jackson, 2013).
2. Develop an infrastructure and training program so that faculty and staff expect ACP to be performed, Communication Promoters embedded at critical locations prompt specialized ACP with advanced illness patients, and special efforts target vulnerable aspects of care continuity such as transitions.
3. Incorporate measurement of processes and outcomes of ACP including targeted denominator definitions and collection of data reflecting the experience of care at the end of life.
Description of Program/Intervention: The UCLA Health ACP initiative is creating a system-wide mechanism to routinely engage patients in considerations about future health care and to elicit patient preferences. The ACP process aims to be reproducible across clinicians so that the iterative process of information sharing and decision making can occur over time and across venues of care and between providers. In addition, the mechanism is designed to integrate seamlessly with the UCLA Epic-based electronic health record so that patient preferences are elicited, preserved and iteratively updated in a fashion that will inform all providers and ensure that care decisions incorporate in real time patient's goals and preferences.
The initiative, guided by a multidisciplinary team of stakeholders, disseminates ACP across the health system by implementing the following components:
(1) A standardized ACP process
(2) Materials to inform patients and promote ACP.
(3) Training mechanism that produces individuals who can reproducibly implement the standardized ACP process in a clinically astute fashion.
(4) CareConnect infrastructure for maintaining ACP preferences including novel Goals of care notes that can be iteratively updated and applied at the point of care
(5) Metrics to evaluate the ACP activities and drive quality improvement - These include process measures such as advance directives and Goals of care notes, and outcome measures such as venue of death, utilization at the end of life, and implementation of the bereaved family survey.
Measures of Success and Findings to Date: Changes in advance care planning have been seen for the health system as a whole: Use of Goals of care notes for patients with advanced illness has increased from less than 1% to more than 10%. Hospice use among decedents has increased from 5% to 20%. ICU use and ICU length of stay has decreased by 20% among patients with advanced cancer who died.
Author
Anne M. Walling, MD
University of California, Los Angeles
911 Broxton Ave
Los Angeles, CA, 90024
(310) 794-2284
Co-authors
Anne M. Walling
Frances Watts
Jennie Kung
Judy Thomas
Neil Wenger
Shirley Otis-Green