Education Strategies
Preparing the Next Generation: Creation of a Palliative Care Fellowship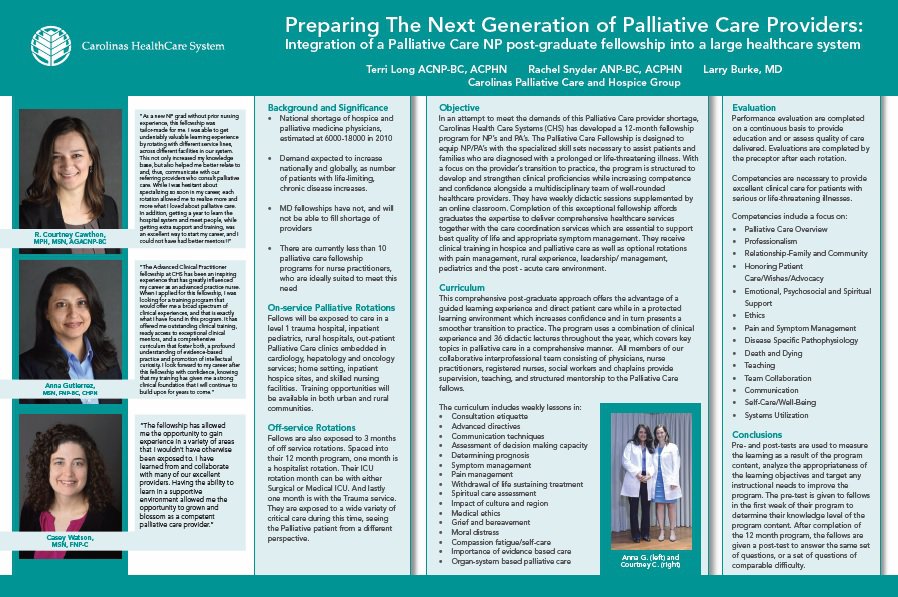 Objective: To describe the creation of a post graduate training program in palliative care that provides novice NP's a diverse clinical and didactic experience so they can transition into confident and competent providers.
Introduction: There is a national shortage of hospice and palliative-medicine physicians and demand will likely grow as the number of patients with life-limiting illness or chronic conditions increases. The current capacity of medical fellowship programs is insufficient to fill the shortage. Global demand is also rising according to the World Health Organization and Worldwide Palliative Care Alliance. Currently there is 1 palliative care physician for every 1300 people diagnosed with a life threatening illness and 1 for every 20,000 patients with severe chronic illness. The shortage of Palliative Medicine physicians estimated at 6000-18000 in Dec 2010, and expected to increase. There are fewer than 300 fellowship trained MD's each year and approximately 5,000 current board certified MD's and many of these only work part time in Palliative Care. Currently there are fewer than 10 active nurse practitioner Palliative Care fellowship programs available in the US. Nurse practitioners could ideally help fill these positions in a much needed specialty area.
Description: In an attempt to meet the demands of this Palliative Care provider shortage, Carolinas Health Care Systems (CHS) has developed a 12-month fellowship program for NP's and PA's. The Palliative Care Fellowship is designed to equip NP/PA's with the specialized skill sets necessary to assist patients and families who are diagnosed with a prolonged or life-threatening illness. With a focus on the provider's transition to practice, the program is structured to develop and strengthen clinical proficiencies while increasing competence and confidence alongside a multidisciplinary team of well-rounded healthcare providers. They have weekly didactic sessions supplemented by an online classroom. Completion of this exceptional fellowship affords graduates the expertise to deliver comprehensive healthcare services together with the care coordination services which are essential to support best quality of life and appropriate symptom management. They receive clinical training in hospice and palliative care as well as optional rotations with pain management, rural experience, leadership / management, pediatrics and the post - acute care environment.
Data: The first cohort applicant pool included 8 applicants. Two candidates were selected after an interview process. These two applicants will graduate the Fellowship end of September 2016, with one Fellow staying within our Palliative group and the other returning to her home state. Our second cohort consisted of 4 applicants, one of which was selected after the interview process. They will complete the Fellowship end of March 2017.
Conclusion: This comprehensive post-graduate approach offers the advantage of a guided learning experience and direct patient care while in a protected learning environment which increases confidence and in turn presents a smoother transition to practice. With this structured, supported Fellowship early in the NP/PA practice, the hope is also greater retention within the hospital system.
Author
Rachel Snyder
Carolinas Healthcare System
1000 Blythe Blvd.
Charlotte, NC, 28203
(704) 355-2000
Co-authors
Terri Long, MSN, ACNP-BC, ACHPN