Pediatric Palliative Care
Peri-Natal Palliative Care: Overcoming the Obstacles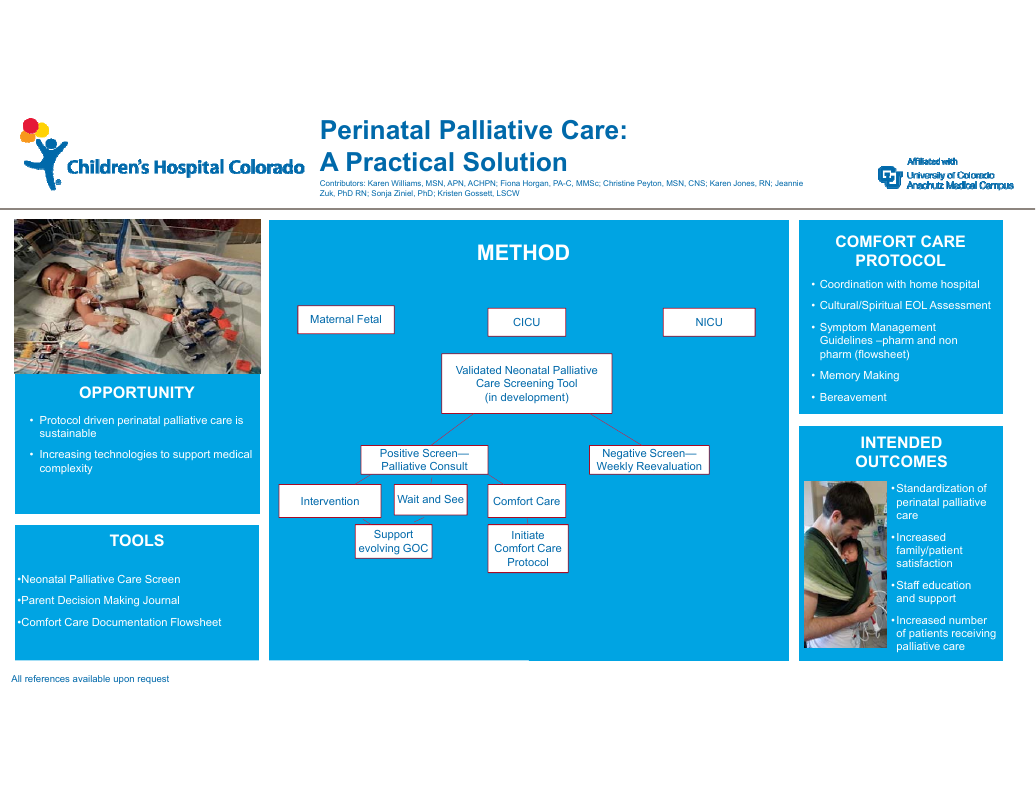 Integration of palliative care to specific settings (e.g. hospital ICU, home, nursing home, clinic)
At Children's Hospital Colorado (CHCO) we are experiencing a growing medical complexity score among the children we care for. One subpopulation in which we are seeing this increased complexity is our neonatal population. The diagnoses these children carry vary from extremely low birthweight to hypoplastic left heart to severe congenital diaphragmatic hernia. The evolution of our surgical and technological advances in treating such complex diagnoses brings to bear many questions, including 'how do we support these infants and their families in navigating complex suffering?'
Perinatal Palliative Care.
M. Quinn and S. Gephart (Evidence for implementation strategies to provide palliative care in the neonatal intensive care unit. Adv. Neonatal Care 2016 Dec; 16(6)430-438) strongly demonstrated that organizational and protocol-based implementation of such programs improves their sustainability. E. Currie et al (Parent perspectives of neonatal intensive care at the end of life. J Pediar Nurs Sep-Oct31(5)478-89)highlight that such standardization will limit the inconsistent and subjective means by which palliative care is deemed appropriate. In the hallmark study on this topic, A. Caitlin and B. Carter (Creation of a neonatal end of life palliative care protocol. J Perinatol 2002 Apr-May 22(3):184-95) endorse the use of a protocol driven process for implementation of such a program.
At CHCO we are designing a protocol that is initiated upon admission of a neonate into the NICU or CICU; in addition, those patients seen in our Maternal Fetal Care Unit (MFCU) are also included in the program. All patients are screened utilizing the Neonatal Palliative Care Screening Tool (undergoing development and validation). When palliative care inclusion criteria are not met, the patient is re-screened weekly. When inclusion criteria are met, a transdisciplinary palliative care consult is completed. The consult is documented in the EMR and the patient and family will fall within one of three trajectories: 1"wait and see" (MFCU patients whose diagnosis cannot be confirmed or neonates for whom there is a lack of clear intervention for goal of life prolongation) 2. Intervention 3. Comfort Care.
Those "wait and see" patients will be followed as medical plan of care/recommendations evolve. Those who choose intervention are followed through delivery, throughout hospitalization and after discharge as applicable.
There is a secondary Comfort Care Protocol that addresses the needs of neonates and unborn MFCU patients on the third trajectory.
Expected outcomes of this program are: increase in number of neonates who receive palliative care, increased knowledge of perinatal/neonatal palliative care by staff, improvement in consistency of delivery of care (particularly in neonatal symptom management), improvement in end of life care documentation by nurses, and decrease in moral distress of care team. (demonstrated to be a weakness by Zimmerman et al (Sedatives and analgesics given to infants in neonatal intensive care units at the end of life. J Pediat 2015 Aug:167(2)299-304.))
Tools to be developed include: journal for parents to augment discussions of palliative care team, validated neonatal palliative care screening tool, EOL medication recommendations.
Author
Karen P. Williams, NP
Pediatric Palliative Care Program Leader
Children's Hospital of Colorado
31323 East 16th Avenue
Aurora, CO, 80045
(720) 777-8778
Co-authors
Brian Greffe, MD
Fiona Horgan, PA-C
Jeannie Zuk, PhD, RN
Karen Jones, RN, BSN
Kristin Gossett, LCSW