Advance Care Planning Initiatives
Our Care Wishes: Creating an Online, Web-Based, Sharable Advance Care Planning Solution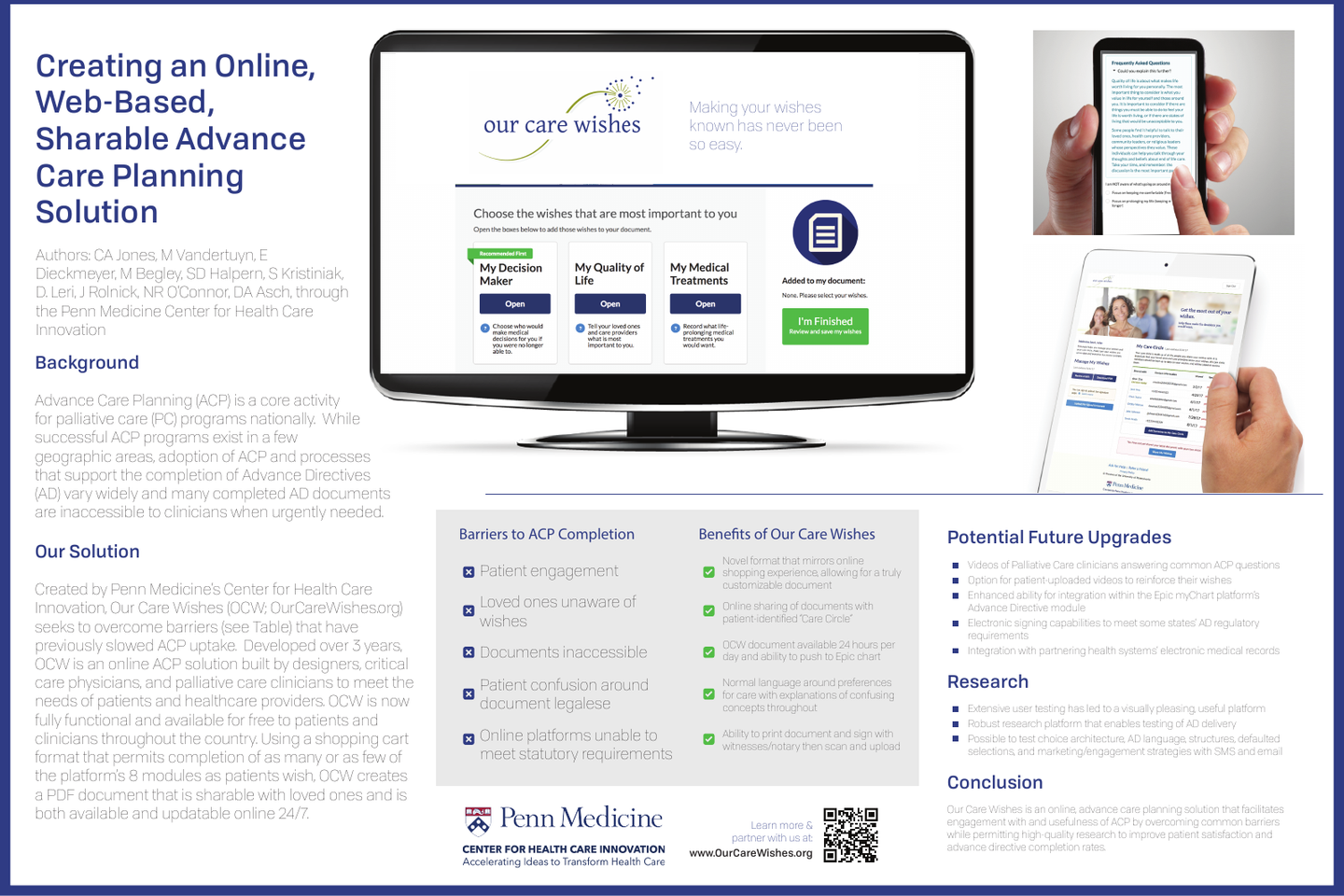 Advance Care Planning (ACP) is a core activity for palliative care (PC) programs nationally. While successful ACP programs exist in a few geographic areas, adoption of ACP and processes that support the completion of Advance Directives (AD) vary widely, with confusion around who should perform ACP services (primary care provider, specialist, social worker, attorney, etc.), limited patient engagement, and lack of infrastructure cited frequently as barriers.
Through Penn Medicine's Center for Health Care Innovation, designers and clinicians have created an ACP platform called Our Care Wishes (OCW; ourcarewishes.org) for patients and families locally and around the country. The platform has several unique features to address barriers to conventional ACP: [1] Reflecting that the process of ACP and the surrounding communication are often more important than any document produced, it facilitates sharing with a 'care circle' of family and friends. [2] Because a perfect completed document is often the enemy of good early consideration and discussion of wishes, it is built around a 'shopping-cart' approach that encourages but does not mandate full completion. [3] Because the heavy legal requirements of official documents are often barriers, it can produce documents suitable for wet signatures, witnesses, and notarizations to meet state legal requirements but also permits less legally regimented but still meaningful documentations of personal wishes, including reflections on goals of care, organ donation, the naming of surrogates—even preferences for memorial ceremonies. An easily read document is created, available and updatable online, sent electronically to others identified by the patient, and importable into the patient's Epic-based electronic medical record. To facilitate continuous improvement, OCW has a robust research back end to support randomized trials of alternative structures and presentations. It is being actively disseminated throughout the health system and research around choice architecture and implementation barriers is ongoing. This platform may help to overcome the many engagement and infrastructure barriers faced by conventional approaches to ACP.
Author
Christopher Jones, MD
Co-Director, Inpatient Palliative Care Consultation Service
University of Pennsylvania Health System
3400 Spruce Street
Philadelphia, PA, 19066
Get the latest updates in your inbox!