Innovative Clinical Interventions
Living on a Prayer: Miracle Language and Goals of Care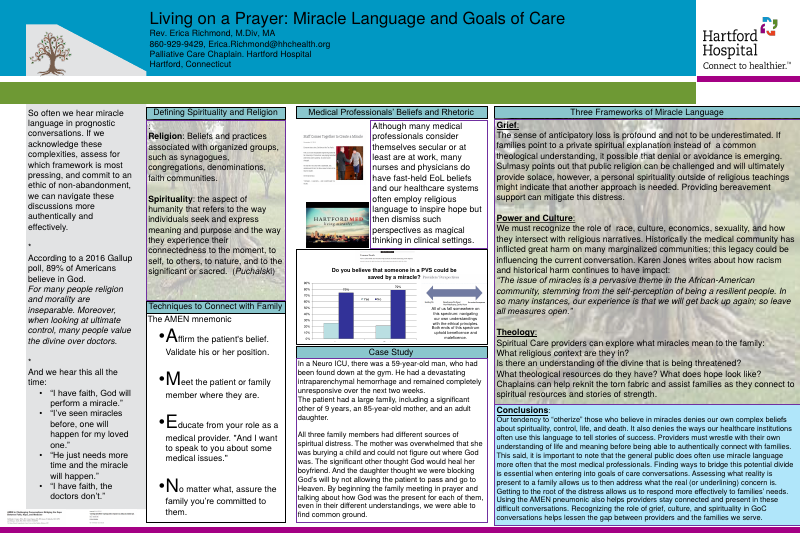 This poster looks at the ways spiritual care providers and palliative care providers identify and address miracle language. Time and time again we hear this rhetoric in prognostic conversations. Patients or families will point to the possibility of a miracle when discussing goals of care. This poster looks at the three primary frameworks in which this language appears: grief, power/culture, and theology. It names the psychosocial and theological complexity that surrounds miracle language. In looking at these frameworks, the poster provides tools for all clinicians to engage in spiritual screenings and support. I identify and explore the ethical principles surrounding spiritual and religious beliefs and their impact on medical care.
Using Dr. Daniel Sulmasy's work (Distinguishing Denial From Authentic Faith in Miracles: A Clinical-Pastoral Approach." Southern Medical Journal 100.12 (2007): 1268-272), this poster also makes a distinction between denial and theological commitments. It also showcases the ways that all clinicians can navigate these conversations in a respectful and well-informed way ("AMEN in Challenging Conversations: Bridging the Gaps Between Faith, Hope, and Medicine" by Cooper, R. S., A. Ferguson, J. N. Bodurtha, and T. J. Smith, Journal of Oncology Practice )).
The poster will outline best practices for these challenging spiritual conversations from both literature and clinical experience.
Author
Erica Richmond
Palliative Care Chaplain
Hartford Hospital
80 Seymour Street
Hartford Hospital, CT, 6102