Advance Care Planning Initiatives
Improving Quality in Advance Care Planning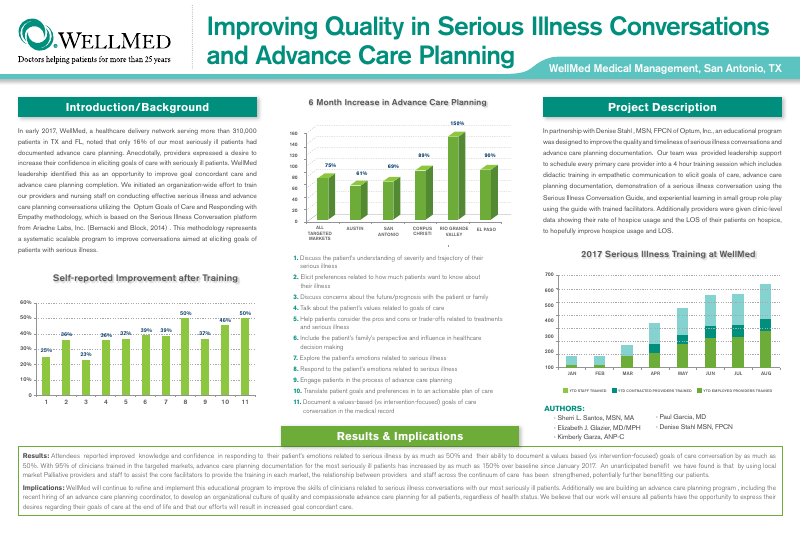 Background:
Evidence shows that early symptom identification by patient reported outcomes (PROs) have significant impact on quality of life, overall survival, operational efficiency, and symptom management for oncology patients. Levine Cancer Institute is the largest Commission on Cancer network accredited system in the United States with 36 practice locations and 8 hospitals. The annual analytic case load is 10,000+. A streamlined technology solution was developed to provide instant PROs for physical and psychological symptoms during the initial visit with a surgical, medical, or radiation oncologist. Data derived from this screening enables prioritization of palliative care referrals and appropriate allocation of resources based on symptom severity across a large geographic area.
Methods:
This Tablet Based Distress Screening (TBDT) has 39 total questions, including 4 brief evidence-based scales, 11-symptom scales (0-10), and content areas covering distress, cancer symptoms/side effects, malnutrition, depression, anxiety, social/family support, financial, and spiritual concerns. Recommendation for palliative care referrals stemmed from the following thresholds: Pain>5, Nausea/Vomiting>5, Diarrhea or Constipation>5. Screening is completed at initial consultation within surgical/medical oncology and simulation for radiation oncology. Personalized referral recommendations and summary reports based on the PROs are available instantaneously for use during medical visit. Raw data are automatically placed into the database and categorized by site.
Results:
The network-wide completion rate was 79% (n=7383) in the first 6 months (average completion time 8 minutes). Overall, 24% (n=1780), 6% (n= 470), and 13% (n=941) of patients reported pain, nausea/vomiting, diarrhea/constipation levels greater than 5, respectively. 6% (n=426) reported severe pain levels of 9/10. 32% of patients met at least one criterion necessary for a palliative care referral. Regional variation of reported symptoms were identified across cancer care locations, with patients reporting a pain score >5 ranging from 18% to 31% among regions. Scores >5 for nausea and vomiting were consistently low given the timing of the screening. Patients also reported severe distress (10%), moderate/severe depression (19%), and moderate/severe anxiety (21%).
Conclusions:
Tablet-based screening generated immediate quality PROs for use within clinical visits and was easily hard-wired into the clinical workflow across all practice locations. This integrated technology solution can assist clinical teams with complex symptom identification and facilitate early intervention and symptom management through referrals to palliative care. Data compiled from TBDT allows large cancer hospital networks to strategically allocate services based on PROs and highest volume/acuity of need which is critically important with limited palliative care resources.
Author
Sherri L. Santos, MSN
Advance Care Planning Coordinator
WellMed
8637 Fredericksburg Road
San Antonio, TX, 78209
(904) 254-3349
Co-authors
Denise Stahl, RN, MSN, FPCN
Elizabeth Glazier, MD, MPH
Paul Garcia, MD