Expanding the IDT: Creative Staffing Models
Hospice at Home: Paramedics as Part of the Team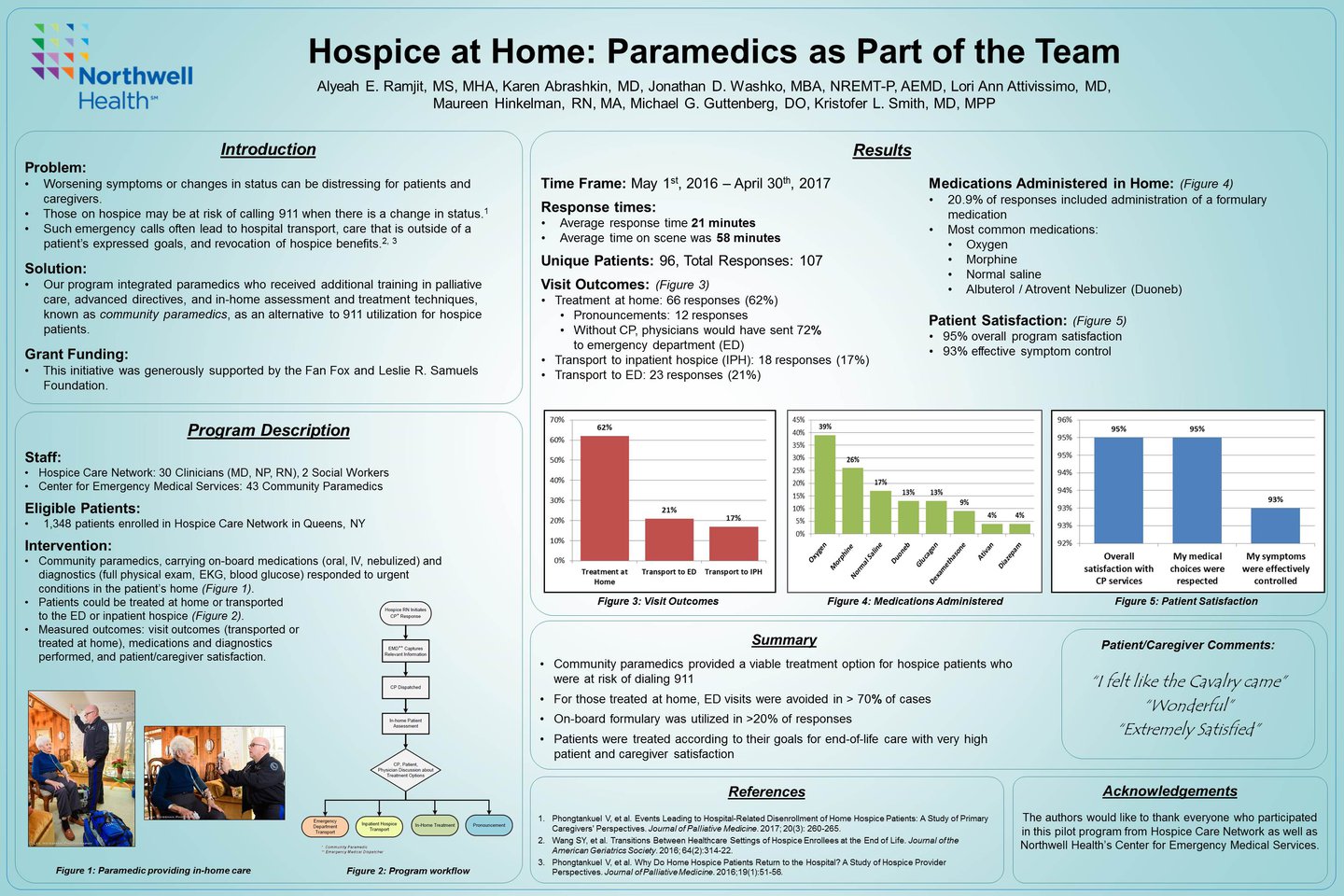 Worsening symptoms or changes in status can be distressing for anyone, and those on hospice may be at risk of calling 911 during these events. Such emergency calls often lead to hospital transport, care that is outside of a patient's expressed goals, and revocation of hospice benefits.
Our program integrated paramedics who received additional training in palliative care, advanced directives, and in-home assessment and treatment techniques, known as community paramedics, as an alternative to 911 utilization for hospice patients.
In the first year of our program (May 1, 2016 – April 30, 2017), community paramedics made 110 emergency home visits enrolled in Hospice Care Network in Queens, New York.
Average response time was 21 minutes and average time on scene was 58 minutes. Dispositions included evaluation and treatment at home (48.2%), transport to inpatient hospice or the emergency room (40%), and pronouncement (11.8%). Paramedics carry a formulary, and 20.9% of responses included administration of a formulary medication.
Patient and caregiver satisfaction with community paramedic visits was >90% in all domains surveyed.
Integration of community paramedics provided a timely and practical treatment option for hospice patients who would have otherwise called 911.
Author
Karen Abrashkin, MD
Medical Director, Clinical Call Center
Northwell Health
1983 Marcus Ave, C102
New Hyde Park, NY, 11042
Co-authors
Alyeah Ramjit
Jonathan Washko
Kristofer Smith
Lori Attivissimo
Maureen Hinkelman
Michael Guttenberg