Leveraging Technology
Are Telehealth Visits Feasibile for Vulnerable Patients?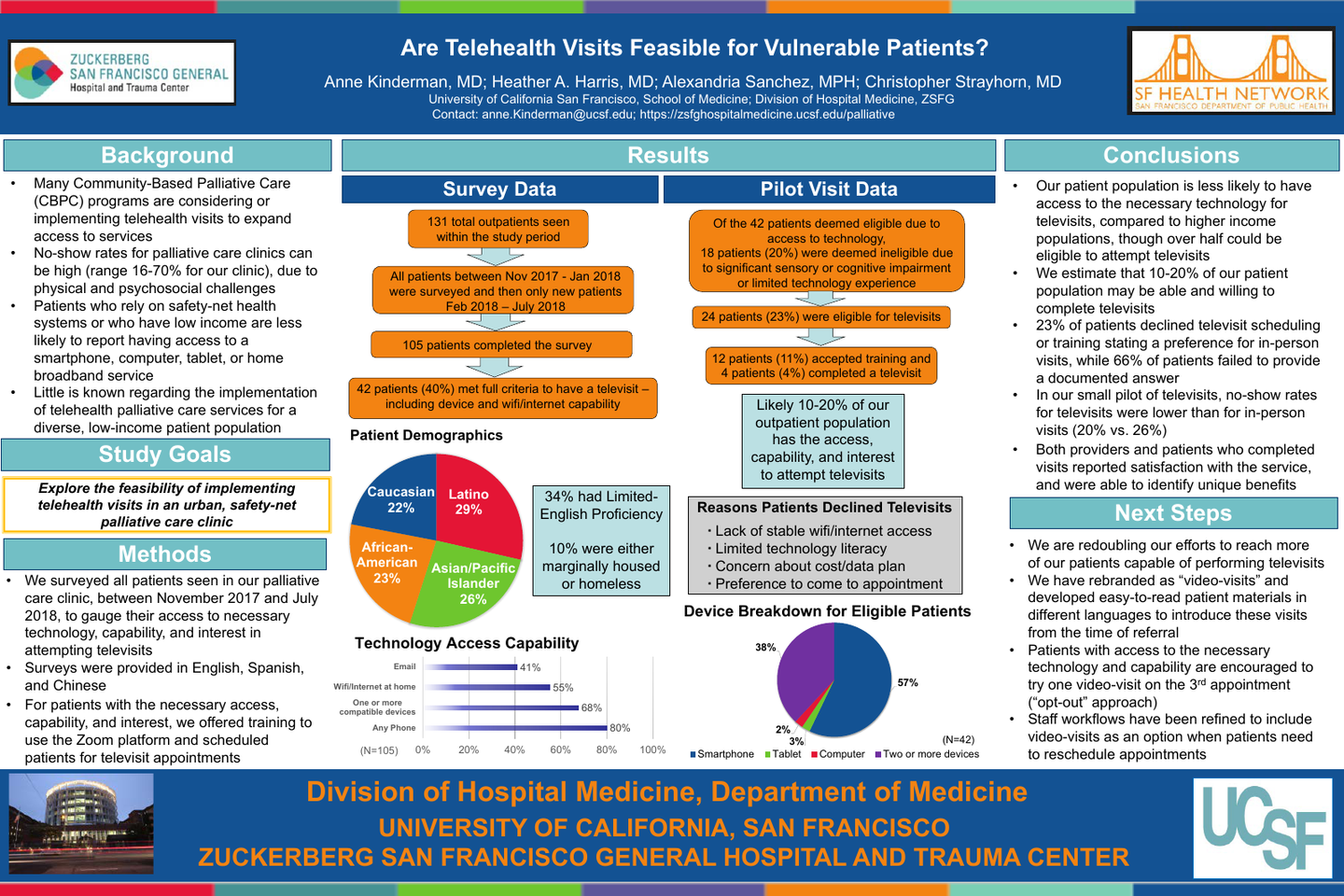 Many community-based palliative care (CBPC) programs across the globe are exploring the use of remote communication to accommodate the needs of seriously ill patients, and to increase efficiencies for palliative care specialists. Our aim was to explore the feasibility of implementing telehealth visits in our urban, safety-net palliative care clinic. In our first year of clinic visits, prior to the implementation of telehealth services, we observed clinic no-show rates ranging from 16-70% per month (average 37%). While there were a number of reasons why our initial no-show rates were high, a significant subset of clinic no-shows were due to patient illness or symptom severity, lack of access to transportation, or feeling overburdened with in-person appointments. We hypothesized that developing capacity for telehealth visits could address these barriers to accessing clinic-based palliative care; however, we were unsure if our largely low-income, vulnerable patient population would be able to complete telehealth visits. For this reason, we implemented a patient technology access survey to gauge the feasibility of implementing telehealth visits in our population. We surveyed 89 patients (88% of all patients seen in the study period), and found that 60 patients (67% of those surveyed) reported owning a smartphone, tablet, and/or computer. Of those with a required device, our team gauged patients' likelihood to be able to participate based on other factors (e.g. patients who had significant sensory impairment, cognitive impairment, or limited technology experience), and determined that only 42 patients (70% of those with access, or 47% of those surveyed) would be good candidates for telehealth visits. We approached those 42 patients to offer telehealth visits, but only 11 accepted training. Reasons for refusal included feeling unsure of or uncomfortable with the technology, preferring in-person visits, or no reason specified. Of the patients who accepted training, 5 were scheduled for televisits and 4 completed visits. Of those who participated, the majority were satisfied with the visit; however, some continued to voice a preference for in-person visits. Although the sample size was quite small, our no-show rate for televisits was notably lower than our general clinic no-show rate over the same time period (20% vs. 26%). Our experience suggests that perhaps 10-20% of our population may be able to complete televisits, with the appropriate support and training. Our experience may help inform other programs serving vulnerable urban patients, in palliative care and other specialties serving seriously ill patients.
Author
Anne Kinderman
Director, Supportive & Palliative Care Service
Zuckerberg San Francisco General Hospital
1001 Potrero Ave
San Francisco, CA, 941110
(415) 206-3303
Get the latest updates in your inbox!