SPECIAL EVENT
CAPC Payment Accelerator: Contracting for Community Palliative Care
WHEN

November 13, 2019

WHERE

Atlanta Marriott Marquis, Atlanta, GA
CAPC's Payment Accelerator combines didactic teaching, a range of experienced program voices, and more than 27 uniquely-built resources. It is designed to build a solid foundation for any organization seeking value-based payment and strong partnerships.
Palliative care teams will gain the crucial skills needed to contract directly with health insurance plans and others. You'll hear perspectives from both payers and palliative care programs that have successfully established sustainable financial partnerships. You'll leave the Payment Accelerator experience having taken a major step toward improving care and program sustainability.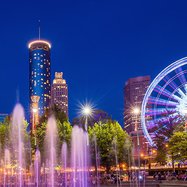 Early Bird Registration Opens Soon!
Sign up to be the first to know. We'll email you when registration for Boot Camp opens.
Why is CAPC's Payment Accelerator important?
Palliative care programs have long struggled to secure financing adequate for the support of the team. Under Medicare and other payers, fee-for-service billing for palliative care does not cover costs, and this results in teams that are understaffed to meet the needs of their patients. Thanks to recent shifts away from fee-for-service — and toward value-based payment for quality outcomes — more teams are entering into value-based payment contracts with health insurance plans and ACOs. These new arrangements help improve access to quality care while improving program sustainability.
As a result of participating in the CAPC Payment Accelerator, you will be able to:
Acquire a working knowledge of value-based payment contracts, including common quality measures and payment models for palliative care services
Identify potential partners in their local areas, and hone their approach to negotiating and building relationships.
Integrate new strategies for program efficiency, including proactive patient identification, population stratification, expanded staffing models, and telehealth.
Who should attend?
CAPC's Payment Accelerator is for palliative care programs delivering services in community settings. Organizations interested in the proposed Medicare alternative payment model (APM) — currently under consideration by the Center for Medicare and Medicaid Innovation (CMMI) at CMS — are strongly encouraged to attend.
For maximum benefit, CAPC recommends that two to three-person teams attend the one-day workshop, including clinical program leadership, financial, contracting, or business development/marketing leadership. Titles may include Finance, Managed Care, Business Development, External Relations, and Population Health.