SPECIAL EVENT
Boot Camp: Designing Community Palliative Care
WHEN

November 13, 2019

WHERE

Atlanta Marriott Marquis, Atlanta, GA
Are you planning to launch a community-based palliative care program? Are you in the early stages of operating one? Do you need solid, practical information that will ensure your program becomes robust and remains sustainable?
Led by nationally known faculty, CAPC's Boot Camp is a daylong exploration of the nuts and bolts of operating a palliative care program in the home, office, or long-term care setting. You'll learn about the impact of stakeholders' priorities; the vital elements of needs assessments and business plans; measurement that demonstrates program value; staffing models; and strategic ways to define your services. You'll also acquire a working knowledge of feasible reimbursement options and develop a business plan to guide growth.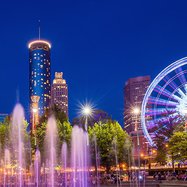 Early Bird Registration Opens Soon!
Sign up to be the first to know. We'll email you when registration for Boot Camp opens.
Why is CAPC's Boot Camp important?
Community-based palliative care is increasingly recognized as essential to caring for people living with a serious illness who are not hospitalized. But meeting this need requires precise planning, and programs must be carefully designed to garner the resources necessary for sustainability; offer beneficial, realistic services to patients; provide the right mix of disciplines, all while appealing to stakeholders.
As a result of attending Boot Camp, you will be able to:
Assimilate the essential elements of a need assessment, including accurately identifying patients, defining a realistic service package, and developing a supportable interdisciplinary team.
Identify feasible reimbursement options and develop a business plan to guide the growth of a sustainable palliative care program in their community settings.
incorporate key design features into your program, including foundational principles, stakeholder priorities and payers' perspectives, contextual factors of the local environment, business practicalities, and quality measurement.
Who should attend?
CAPC's Boot Camp is for palliative care programs delivering services in community settings. Clinical and operational program leaders and managers should attend.