National Seminar
Use of NCCN Guidelines for Palliative Quality Improvement in Gastro Intestinal Oncology
Topic: Strategic Quality Improvement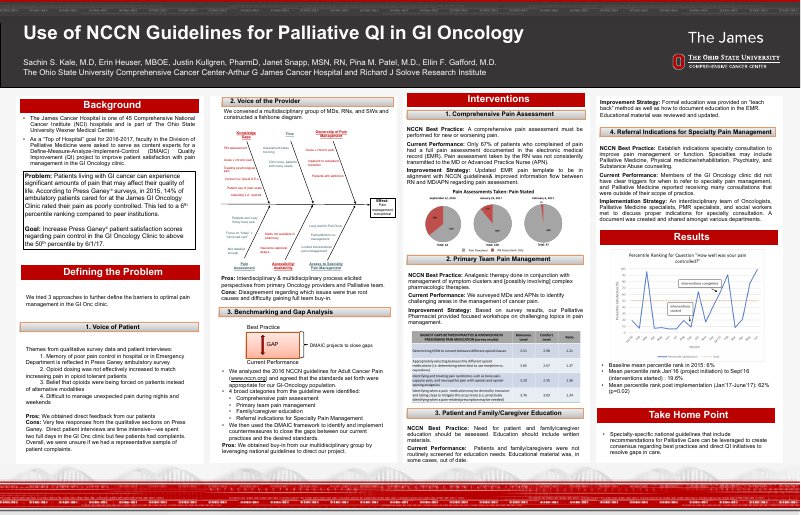 Background:
National guidelines for the management of cancer include best practices for inclusion of primary and specialty Palliative Care. Such guidelines can be leveraged to create alignment and set standards for Palliative-led, multi-disciplinary quality improvement (QI) projects. Members of our institution's Palliative Care team were invited to join a QI initiative to improve Press Ganey patient satisfaction scores related to pain management in the ambulatory Gastro-intestinal (GI) Oncology Clinics. Use of the National Cancer Center Network (NCCN) guidelines for Adult Cancer Pain Management led to consensus regarding best practices among the Oncology and Palliative teams and created alignment regarding gaps in current care and strategies to address these quality gaps.
Method:
Team leaders analyzed the NCCN guidelines and agreed that the standards set forth were appropriate for our GI-Oncology population. Use of QI tools such as fishbone diagramming and process mapping identified gaps between current practices and the NCCN standards in four broad categories: comprehensive pain assessment, primary team pain management, family/caregiver education, and referral to ambulatory Palliative Care. We then used the Define-Measure-Analyze-Implement-Control (DMAIC) paradigm to identify and implement countermeasures to close the gaps between current practice and the desired standards.
Outcomes:
GI nurses updated pain assessment protocols in line with NCCN standards, and rates of comprehensive pain assessments for patients who reported pain increased from 60% (n=42) to 99% (n=97). A 5-point Likert survey of GI Oncology physicians and nurse practitioners regarding their comfort with aspects of cancer pain management revealed low perceived comfort on opioid selection (2.7 out of 5, n=9) and treatment of common cancer pain syndromes (2.3 out of 5, n=9). A Palliative Clinical Pharmacy Specialist was invited to conduct training based on these identified gaps in knowledge. Analysis of pain management education for patients & families revealed inconsistent use of written educational materials and lack of follow-up for patients who reported pain during their clinic visit. All pain management educational materials were reviewed and updated, and patients who reported pain and initiated a new pain medication regimen received a phone call within one week to assess symptoms and ensure medication adherence. Two "good catch" patient safety incidents were found within the first four weeks of the program. Using NCCN guidelines for Palliative Care referral, members of the ambulatory Palliative Care team and the GI Oncology teams developed institution-specific indications for ambulatory Palliative Care referral. Within two months of implementation of these initiatives, our institution's percentile ranking among peer institutions for the Press Ganey question "How well was your pain controlled?" rose six-fold, to the 60th percentile (n=44), and within 4 months improved to the 95th percentile (n=41).
Conclusion:
Specialty-specific national guidelines that include recommendations regarding Palliative Care, such as the NCCN guideline for Adult Cancer Pain Management, can be leveraged in multi-disciplinary QI initiatives to create consensus regarding best practices and standards.
Author
Assistant Professor Internal Medicine
The Ohio State University Wexner Medical Center
1581 Dodd Drive, 5th Floor McCampbell Hall
Columbus, OH 43204
Co-authors
Ellin F. Gafford, MD
Erin Heuser, MBOE
Janet Snapp, MSN, RN
Justin Kullgren, PharmD
Pina M. Patel, MD