National Seminar
Until the End: A Retrospective Review of Mortality
Topic: Measuring Impact and Value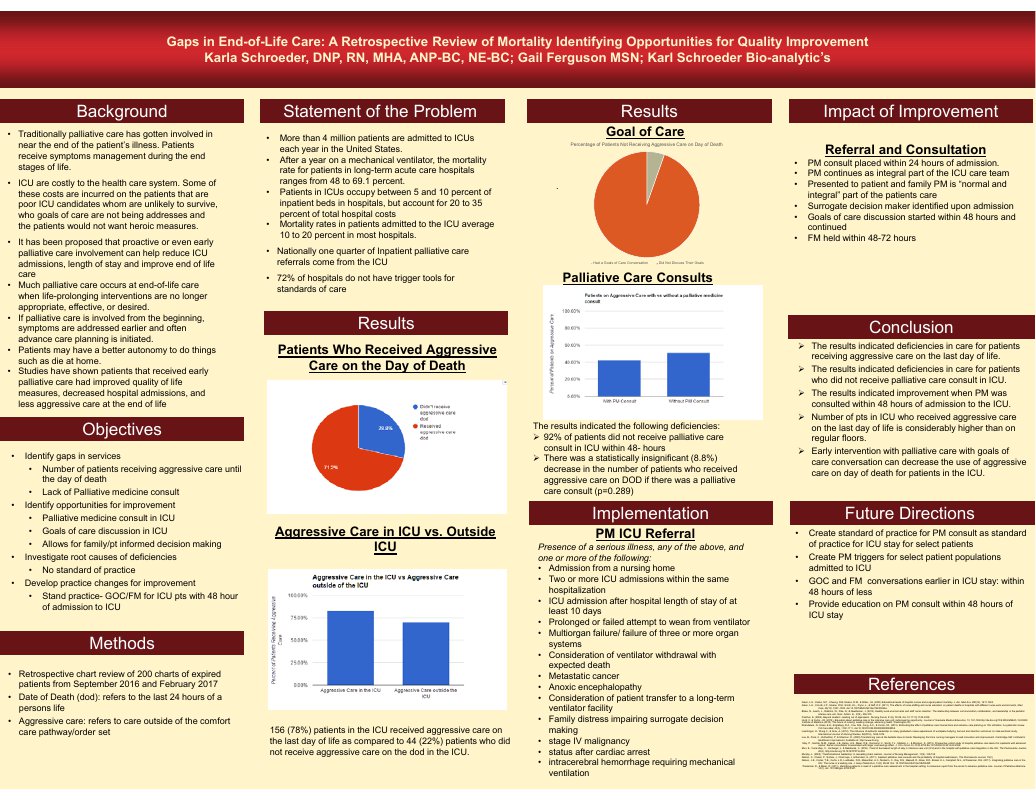 A patient who is admitted to the Intensive Care Unit (ICU) is 10 to 20% more likely to die. After mechanical ventilation, the chances of death within a year ranges from 48 to 69%. ICU care reflects between 5 and 10% of inpatient hospital beds but 20 to 35% of total hospital cost. Only about 20-25% of palliative care consult are generated from ICU. Despite this, 72% of hospitals do not have standard practice for palliative care as part of the ICU care delivery.
A retrospective review of 200 mortality charts was conducted from September 2016 to February 2017. The objective was to identify gaps in practices and thus root causes in deficiencies of care. The results indicated that 72% of patients who died did not receive comfort care on the day of their death (as defined by the last 24 hours of life, DOD). Instead patients received aggressive care on DOD. Aggressive care was defined as, measures outside the comfort care order set. There was a statistically insignificant (8.8%) decrease in the number of patients who received aggressive care on DOD if there was a palliative care consult (p=0.289). Patients who had a goals of care conversation were significantly less likely to receive aggressive care on DOD (p=0.11). In this review, we addressed aggressive care on day of death. We suggest palliative and critical care teams work together as they treat patients with life threatening conditions with the use of standard practice referrals.
Author
Director of Palliative Medicine and Geriatrics
Stanford Health Care
300 Pasteur Drive
Stanford, CA 94305
(650) 723-1303
Co-authors
Casey Miller, ANP-BC - NP
Gail Ferguson, MSN
Heather Shaw
Karl Schroeder
Register Now
Register for the 2018 CAPC National Seminar and Pre-Conference Workshops by September 24 for Early Bird pricing.
Learn More and Register