National Seminar
Too early to feed the pipeline? College Palliative Care volunteers
Topic: Education Strategies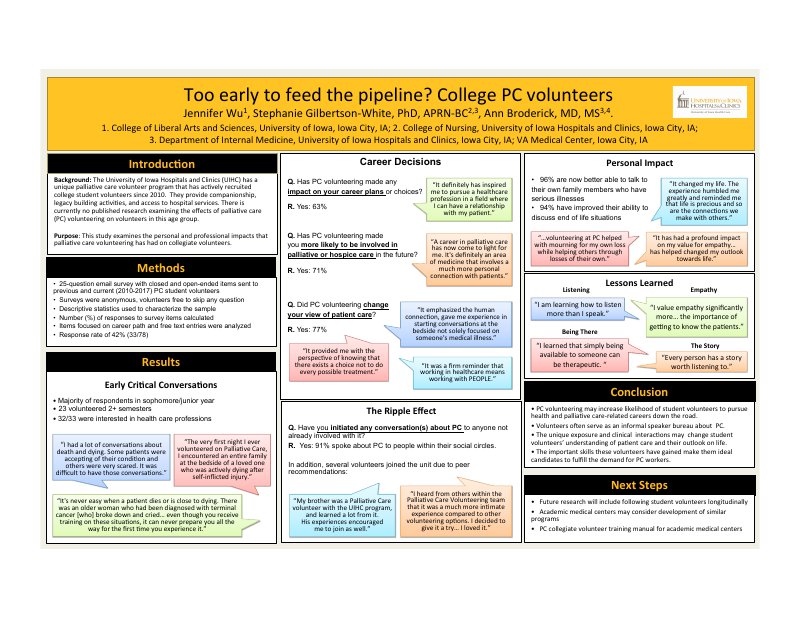 Objectives:
The purposes of this project are to describe: 1) the effects of hospital-based palliative care volunteering (HPCV) on college student volunteers' personal and professional life choices; and 2) whether collegiate volunteers serve as informal ambassadors in their social networks.
Background:
The University of Iowa Hospitals and Clinics (UIHC) has a unique HPCV program that has actively recruited college students since 2010. The volunteers provide companionship, legacy building activities, and access to hospital services. There is currently no published research examining the effects of HPCV on collegiate volunteers. This study examines the impacts that HPCV has had on current and past student volunteers.
Methods:
The UIHC Volunteer Services Office sent out a 25-question email survey consisting of both closed and open-ended items to previous and current palliative care student volunteers. All surveys were anonymous, and volunteers were able to skip any question they preferred not to answer. Descriptive statistics were used to characterize the sample. Number (%) of responses to survey items were calculated. Free text responses to open ended items were analyzed using a descriptive qualitative approach with three independent coders.
Results:
A total of 33 out of 78 current and past collegiate volunteers responded. 71% of respondents stated that they were more likely to be involved in palliative or hospice care in the future. HPCV changed the view of patient care for 76%, and 94% felt that they are now better able to discuss end of life situations. 91% discussed palliative care with family, friends, classmates, or someone else not already involved in palliative care. Major themes identified include: motivation to volunteer in palliative care by altruism, desire for patient contact, and interest in learning about this patient population. In addition, respondents described meaningful patient interactions and occasional difficult situations, powerful lessons in empathy, the importance of listening and being present, and patient-centered care.
Conclusions:
These results suggest that HPCV affects career choices and helps volunteers gain the listening skills necessary for providing effective patient care in their future. The unique exposure and interactions with palliative care patients and their families have changed the student volunteers' understanding of health care as well as their outlook on life. The volunteer experience may increase the likelihood of student volunteers to pursue health care and palliative care-related careers down the road. The volunteers also serve as an informal speakers' bureau about palliative care for their social circle.
Implications:
This study shows that student volunteers learn communication skills, often modify their career choices, and serve as ambassadors who speak from personal experience about the importance of palliative care. Increasing opportunities for college students to volunteer within palliative care may also help to meet the increasing demand for palliative care professionals. Other academic medical centers could consider a similar approach with volunteers. Future studies of the collegiate volunteer networks might change how the field develops the pipeline for training health care professionals in palliative care.
Author
Undergraduate Student
University of Iowa Hospitals and Clinics- Palliative Care Program
200 Hawkins Drive
Iowa City, IA 52246
Co-authors
Ann Broderick, MD MS
Stephanie Gilbertson-White, PhD, APRN-BC