National Seminar
The Serious Illness Care Program Journey at MaineHealth
Topic: Advance Care Planning Initiatives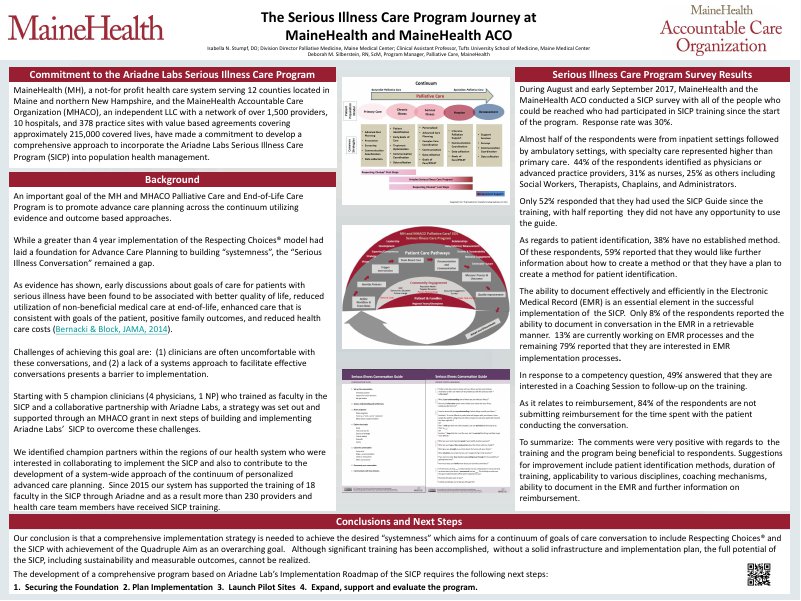 This poster describes the journey of MaineHealth's (MH) and the MaineHealth Accountable Care Organization's
(MHACO) adoption and implementation of Serious Illness Care Program.
MaineHealth is a not-for profit health care system serving 12 counties located in Maine and northern New Hampshire.
The MaineHealth Accountable Care Organization is an independent LLC with a network of over 1,400 providers, 10 hospitals, and 376 practice sites with value based agreements covering more than 178,000 lives.
An important goal of the MH and MHACOPalliative Care and End-of-Life Care Program is to promote advance care planning across the continuum utilizing evidence and outcome based approaches While a greater than 4 year implementation of the Respecting Choices ®model had laid a foundation for Advance Care Planning to building "systemness", the "Serious Illness Conversation" remained a gap.
As evidence has shown, early discussions about goals of care for patients with serious illness have been found to be associated with better quality of life, reduced utilization of non-beneficial medical care near death, enhanced care that is consistent with goals of the patient, positive family outcomes, and reduced health care costs (Bernacki & Block, JAMA, 2014).
A major challenge of achieving this goal is that physicians and other health care team members are often uncomfortable with these conversations.. In addition, a lack of a systems approach to facilitate effective conversations can be another barrier to implementation.
Starting with 5 champion clinicians (4 physicians, 1 NP) who trained as faculty in the Serious Illness Care Program and a collaborative partnership with Ariadne, a strategy was set out and supported through an MHACO grant in next steps of building and implementing Ariadne Labs' Serious Illness Care Program to overcome this challenge.
We identified partners within our health system who are interested in collaborating to implement the Serious Illness Care Program (SICP) and also to contribute to the development of a system-wide approach of the continuum of personalized advanced care planning.
Our comprehensive system approach includes the following elements:
•Identification of Patients:
◦Use of the "Surprise Question"
•Ongoing training and coaching
◦Capacity, Competency, Coaching
•Workflow Processes
◦identify patients, trigger conversations, promote documentation, adapt, edit and disseminate approach
•Measurement
We believe this comprehensive and fully integrated system of personalized care planning for patients living with serious illness will enhance value and achieve the Quadruple Aim.
Author
Program Manager, Palliative Care
MaineHealth
110 Free St.
Portland , ME 4013
(207) 662-1542
Co-authors