National Seminar
The Goals of Care Conversation Procedure
Topic: Building Palliative Care Into the Organizational DNA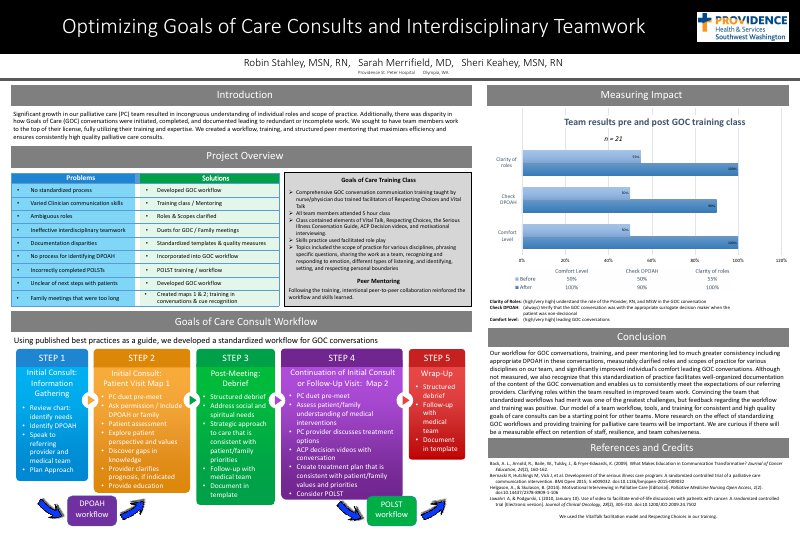 Significant growth in our palliative care (PC) team resulted in incongruous understanding of individual roles and scope of practice. Additionally, there was disparity in how Goals of Care (GOC) conversations were initiated, completed, and documented leading to redundant or incomplete work.
Purpose:
To create a workflow that ensured consistently high quality palliative care consults that allowed team members to work to the top of their license, fully utilized each individual's training and expertise, and maximized efficiency.
Methods:
Every team member attended a comprehensive GOC conversation class; the class was developed by trained facilitators and contained elements of Vital Talk, Respecting Choices, the Serious Illness Conversation Guide, and motivational interviewing. Workflows and conversation maps were created for the initial consult, follow-up meeting, POLST completion, and identification of DPOAH. Documentation templates were built to mirror the conversation maps and to correspond to each workflow. An important component of the class was communicating in a non-confrontational manner and respecting personal boundaries of the patients and families. Following the training, intentional peer-to-peer collaboration reinforced the workflow and skills learned.
Results:
Using published best practices as a guide, we developed a standardized workflow for GOC conversations which led to high quality consults with well-organized, meaningful documentation. Clarifying roles within the team resulted in improved team work and enhanced job satisfaction and resilience. Conclusions: Creating a workflow for GOC conversations required committed, trained experts with firsthand knowledge of this process. Convincing the team that standardized workflows had merit was one of the greatest challenges, but this standardization enabled us to consistently meet the expectations of the referring providers. The workflows have allowed the palliative care team to further develop their skills and gain confidence in leading GOC conversations, ultimately strengthening the working relationships between our team members.
Author
SW Region Director of Clinical Operations for Palliative Care
Providence St. Peter Hospital
413 Lilly Rd. NE
Olympia, WA 98506
(360) 493-5745
Co-authors
Robin Stahley, MSN
Sarah Merrifield, MD