National Seminar
The Global Palliative Care Quality Alliance: Data Summary
Topic: Measuring Impact and Value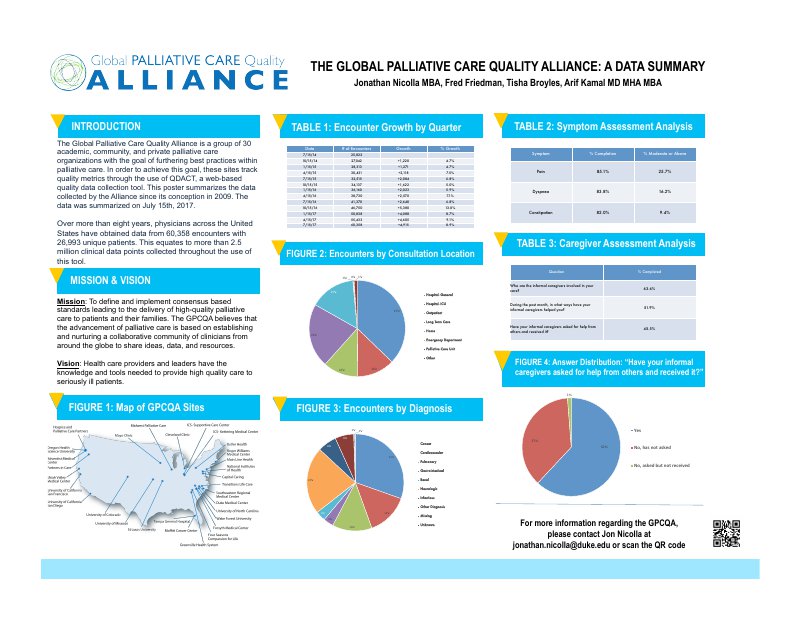 The Global Palliative Care Quality Alliance is a group of 28 academic, community, and private palliative care organizations with the goal of furthering best practices within palliative care. In order to achieve this goal, these sites track quality metrics through the use of QDACT, a web-based quality data collection tool. This abstract summarizes the data collected by the Alliance since its inception in 2009. This data was summarized on January 15th, 2017.
The GPCQA is comprised of 28 sites across the United States. Made up of a blend of acadmic institution, health systems, and community-based practices, the GPCQA is a composite of various types of palliative care delivery mechanisms, creating a unique data story across the national palliative care landscape. Participating sites enter a sample of their clinical data that best fits their organizational structure. Each site is requested to enter a minimum of 25 patient encounters per year.
In the last eight years, physicians across the United States have obtained data from 50,838 encounters with 20,914 unique patients. This equates to approximately 2.4 million data points collected throughout the GPCQA across this time span. Over the past eight quarters, GPCQA has had steady growth in data, averaging a growth of 2,815 clinical encounters per quarter with higher rates of growth in the last four quarters.
Utilizing the data collected in 50,838 clinical counters in the GPCQA, we can identify various trends in symptom and outcome data as well as inspect basic analysis questions such as disease distribution, symptom burden, caregiver burden of multiple palliative care populations and settings in various regions of the U.S..
Author
Clinical Trials Coordinator, Duke University
Global Palliative Care Quality Alliance
2424 Erwin Road
Durham, NC 27705
(919) 668-4907
Co-authors
Arif Kamal
Fred Friedman
Tisha Broyles