National Seminar
The APN: An Anchor for Family Physician's Providing End of Life Care in the Home
Topic: Palliative Care in Specific Settings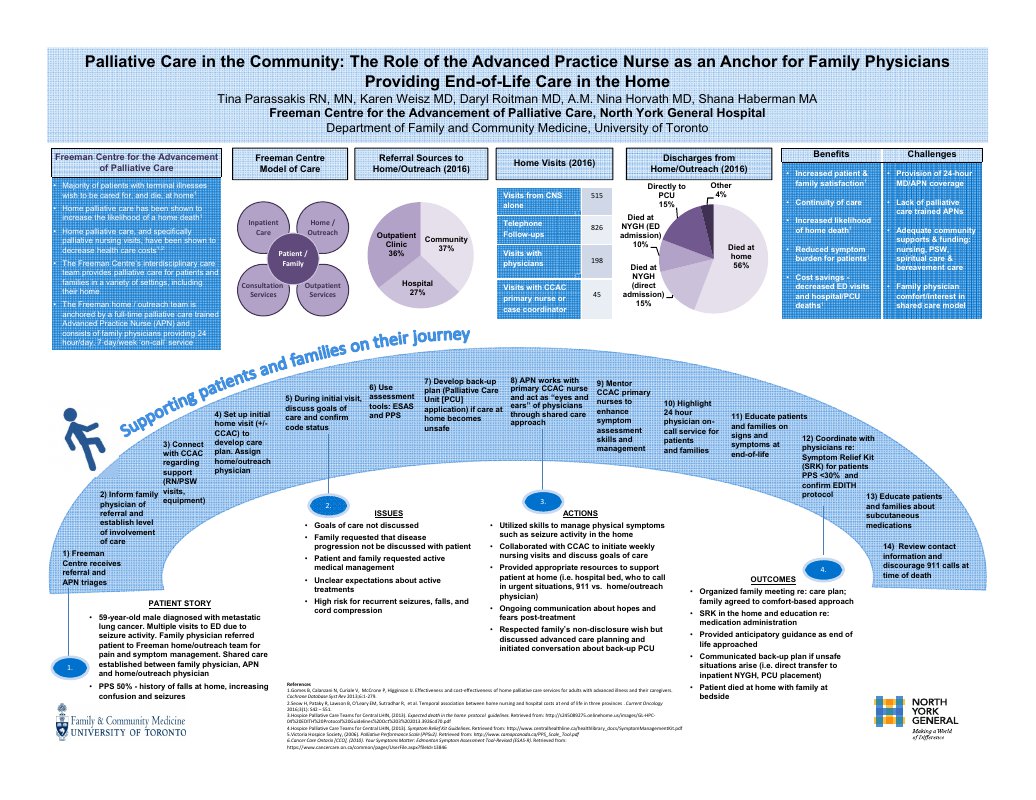 Patients living with advanced cancer often wish to receive end-of-life (EOL) care at home. Challenges to providing high quality care in this setting include: symptom management, caregiver support/education, and seamless around-the-clock care. The Freeman Centre for the Advancement of Palliative Care strives to meet the complex needs of these patients through an interdisciplinary approach to care that optimizes the patient and family experience with a goal of improving quality of life.
The Freeman outreach program enables adults living with advanced cancer, whose wish is to die at home or remain living at home for as long as possible, to receive in-home care from an Advanced Practice Nurse (APN) with the support of a Freeman outreach Family Physician (FP) and other community care providers.
We aim to describe the Freeman outreach model in which the APN acts as an anchor to Freeman outreach physicians and navigator for the interprofessional team. Further, the model helps support community FPs who wish to provide palliative care at home for their own patients. A key feature of this model is the provision of care 24 hours a day and 7 days a week. The APN acts as the primary contact for patients and families, manages symptoms, and provides patient and caregiver support, as well as anticipatory guidance in preparation for EOL care at home. Other roles include: mentoring and coaching primary care nurses, and quarterbacking the coordination of care with all community care providers.
We will share Freeman outreach data that highlights the value of the APN role in providing EOL care in the home. This includes data on referral sources to the outreach program from hospital, community service providers, and outpatient clinics. We will also present data on discharges from the outreach program including: home deaths, direct transfers to Palliative Care Units (PCU), direct transfers to an inpatient unit, and emergency room visits. We will showcase the scope of the APN role by presenting data on independent home visits, telephone follow-ups, and visits with outreach FPs. We will also illustrate how the model functions through a patient story.
Overall, there is justification to showcase this unique outreach program within the Freeman Centre for the Advancement of Palliative Care. Our outreach model of care is likely associated with significant cost savings, representing a high value-based program while simultaneously providing exemplary patient- and family-centered care in the home that aligns with patient and family values. We will also highlight opportunities for, and challenges to, future growth.
Author
Project Coordinator
Freeman Centre for the Advancement of Palliative Care, North York General Hospital
4001 Leslie Street
Toronto, ON M6B2C7
(416) 756-6444
Co-authors
A.M. Nina Horvath, MD
Daryl Roitman, MD
Karen Weisz, MD
Tina Parassakis, RN, MN