National Seminar
Technologies Enable Nursing Education in Pain Management
Topic: Education Strategies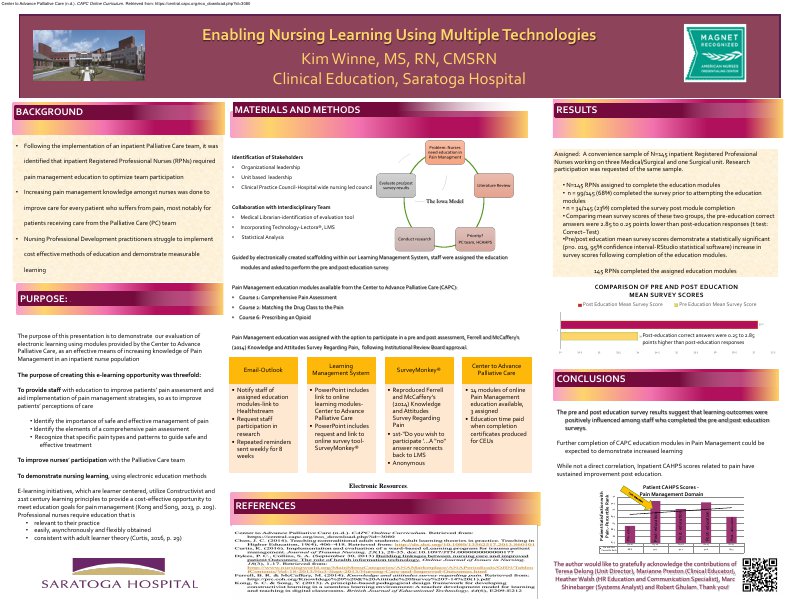 The purpose of this project was to provide and evaluate pain management education assigned to inpatient Registered Professional Nurses (RPNs), using an existing electronic Learning Management System (LMS), in a 171 bed community hospital. Education was provided to meet ongoing organizational goals to improve patients' perception of pain management and optimize the participation of the RPNs on the recently implemented Palliative Care (PC) team. Pain management education modules from the Center to Advance Palliative Care (CAPC) were provided to RNPs. Measurement of learning outcomes were based on optional pre and post learning surveys. Previously, the organization had not utilized electronic learning tools in conjunction with a pre/post evaluation of learning, in a large participant population. The educational design provided low-cost education to inpatient RPNs to enhance their knowledge of pain management. The optional pre and post survey was conducted using the Knowledge and Attitudes Survey Regarding Pain (Ferrell and McCaffery, 2014) via Survey Monkey©. Three of the fourteen pain management modules from CAPC were assigned to a convenience sample of N=145 inpatient RPNs working on three Medical/Surgical and one Surgical unit. The staff assigned were chosen from work areas having the largest inpatient populations with potential pain management needs and the largest number of staff that could benefit from the education. Guided by electronically created scaffolding within our LMS, staff were assigned the education modules and asked to perform the pre and post education survey. Statistical analysis was conducted using RStudio software. Of the N=145 RPNs assigned to complete the education modules, n = 99/145 (68%) completed the survey prior to attempting the education modules; n = 34/145 (23%) completed the survey post module completion. Comparing mean survey scores of these two groups, the pre-education correct answers were 2.85 to 0.25 points lower than post-education responses (t test: Correct~Test), demonstrating a statistically significant (p=0.019, 95% confidence interval) change in survey scores following completion of the education modules. The pre and post education survey results suggest that learning outcomes were positively influenced among staff who completed the pre and post education surveys. The ability to train 145 RPNs using electronic learning technologies, at no additional cost to the organization, was achieved. Although multiple confounding factors contribute to quality metric outcomes, there was an increase in Press Ganey inpatient pain management scores in two of three months immediately following the education initiative. Integrating Evidence Based Practice resources available to our organization as members of the Center to Advance Palliative Care enhanced learner outcomes in a large participant group, using effective, low-cost, technically advanced educational programming. Our efforts are supported by the positive patient care outcomes. Use of all fourteen available modules would only enhance the current results. Further study and use of the CAPC educational tools are recommended. Ferrell, B. R. & McCaffery, M. (2014, revised). Knowledge and Attitudes Survey Regarding Pain. Retrieved from: http://prc.coh.org, revised.
Author
Clinical Educator
Saratoga Hospital
211 Church St.
Saratoga Springs, NY 12866
(518) 583-8419
Co-authors
Maryanne Preston, MSN, RN-BC
Teresa Delong, MSN, RN
Register Now
Register for the 2018 CAPC National Seminar and Pre-Conference Workshops by September 24 for Early Bird pricing.
Learn More and Register