National Seminar
Symptom Management in a Palliative Care Program
Topic: Building Palliative Care Into the Organizational DNA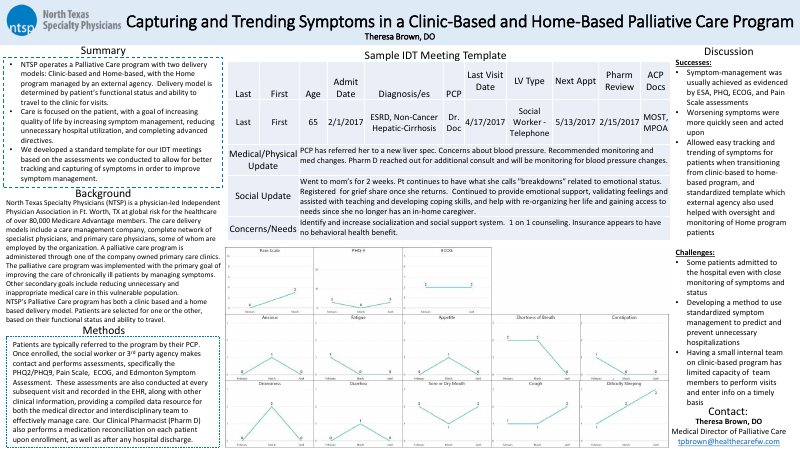 Objective:
Describe our method of capturing and trending symptoms for palliative care patients in our electronic health record (EHR), and highlight some of the successes and challenges we found.
Background:
North Texas Specialty Physicians (NTSP) is a physician-led Independent Physician Association at global risk for the healthcare of over 80,000 Medicare Advantage (MA) members. The majority of enrollees are in plans administered through United Healthcare and Humana, with approximately 10,000 enrolled in its own MA plan, Care N Care. The care delivery models include a care management company, complete network of specialist physicians, and primary care physicians, some of whom are employed by the organization. A palliative care program is administered through one of the company owned primary care clinics.
Palliative Care:
The palliative care program was implemented with the primary goal of improving the care of chronically ill patients by managing symptoms. Other secondary goals include reducing unnecessary and inappropriate medical care in this vulnerable population.
NTSP's Palliative Care program has both a clinic-based and a home-based delivery model. Patients are selected for one or the other, depending on their functional status and ability to travel. The clinic-based care is provided by a team which includes a physician, social worker/ navigator, nurse and pharmacist. The home-based program is outsourced to a partner organization with a similar structure. Both programs are supported by a community paramedicine program administered by the local emergency medical services provider.
Methods:
Patients are typically referred to the program by their primary care physician. Once enrolled, the social worker or 3rd party agency makes contact and performs assessments, specifically the Eastern Cooperative Oncology Group (ECOG)/Palliative Performance Scale (PPS), Psychosocial Assessment, Patient Health Questionnaire (PHQ)-2/PHQ-9, Pain Scale, and Edmonton Symptom Assessment. These assessments are also conducted at every subsequent visit and recorded in the EHR, along with other clinical information, providing a compiled data resource for both the medical director and interdisciplinary team to effectively manage care. Our clinical pharmacist (Pharm D) also performs a medication reconciliation on each patient upon enrollment, as well as after any hospital discharge.
Conclusion:
Standardization of symptom assessments and presentation of this information led to better symptom management and quicker reaction to any decline in symptoms. This consistency across the clinic and home programs allowed for better symptom trending across programs. However, this did not necessarily prevent admissions. In addition, with a small team performing the in-depth assessments at each visit and also entering information into the EHR, sometimes information was not entered into the EHR in a timely manner.
Author
Project Manager
North Texas Specialty Physicians
900 Jerome Street, Suite 308
Fort Worth, TX 76104
(817) 529-8296
Co-authors