National Seminar
Status of Palliative Care in Two Catholic Health Systems
Topic: Assessing Need for Palliative Care Services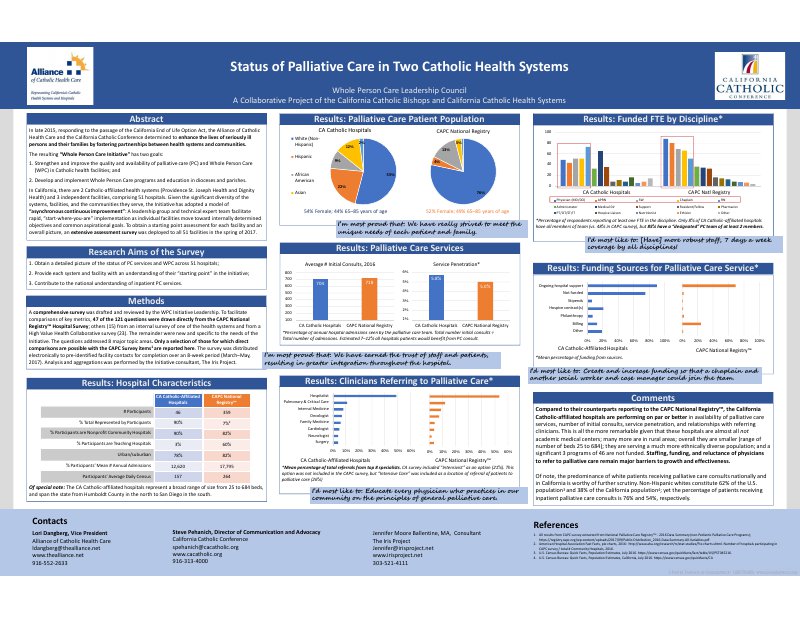 Objectives:
•Summarize key features of palliative care services across two Catholic-affiliated health systems comprising 51 hospitals
•Identify three areas of strength and three areas for improvement
•Compare results with external, national data
Background:
In late 2015, the Alliance of Catholic Health Care and the California Catholic Conference determined to enhance the lives of seriously ill persons and their families by fostering partnerships between health systems and communities. The resulting "Whole Person Care Initiative" has two goals: (1) Strengthen and improve the quality and availability of palliative care (PC) and Whole Person Care (WPC) in Catholic health facilities; and (2) Develop and implement Whole Person Care programs and education in dioceses and parishes. In California, there are two Catholic-affiliated health systems and three independent facilities, comprising 51 hospitals. To move all facilities forward, while allowing for variations, the Initiative has adopted a model of "asynchronous continuous improvement": A leadership group and technical expert team facilitate rapid, "start-where-you-are" implementation as individual facilities move toward internally determined objectives and common aspirational goals. To obtain a starting point assessment for each facility and an overall picture, an extensive survey was deployed to all 51 facilities in the spring of 2017.
Research Aims:
(1) Obtain a detailed picture of the status of PC services and WPC across 51 hospitals;
(2) Provide each system and facility with an understanding of their "starting point" in the Initiative;
(3) Contribute a significant addition to the national understanding of inpatient PC services.
Method:
A comprehensive survey was drafted and reviewed by the WPC Initiative Leadership. To facilitate external comparisons of key metrics, 47 of the 121 questions were drawn directly from the CAPC National Registry Hospital Survey; others from an internal survey of one of the health systems (15) and from a High Value Health Collaborative survey (23). The remainder were new. The survey was distributed electronically to pre-identified facility contacts for completion over an 8-week period (March–May, 2017).
Results:
90% of the 51 hospitals completed surveys. The poster will present specific results, compared where possible with CAPC 2016 data, on selected items from sections addressing: Demographics; Hospital metrics; PC Program (Characteristics, Structures; Services, Coverage; Goals, Data Collection, Metrics); Advance Care Planning; Caring Practices and Environments; Death, Discharge, Support for Loved Ones & Staff; Community Outreach; and Final Comments.
Conclusions:
While 100% of hospitals within the systems report offering palliative care services and 85% report a designated palliative care team, discrepancies, gaps, and challenges remain, especially in funding, staffing, quality measurement, and staff support.
Implications:
For the WPC Initiative, the survey results create a baseline and starting point for the asynchronous continuous improvement process. Annual redeployment of the survey will demonstrate change from the Initiative's efforts. Outside the Initiative, this survey – and subsequent results – will contribute to a more detailed understanding of PC services in California and nationally.
Author
President
The Iris Project
826 Orange Ave., #549
Coronado, CA 92118
(303) 521-4111
Co-authors
Connie Clemmons-Brown, RN, BSN, MBA
Gary Johanson, MD
Ira Byock, MD
Jack Cox, MD, MMM
Jennifer Kozakowski, MN, MPH
Lori Dangberg, BA
William J. Cox