National Seminar
Staff Education and Home Health Palliative Care Program
Topic: Education Strategies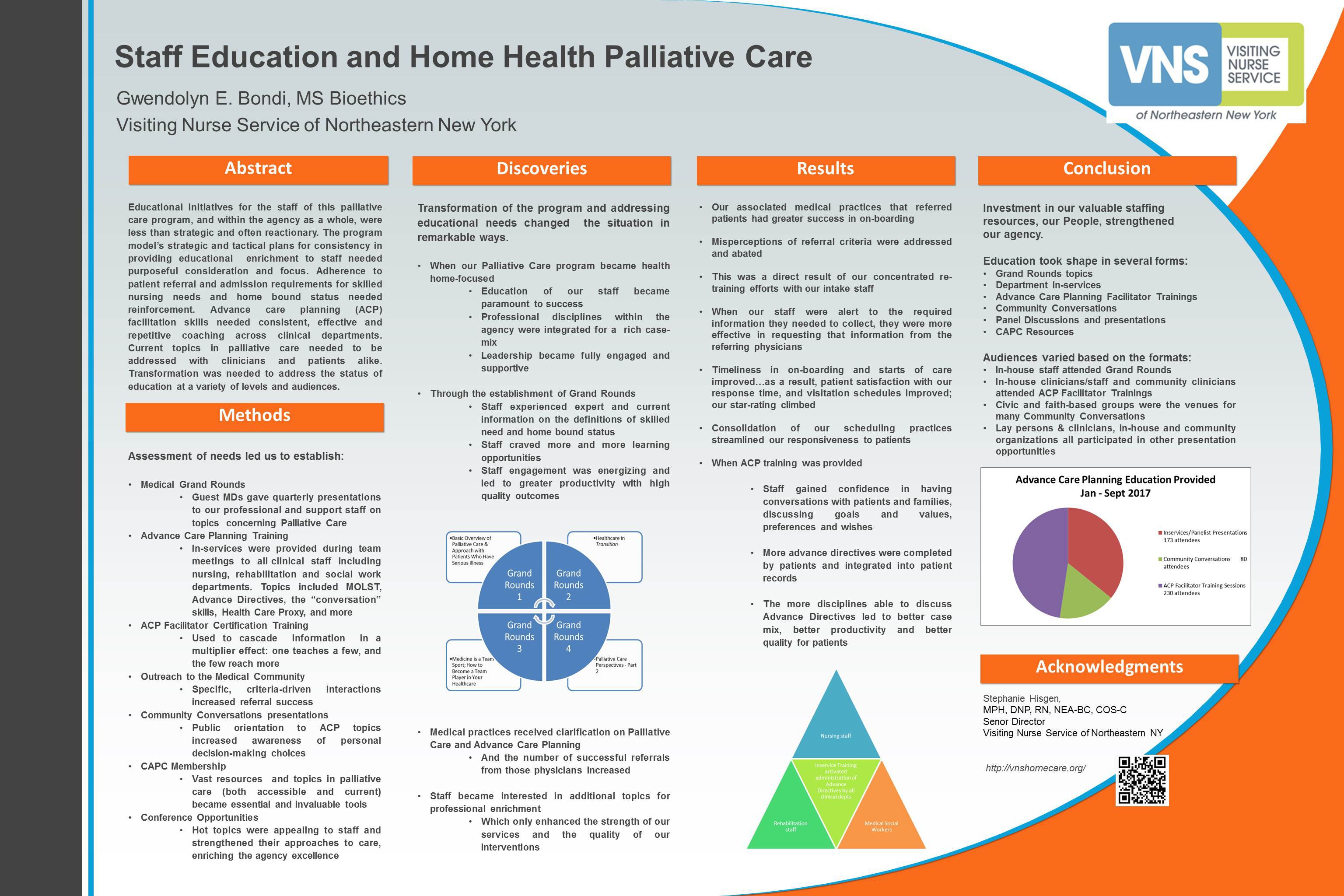 Misperceptions and poor interpretation of directives led the staff of this palliative care program down a path of misguided and misaligned functionality. Established as a hospice-focused palliative care program (minus an affiliated hospice) nearly five years ago, the program model's strategic tack lacked an education component with potential to navigate staff through rocky terrain. Adherence to a patient referral and admission requirement for skilled nursing need and home bound status was loose and random. Advance care planning (ACP) wasn't occurring consistently or effectually. Lack of knowledge concerning advance care planning as well as unacceptance of its importance prevailed; (issues that should have been embraced by physicians, allied health personnel and lay persons alike).
Transformation of the program changed this in remarkable ways. Once the palliative care program became health home-focused, education of staff became paramount to success. Through the establishment of quarterly grand rounds, staff experienced expert and current information on the definitions of skilled need and home bound status. Likewise, staff in referring medical practices received clarification on these terms. Advance care planning training was provided, and a subsequent train-the-trainer initiative for ACP helped to scale the number of patients that could benefit from such information. As a result of this increased awareness by internal staff and associated medical practices, the misperceptions abated. Pointed and purposeful educational efforts were essential in increasing the function and success of staff and their approach in embracing palliative care services within the health home. Penultimate to the final outcome of improved patient care and satisfaction was the staff enrichment and confidence gained by enhanced educational tactics.
Author
Program Manager, Palliative Care - Care Choices
Visiting Nurse Service of Northeastern NY
108 Erie Blvd.
Schenectady, NY 12203
(518) 860-8965
Register Now
Register for the 2018 CAPC National Seminar and Pre-Conference Workshops by September 24 for Early Bird pricing.
Learn More and Register